Tim Southee picked up 4 for 21 as well in a very entertaining game
New Zealand 164 for 1 (Seifert 84*, Williamson 57*) beat Pakistan 163 for 6 (Hafeez 99*, Southee 4-21) by nine wickets
This game was all about two masterful innings. Mohammad Hafeez batted like he was in a dream. Everything hit the middle of his bat and yet reality would come rudely barging in when he was off strike, making sure the rest of his team-mates struggled.
To still keep his head and score 99 (unbeaten) runs out of a total of 163 was a monumental effort even from a batsman who has been phenomenal in T20 cricket over the last year or so.
The only reason that innings did not turn out match winning is because Tim Seifert produced an equally compelling masterpiece. He didn't always care about timing the ball, but he did find a way to always be ahead of the Pakistan bowlers thanks to his ability to move around in the crease and access every part of the ground. His unbeaten 84 – to follow a fifty in the first game – is a big reason New Zealand have won this series 2-0.
The Backfire
Pakistan's captain Shadab Khan laid down a challenge to his top-order batsmen at the toss. "Win the powerplay". And they went out with great intent to do just that. Focusing completely on power, they started swinging at everything, which backfired because, well, the ball started swinging too.
Tim Southee picked up three wickets in his first spell, including a gorgeous outswinger that had Mohammad Rizwan caught behind, leaving Pakistan at 33 for 3 after six overs. He is now among the top five bowlers in T20I cricket.
The Class Act
Hafeez doesn't rely on power so much. He's all timing. And that's why he was always a step ahead of his team-mates.
He realised that the pitch – which in his words offered spongy bounce – wouldn't allow for extravagant strokeplay. Not until he got used to it. So he spent the early part of his innings concentrating on using the pace of the New Zealand quicks and picking up singles square of the wicket.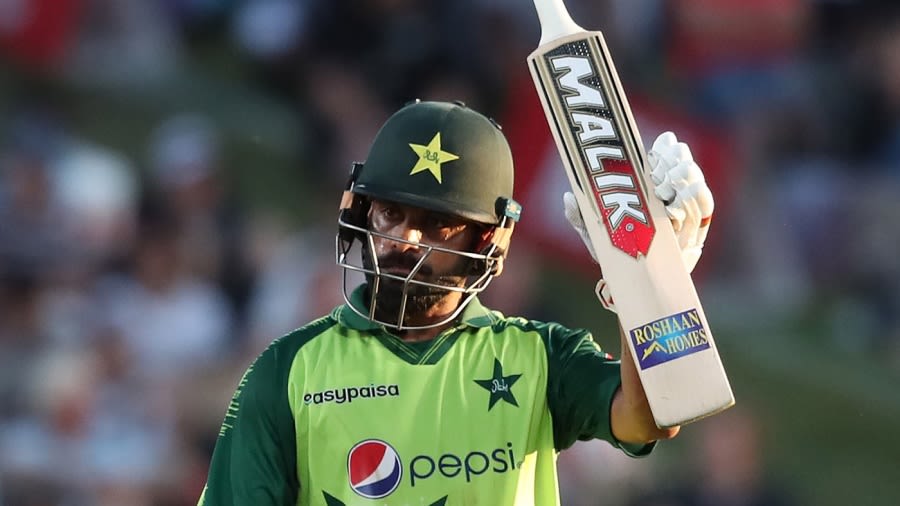 Then, once he was in the zone, he unfurled all the shots. There was a square drive on the up in the eighth over that should replace the definition of majestic in the dictionary.
A new willingness to look for the boundaries in the middle overs of a T20 game, even if it requires hitting over the top, ensured Hafeez could retain control of a Pakistan innings that was going nowhere. Mostly because, while he was smacking it at a strike rate of 173, only one of the others in the top seven scored at a run a ball. (This calculation is only concerned with people who were able to last at least five deliveries)
Hafeez was given a life on 45 by Devon Conway who dropped a simple catch on the square leg boundary, but he more than earned that slice of luck, finishing 99 not out with a six off the last ball of the innings. He contributed 60.7% of the total. It was the greatest one-man show in Pakistan's T20I history.
The Trickster
Seifert is starting to understand his talent. Previously, there were signs that he was simply confused by it. A man with all the shots in the book – and the cleverness to invent a few of his own – once used to be sucked in by his own legend.
Now though, he's realised he too needs to tick a few boxes like every other batsman in the world does to be successful. Even in Hamilton, he began by going hard at the ball, and as a result, was playing and missing. But then Pakistan went short at him. That's his wheelhouse and with a flurry of pulls and cuts he became unstoppable.
Wahab Riaz realised that in his very first over. His efforts to bounce Seifert out resulted in a six over square leg. The batsman knew the next ball would be full, so he was waiting with his front leg cleared. The ball disappeared over the boundary again. Later in the same over, Seifert judged that the under-pressure quick would revert to the tried and tested back of a length ball in the off stump corridor, so he shuffled across his crease and pretty much scooped it for another six.
While Seifert was predicting what Pakistan were trying to do and picking them off with ease, Williamson, at the other end, had time to settle into his innings and cruised to a half-century himself. Hamilton welcomed their captain back with whoops and cheers and they went completely berserk as he began to play his shots, an upper cut for six against Haris Rauf the pick of the lot. Their partnership of 129 was more than enough to kill the game.