RAWALPINDI: General Asim Munir was given command of the Pakistani Army by General Qamar Javed Bajwa on Tuesday.
Gen. Munir is now the 17th army chief of the Pakistani Army following the change in command. At a ceremony held at the General Headquarters in Rawalpindi, the baton was passed to the new chief of army staff.
During the ceremony marking the change of command, which will take place at the GHQ, General Asim Munir will assume leadership as the new chief of army staff.
The ceremony will commemorate the revered custom that stands for the orderly succession of military command. Former military commanders will also participate, and it will be held at General Headquarters (GHQ).
Former army chiefs are present, as well as the chairman of the Joint Chiefs of Staff Committee, Gen. Sahir Shamshad Mirza, and the chief of the air staff, Air Chief Marshal Zaheer Ahmad Babar Sidhu.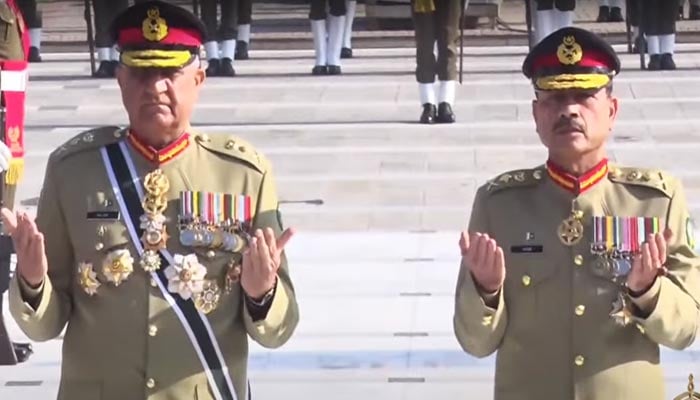 General Qamar Javed Bajwa made his final trip to Yadgar-e-Shuhda while serving as army chief of staff.
The Metro Bus Service from Saddar to Faizabad was shut down today from 6 am to 3 pm because of the ceremony, according to the authorities in Islamabad.
The troops receive the crucial message that military leadership continues without a pause when the baton is passed from an outgoing COAS to an incoming one.
Gen. Asim Munir became the 17th army chief to take over command of the Pakistan Army after President Arif Alvi approved the summary of his appointment.
President Alvi thanked Gen. Bajwa for his outstanding contributions to the country as the commander of the country's defenders against all external and internal threats during the cordial encounter. The President also expressed his best wishes for the future to the departing head of the armed forces.
Gen. Asim Munir
In 1986, Gen. Munir received a commission in the 23rd Frontier Force Regiment. He received the coveted sword of honour after graduating from the 17th Officers Training course in Mangla.
At the moment, he is serving as the general quartermaster at the General Headquarters.