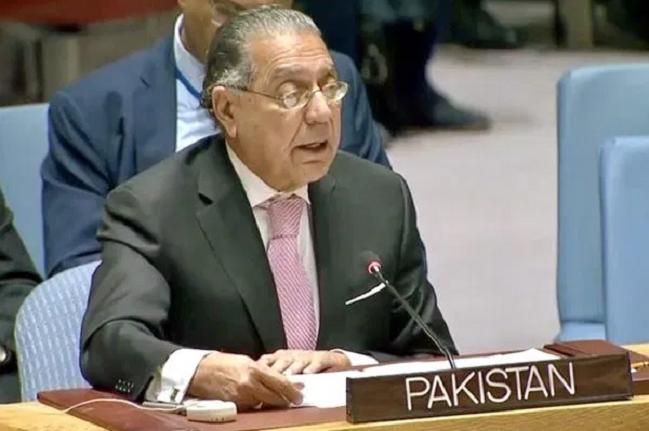 UNITED NATIONS: Pakistani and Indian diplomats engaged into a verbal duel at the United Nations on Wednesday on the Kashmir dispute, particularly the life sentence given to prominent Kashmiri leader and Jammu and Kashmir Liberation Front (JKLF) Chairman Yasin Malik.
Pakistan's permanent representative Munir Akram, while drawing the UN attention, castigated New Delhi for its continued oppression in Indian Illegally Occupied Jammu and Kashmir (IIOJK), as he drew attention to the life sentence awarded to Malik by an Indian court on fake terrorism charges.
Reacting to the Pakistani envoy's statement, Indian representative Vidisha Maitra claimed that Jammu and Kashmir was an integral part of India. However, Pakistani representative Qasim Aziz Butt rejected India's oft-repeated claim, saying Kashmir was a disputed territory.
Butt referred to the UN resolution 47 of 1948, resolution 91 of 1951and 122 of 1957, besides other resolutions of the United Nations Commission for India and Pakistan, notably those of August 1948 and January 1949.
India, he said, was bound to comply with those resolutions in line with Article 25 of the Charter of the United Nations. "Only an occupier will oppose the implementation of Security Council resolutions that promise self-determination to the people of the disputed Jammu and Kashmir," he said.
Butt accused India of being one of the world's largest purveyors of state terrorism, notably against each of its neighbours, including Pakistan. "At home, state-directed terrorism is being unleashed against all minorities," he said.
"In today's incredibly intolerant and fading India, 200 million Muslim minority faces frequent lynching by 'cow vigilantes'; pogroms by RSS [Rashtriya Swayamsevak Sangh] thugs, with official complicity; discriminatory citizenship laws to expel Muslims; and a concerted campaign to destroy mosques and the rich Muslim heritage of India," Butt said.