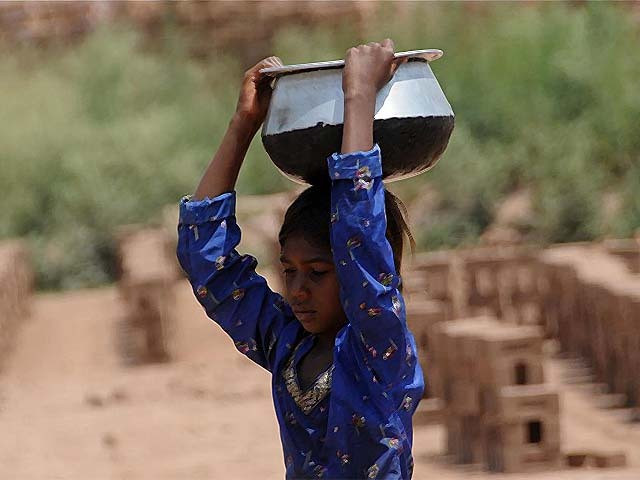 KARACHI: World Day Against Child Labour was observed on Sunday, while more than 6.4 million children in Sindh are out of school and engaged in worst form of child labour that deprives them of their right to health, education and other basic facilities.
Civil society organisations working on the child rights expressed dismay over the rising trend of child labour and appealed the Sindh and federal governments to take measures against the menace. "There are about 1.7 million bonded labourers in Sindh; of these, over 700,000 children are bonded labourers working under indecent and inhuman working and living conditions imposed by their landlords in the agriculture sector," said Akram Khaskheli, President Hari Welfare Association (HWA), which works for the peasants and child rights in Sindh.
According to the data collected by the HWA, around 3329 children, including a few weeks old minors, were released along with their adult family members from the custody of landlords in the agriculture sector, while a large number of children are still under their custody.
According to the HWA, the children under 15 years of age are exploited, abused, and tortured in bangle, brick kiln, fisheries, auto workshops, cotton picking, and chilli picking sectors/activities in the province, but no concerete efforts are taken to provide relief and justice to them. "All government departments responsible to deal with matters including labour inspectors, social welfare officers, and child protection officers do not bother to take action and rescue them," Khaskheli said.
The HWA in its statement regrets that the government's sheer ignorance and absence of policy and plan to eradicate child labour have also added more to the miseries of children and their families. Also, because of the non-availability of work for adults, inflation, and low-paid work, low-income families have increasingly pushed their children to join hazardous labour.
"The government is good at introducing laws but worst at implementing the same," the statement said, adding that there are a number of laws in the province, but all in vain. "Sindh Tenancy Act, 1950, the Sindh Child Protection Authority Act, 2011, the Sindh Right of Children to Free and Compulsory Education Act, 2013, the Sindh Bonded Labour System Abolition Act, 2015, and Sindh Prohibition of Employment of Children Act, 2017 give protection to children, but implementation of the law has been a distant dream as children are engaged in the worst forms of child labour .
It may be mentioned here that the Sindh government a few years ago had also passed, "Sindh Right of Children to Free and Compulsory Education Act". The law has described it a crime if parents don't send their child under the age of 16 to school and force him to work.