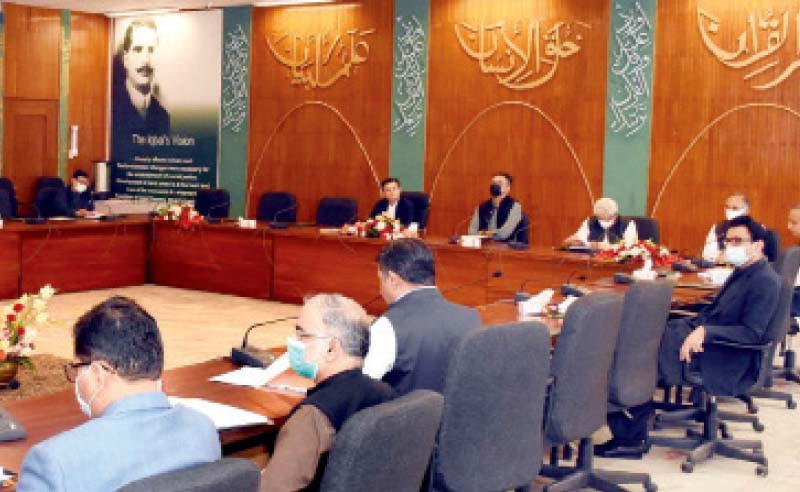 ISLAMABAD: The Economic Coordination Committee (ECC) of the cabinet on Tuesday approved in principle a subsidy of Rs8.2 billion for this year's Ramazan relief package.
According to a statement issued by the finance ministry, the relief package, presented by the national food security and research ministry, has been approved for the whole population of the country rather than the only 20 million households registered with the Ehsaas Rashan Riyat Programme with directions to frame procedural mechanism for limiting the interventions by each family.
The ECC meeting was presided over by Federal Finance Minister Shaukat Tarin.
According to details, the government will provide a subsidy of Rs2.534 billion on flour, Rs750 million on sugar, Rs4.050 billion subsidy on ghee, Rs300 million subsidy on oil, Rs30 million on dal channa, Rs10 million on washed dal moong, Rs30 million on white gram, Rs50 million on baisen, Rs20 million on dates, Rs25 million on rice basmati and Rs10 million on rice sella.
According to sources, the industries and production ministry had approached the ECC to make the subsidy available for the entire population of the country.
The ministry contended that the targeted subsidy through Ehsaas Rashan Riyat Programme involved a sophisticated mechanism of identification and verification of beneficiaries.
The beneficiaries are enrolled after a thorough process involving verification of their socio-economic status and linking them with a registered mobile number in their name.
Although this is a time-consuming process, the outcome would be that a cohort of beneficiaries could avail subsidy in a secure and reliable way.
The ministry further argued that given the paucity of time, any alternate mechanism, without proof of concept and extensive field testing, appeared to be risky. However, the Utility Stores Corporation (USC) was exploring options with the National Database and Registration Authority (NADRA) and Ehsaas programme to find a practical alternative.
Every year since 1991, the government has been launching Ramazan relief packages through the USC network. The government had allocated Rs6 billion for the Ramazan package for 2021-22. Historically, 19 essential items have been sold at subsidised prices at USC outlets across Pakistan.
In addition, the USC also negotiates better discounts from suppliers and has been able to offer reduced prices on more than 1,000 items.
Since the Ramazan Relief Package has become a regular feature, customers expect special discounted prices at USC outlets during Ramazan, which has led to a sharp increase in footfall, ranging from around 150,000 to 500,000 customers a day.