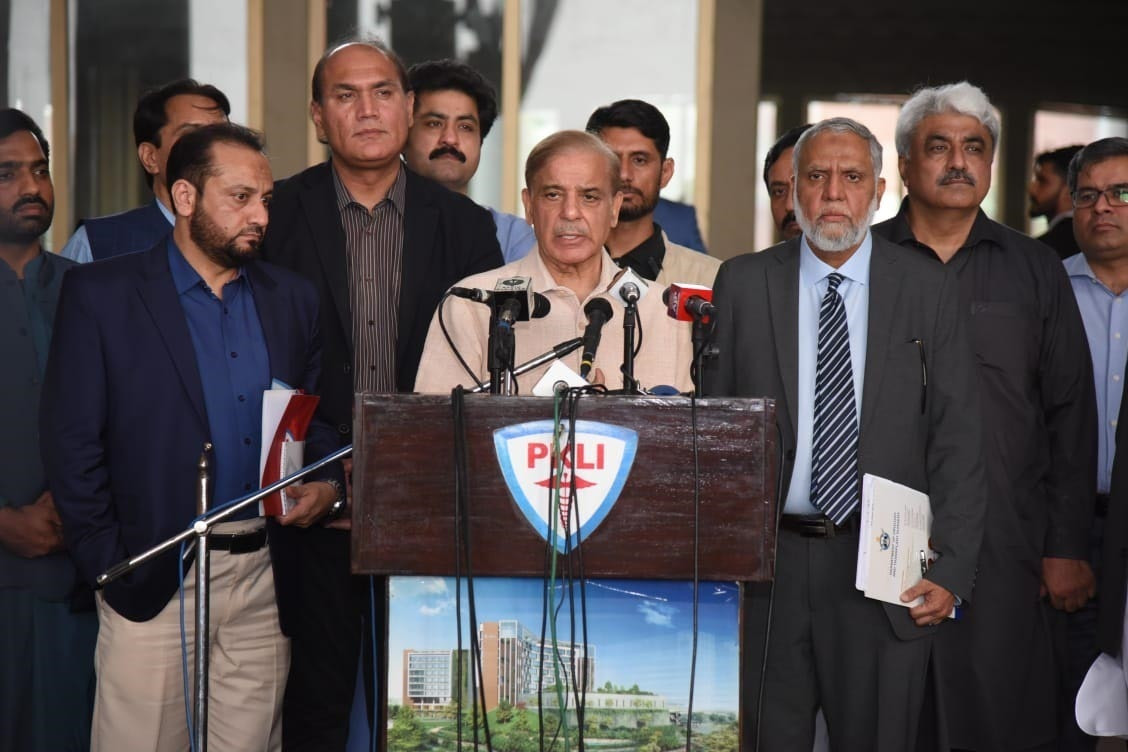 Prime Minister Shehbaz Sharif on Sunday warned former premier Imran Khan that the nation would not forgive him if a civil war broke out in the wake of Pakistan Tehreek-e-Insaf's (PTI) 'Azadi March' on Islamabad.
"Imran Niazi wants civil war but let me tell you the nation will not forgive you… it will be your collar and the people's hands," the prime minister said while addressing the media at Lahore's Pakistan Kidney and Liver Institute (PKLI).
Premier Shehbaz said Imran used the National Accountability Bureau (NAB) to victimise his political opponents, adding that he would have to pay for all his actions.
"Imran Niazi was only focused on putting people in prison. He used to dictate NAB. He directed Shahzad Akbar to make Shehbaz Sharif sleep on the floor in prison. He has no sympathy for humanity and cannot address the problems of the people," he added.
The prime minister said that NAB was unable to prove a single penny worth of corruption against him, adding that he wished the PTI government had paid more attention to the miseries of the people rather than seeking "revenge".
"They did not have time for taking decisions that would bring prosperity for the people as they were so busy [seeking revenge]. The PTI promised five million houses but could not even build a single one. Rather than providing jobs, the PTI snatched jobs of many."
Shehbaz said despite being in power for just a few weeks, his government was able to bring down the prices of wheat and sugar.
"Three years of this hospital were wasted just because of the stubbornness of Imran Niazi… Imran Niazi, this nation will not forgive you. The people who can't be treated will curse you as many lost their loved ones," he added.
Talking about the PKLI, Shehbaz announced that 50 per cent of the patients will be treated free of cost. "These will be white-collar people who cannot afford expensive treatment abroad and will be given preference."
He added that the nursing university will be completed within a year. "It should have been completed a lot earlier but nothing was done for it during the last three years."
Separately, while addressing a workers' convention of the ruling PML-N in Bahawalpur via video link, Vice President Maryam Nawaz said that Imran Khan's government wreaked havoc in Pakistan and promoted politics of anarchy and hatred.
"Pakistan has been made a victim of polarization. Imran Niazi is doing politics on the basis of lies," she said, urging the leadership and workers of the PML-N to play a key role in saving the country from chaos and destruction and ending the politics of hatred.
She said that Bahawalpur was the stronghold of PML-N, "where you feel at home". The Bahawalpur rally on May 28 in connection with Yaum-e-Takbeer will be an important milestone.
She said that in 2017, a "developing and flourishing Pakistan was taken away from us".
Addressing the convention in person, Interior Minister Rana Sanaullah said the government was taking all decisions in the larger national interest and with the consultation of all its allies.
"It will also be discussed with the coalition parties about how to handle the PTI's long march towards the federal capital," the interior minister said.
He said Imran had promoted the culture of unethical and abusive language, adding that the former PTI government did nothing but increase prices of edible items, medicines and others things. "Prices of cooking oil, sugar and other items went sky rocketing during the PTI regime," he said. "Even prices of medicines had increased more than six times."
The interior minister said that the act of arresting PTI leader Shireen Mazari was wrong, adding that the arrest of PML-N leader Maryam Nawaz by the then PTI government was also wrong.
He said that the PTI formed the government with the help of some powers. "The PML-N candidates were harassed by some powers in general elections of 2018. The PML-N is going to organise a big public meeting in Bahawalpur on Yaume-Takbeer, falling on May 28. It will be a record public meeting that would beat the records of other public meetings held in the past," he claimed.
He urged the PML-N leaders and activists to approach masses in order to bring voters and supporters to the polling stations in the next general elections.
Further, responding to Imran's announcement of a long march and demand for snap polls, Federal Minister Information and Broadcasting Marriyum Aurangzeb said Imran could scream, whine and cry as much as wanted but the next general elections would be announced by the government in collaboration and consensus with all allies.
Marriyum said Imran had no authority to dictate the dates of the next general elections, it was the sole prerogative of the government and its allied parties.
"He cannot bully the government into announcing the general elections at a time of his choice with his threats. If Imran is so fond of elections he should have announced them while he was desperately clinging on to power."
She said Imran was returning to Islamabad once again with a new agenda of loot and plunder after looting the country and its people for four years. "He is basically coming to Islamabad to apologise to the nation for his destructive failures, incompetence, corruption and a disastrous four-year rule," she added.
"What exactly is this person coming to Islamabad for? The person who destroyed the national economy and impoverished the nation; who stole people's sugar, wheat, flour, medicine, gas, electricity and LNG; who devalued national currency from Rs115 to Rs189; who buried the country under Rs45,000 billion fresh debt; crushed the nation under inflation and unemployment; mocked them with lies about 10 million jobs and five million homes; and who told the nation he did not care if edibles had become unaffordable under 16 per cent inflation," the information minister said.
She said Imran's announcement of the long march on May 25 was a direct effort to sabotage Pakistan's negotiations with the IMF.
Earlier speaking to a news channel, Marriyum said Imran had intentionally announced a bloody March which showed how desperate he was to create anarchy in the country. "This man is so blinded by his lust for power that he did not even care about triggering anarchy in the country if it served his purpose."
She said the PML-N and its allies in the unity government had a very good idea regarding the hooliganism and bullying tactics of Imran and they would not allow such hooliganism to hold Pakistan and its people hostage.