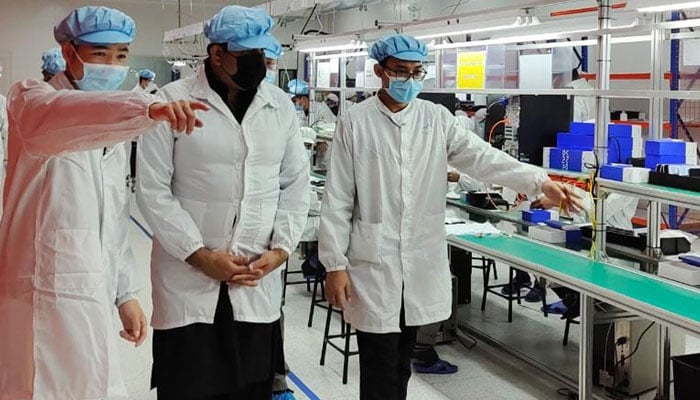 BEIJING: China's renowned Vivo Communication Technology's head of domestic and overseas manufacturing Xie Xiaolin has expressed its intent in setting up an assembling unit in Pakistan in future.
Xie Xiaolin made these remarks during a virtual meeting with Pakistan's Ambassador to China, Moin ul Haque.
The meeting was held recently as a part of the Embassy's economic diplomacy outreach to the Chinese enterprises. Ambassador Haque was accompanied by the economic team of the embassy. Pakistan's Consul-General in Guangzhou was also a part of the meeting.
In his opening remarks, Haque noted with satisfaction the renewed impetus in economic ties between Pakistan and China and underlined the need to further broaden and diversify the economic relations.
He lauded Vivo Mobile for its investment in the Pakistani market since 2017, discussed the company's expansion plans in Pakistan, and expressed assurance of the embassy's full support.
Xie Xiaolin and his team briefed about Vivo's business operations in Pakistan since 2017 and expressed their intent in setting up an assembling unit in the future.
The Chinese enterprise was also briefed on Pakistan's investment policies, the incentives given to export-oriented manufacturers, and the government's special technology zones authority.