ISLAMABAD: Raja Pervez Ashraf, speaker of the National House, accepted the resignations of 35 Pakistan Tehreek-e-Insaf (PTI) legislators on Friday as the party led by Imran Khan plans to return to the assembly to attempt to defeat Prime Minister Shehbaz Sharif in a vote of no-confidence.
The speaker defended his decision to accept the resignations of Sheikh Rashid Ahmed, the leader of the Awami Muslim League (AML), and 34 PTI MNAs a day earlier, claiming that he had only granted resignations from members of the assembly who had given good cause for doing so.
Following Imran Khan's resignation as prime minister following a no-trust vote, the PTI MNA and its allies submitted their resignations in April of last year.
The National Assembly of Pakistan's Speaker has been pleased to accept the resignations of the following Members of the National Assembly with effect from April 11, 2022, the date the respective resignation letters were submitted, in accordance with Clause (1) of Article 64 of the Islamic Republic of Pakistan's Constitution and Rule 43 of its 2007 Rules of Procedure and Conduct of Business.
Dr. Haider All Khan, Salaam Rehman, Sahibzada Sibghatullah, Mehboob Shah Nt. Muhammad Bashir Khan, Junaid Akbar, Sher Akbar Khan, Ali Khan Jadoon, Engr Usman Khan Tarakai, Mujahid Ali, and others had all received the speaker's approval to resign.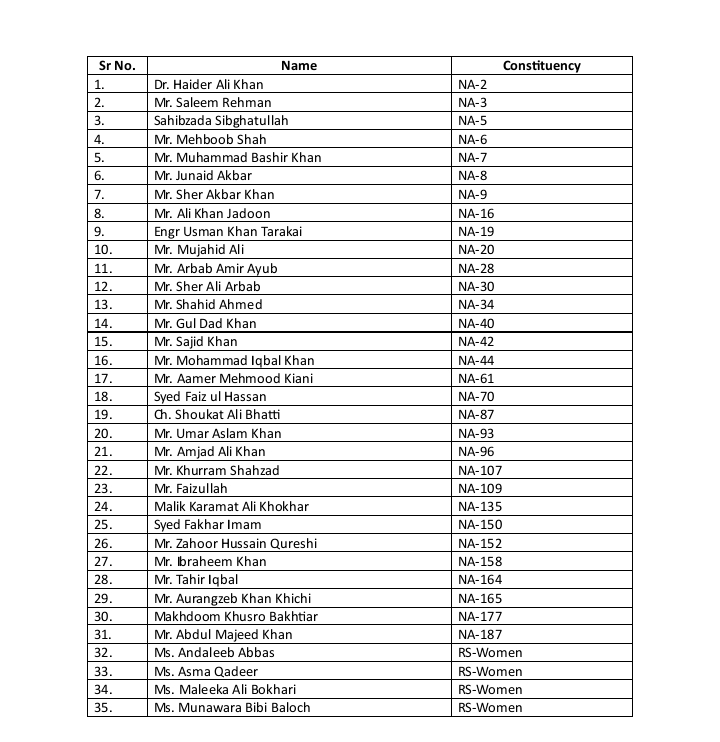 Since the Punjab Assembly was dissolved, general elections have become a hot topic because the PTI declared it will test PM Shehbaz Sharif's nerves in the NA by putting him to a vote of confidence. In a different development, the PTI vowed to rejoin the NA on the condition that the opposition leader, parliamentary leader, and chair of the public accounts committee all be drawn from the PTI.
On the other hand, the NA would welcome the PTI, according to interior minister Rana Sanaullah, but there would be no talk of an interim government until the current one's term ends in August.
General elections may be held this year in March or April, according to Mr. Imran, who has stated this numerous times. Since his removal from office in April of last year following a vote of no confidence, he had been advocating for early elections in the nation.
The PTI and the NA's ruling coalition had previously been at odds with one another over the Speaker's failure to accept the resignations of PTI MNAs.
Only 11 PTI legislators submitted their resignations on July 28. In August, the PTI filed an appeal against the decision with the Islamabad High Court (IHC), but the court rejected it, stating that the political conflict should be settled in the Parliament.