Ushna Shah, a Pakistani actor who has recently gained fame after marrying Pakistani golfer Hamza Amin, announced taking a sabbatical from social media due to internet abuse over her wedding outfit. On Wednesday, Ushna Shah deactivated her Instagram account.
"I haven't replied to online abuse in a while, but I'm going through a pretty delicate time right now. a newlywed at their new home, "This statement was made by the renowned individual on her Instagram stories.
As soon as her wedding photos were public, Shah was the target of internet abuse. She received criticism for her decision in bridal attire as well as for dancing at her own wedding.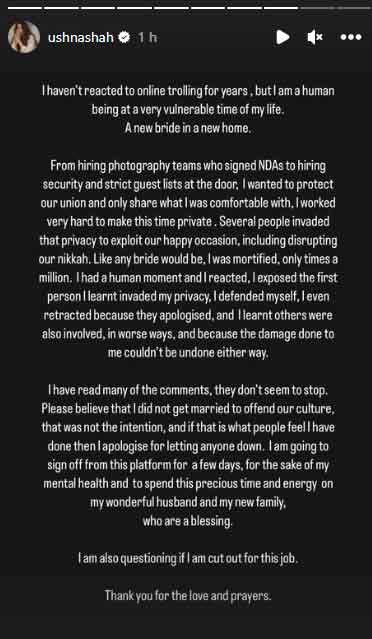 She apologised to anyone who thought the actress was endorsing Indian culture, but she also expressed regret and indignation over the harassment and invasion of her privacy at her wedding.
I made a lot of effort to keep this event under wraps, including hiring security, strict guest lists at the door, and photographic teams that signed nondisclosure agreements. I wanted to safeguard our union and only share information that I felt comfortable sharing. Many people violated that seclusion to take advantage of our joyous occasion, upsetting our nikkah, "Ushna penned a narrative.
Like any newlywed, she claimed to be humiliated. She claimed that she experienced a "human moment" and responded.
"I exposed the first person I found had violated my privacy, I defended myself, and I even withdrew my comment after they apologised," the blogger claimed. I realised others were also participating, in harsher ways, and the damage done to me couldn't be undone either."
Ushna went on to say that she did not get married in order to disrespect Pakistani culture because it was not her objective. If that's how people perceive me to have behaved, I apologise for disappointing anyone.