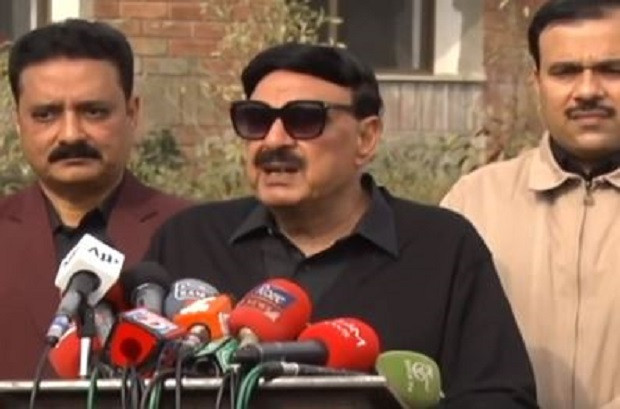 LAHORE: Referring to the security establishment, Interior Minister Sheikh Rashid on Tuesday maintained that the "umpire" was standing with Pakistan, stressing that the current situation demanded that there should be no "anarchy" in the country.
Rashid's remarks came in the wake of the political chaos in the county when the combined opposition is seeking to oust Prime Minister Imran Khan through a vote of no-confidence while the government is determined that it would defeat the move.
The joint opposition contends that the establishment is now neutral, hinting that it no longer supports the ruling PTI for which it allegedly paved the way to succeed in the 2018 general polls.
"The umpire stands with Pakistan and those who care for the country are convincing them to resolve the matters through understanding," Rashid said while speaking to media in Lahore.
"They (establishment) are the supporters of democracy and they are thinking about Pakistan. They stand with no one but Pakistan."
The minister advised the opposition to refrain from indulging in "chaotic politics", saying, otherwise they would have to face the consequences.
"The elements trying to create anarchy will have to wait for next 10 years [to contest the polls] due to their politics of agitation," he said.
Rashid maintained that the PTI members and its allies would fully support PM Imran in the no-confidence motion, adding that the premier would emerge victorious after the move.
"We stand firm with Prime Minister Imran Khan-led PTI government in every situation."
Responding to the JUI-F chief's announcement to reach Islamabad on March 23, Rashid said Maulana Fazlur Rehman had been raising slogans of long march for the last four months, "but politics of agitation will not work this time".
He said 1,000 Frontier Corps and 1,000 Rangers personnel had been called to the federal capital to avoid any untoward situation on the Pakistan Day, adding that the foreign minister of China would also visit the country on March 22.
The interior minister emphasised that the PML-Q, the government's ally, would stand "firm" with the PTI.