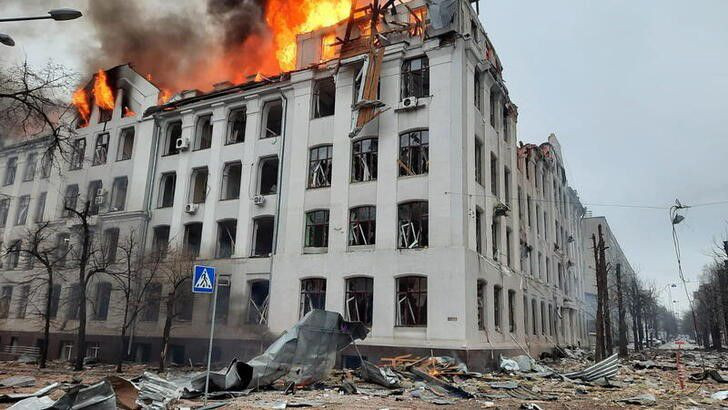 KYIV: Ukrainians said on Wednesday they were battling on in the port of Kherson, the first sizeable city Russia claimed to have seized, while airstrikes and bombardment caused further devastation in other cities, especially Kharkiv in the east.
Russia's week-old invasion has yet to achieve its aim of overthrowing Ukraine's government but has sent more than 870,000 people fleeing to neighboring countries and jolting the global economy as governments and companies line up to isolate Moscow. 
The United Nations General Assembly voted overwhelmingly on Wednesday to deplore the invasion "in the strongest terms". It demanded that Russia withdraw its forces in a resolution backed by 141 of the assembly's 193 members.
The bombing of Kharkiv, a city of 1.5 million people, has left its center a wasteland of ruined buildings and debris.
#BREAKING: Massive explosion reported over Kharkiv, Ukraine. pic.twitter.com/OfC4gzhbMA

— Moshe Schwartz (@YWNReporter) March 1, 2022
"The Russian 'liberators' have come," one Ukrainian volunteer lamented sarcastically, as he and three others strained to carry the dead body of a man wrapped in a bedsheet out of the ruins on the main square.
At least 25 people have been killed by shelling and airstrikes in Kharkiv in the past 24 hours, authorities said. After an airstrike on Wednesday, the roof of a police building in central Kharkiv collapsed in flames.
'They just want to destroy
Pavel Dorogoy, 36, a photographer who lives near the city center, said Russian forces had also targeted the city council building, which was empty at the time, a telephone exchange and a television tower on the edge of Kharkiv.
"Most people hid in the basements for most of the day today and last night … The Russians cannot enter the town so they're just attacking us from afar, they just want to destroy what they can," he said.
Moscow denies targeting civilians and says it aims to disarm Ukraine, a country of 44 million people, in a "special military operation".