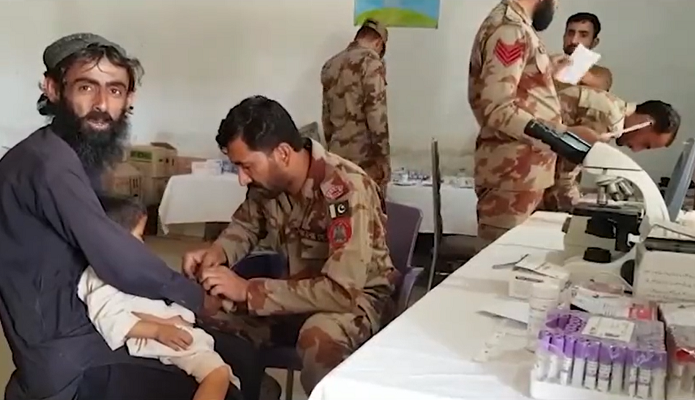 Relief efforts for cholera-hit Pir Koh and Dera Bugti in Balochistan continued on Saturday as 63 water bowsers provided clean drinking water to a population of 54 villages.
According to a press release issued by the Inter-Services Public Relations (ISPR), water was pumped from functional ponds after they were chlorinated. This would further facilitate relief efforts.
"More than 3,500 patients have been provided medical care," the ISPR added. "WHO officials also visited affected areas and witnessed relief efforts."
Earlier this week, it was reported that at least 1,700 people were infected with cholera in the village located in the mountainous region of Dera Bugti after local residents used contaminated water due to old and rusted pipelines.
As per the official records, at least four people have been killed in the cholera epidemic but the local residents claim that at least 20 have died and thousands have been infected.
The provincial government earlier claimed that the situation was under control, but local residents and civil society took to social media to highlight the scarcity of potable water in the village.
A group of local residents and civil society protested outside the Quetta Press Club last week against the shortage of water in Pir Koh.
They chanted slogans and demanded that the government act before the situation resulted in yet another tragedy, as the weather was unusually hot and the old water-supply line had been disconnected.