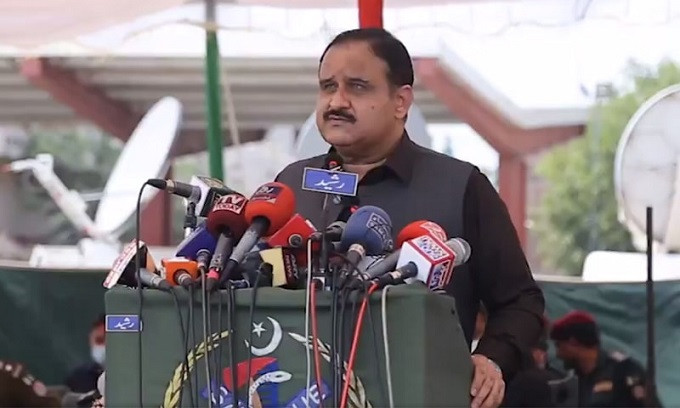 LAHORE: Pakistan Muslim League- Nawaz (PML-N) and Pakistan Peoples Party (PPP) lawmakers submitted a no-trust motion against Punjab Chief Minister Usman Buzdar on Monday, requesting the Punjab Assembly speaker to summon a session on it.
The requisition was submitted at the Punjab Assembly Secretariat, and was addressed to Speaker Punjab Assembly Chaudhary Pervez Elahi.
A total of 127 lawmakers, including PPP and PML-N MPAs, signed the requisition. Among the lawmakers who signed the notice were PML-N's Rana Mashhood, Sami Ullah Khan, Mian Naseer Ahmed, Ramzan Saddique Bhatti and Malik Ahmed and PPP MPA and parliamentary secretary in the Punjab Assembly Syed Hassan Murtaza.
The requisition for summoning an assembly session over the motion was signed by 120 lawmakers.
"The MPAs enumerated in the attached two separate lists of PMLN and PPP duly singed by themselves request your honour to summon session of the provincial assembly of the Punjab under Article 154 (3) read with Article 127 of the Constitution of the Islamic Republic of Pakistan to consider the notice of Resolution of No Confidence against the Chief Minister of the Punjab Sardar Usman Ahmad Khan Buzdar," the requisition stated.
The lawmakers maintained that the CM had lost majority support as matters pertaining to the province were not being dealt with constitutionally and democratically.
We the members of PMLN and PPP hereby give notice under Article 136 of Constitution read with Rules 23 of the Rules of Procedure Provincial Assembly of the Punjab 1997 for following no confidence resolution against Chief Minister of the Punjab," the notice read.
The document contained six lines written in Urdu, requesting the speaker that the MPAs wanted to submit the resolution under aforementioned articles and rules.
"Resultantly, this House show its no confidence over CM Buzdar," it stated.
Punjab Assembly Secretary Muhammad Khan Bhatti confirmed the filing of the no-trust motion, adding that it will now be presented before Punjab Assembly Speaker Chaudhry Elahi, who will proceed in accordance with the law.
No-trust against PM Imran
The requisition for no-confidence against CM Buzdar comes about 20 days after one was filed in the National Assembly, on March 8, by the joint opposition against Prime Minister Imran Khan .
The submission of the motion against PM Imran was followed by a press conference by the top leadership of the opposition parties, including PML-N President Shehbaz Sharif, JUI-F and PDM chief Maulana Fazlur Rehman and PPP leader Asif Zardari, who said that the days of the prime minister were numbered and that no rhetoric could save him anymore.
At the press conference, the top guns of the opposition parties appeared confident that they would succeed in passing the no-trust motion against the premier, saying the opposition would surely bring the members and make sure that it had more than 172 members' support.