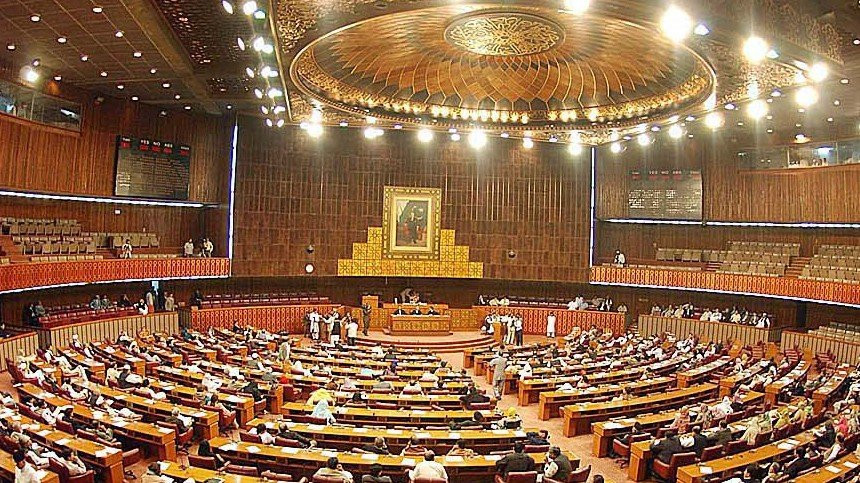 ISLAMABAD: In a series of videos doing the rounds on social media, the miscreants can be seen specifically targeting Narcotics Minister Nawab Shahzain Bugti, calling him "shameless" and a "lota". In fact, one of them even grabbed him by his hair.
One of the miscreants could be heard shouting obscenities at Federal Information Minister Marriyum Aurangzeb.
In response, FIRs under blasphemy laws were lodged against former premier Imran Khan and other top brass of the previous regime. The charges were registered under Sections 295, 295-A, 296, and 109 of the Pakistan Penal Code. The sections relate to harming a place of worship with intent to insult a religion, deliberate and malicious intent to outrage religious sentiment, disturbing religious assembly and abetment. Afterwards, the police launched a crackdown on PTI activists across the country.
The interior minister had tweeted that there was no justification to not register a case against those who had violated the sanctity of Roza-e-Rasool (PBUH).
"The pilgrims were instigated under a plan. Some of the people had travelled to Saudi Arabia from Britain. There can be no forgiveness for what these people have done," he had written.
Talking to reporters in various places in Sindh, Federal Water Resources Minister Khursheed Ahmed Shah said cases for the Madina incident should not be registered in Pakistan. He asked the interior minister to seriously rethink the matter.
"If somebody had shown disrespect to the sacred place, only Allah and His Prophet (PBUH) would punish them for that," he said, adding that he opposed the registration of cases against PTI leaders.
"We do not believe in political victimisation. We believe in democratic norms and will never object to Imran Khan's democratic right to protest. Whoever wishes to bring millions of people in long march should not be barred and protesters should not be arrested for taking part in a peaceful protest."
Earlier, PTI core committee member and former human rights minister Shireen Mazari had written a letter to special rapporteurs of the UN, calling for their intervention to cease the Pakistani government's "misuse of the blasphemy law" against ex-PM Imran and other PTI leaders.
Taking notice of the blasphemy cases filed against the PTI leaders in connection with the recent incident at Masjid-i-Nabwi, the Senate Standing Committee on Human Rights on Friday issued notices to the Punjab chief secretary, provincial police chief, Faisalabad City Police Officer as well as officials of the interior and human rights ministries, summoning them on May 9 and seeking an explanation for the "misuse" of articles 295, 295-A and 296 of the Constitution.
The Senate panel has also directed them to submit details of all the cases filed in connection with the incident. Interior Minister Rana Sanaullah has especially been invited to attend the meeting.
The Senate secretariat issued a four-point agenda for the committee's meeting. They include a briefing from the officials on the legal formalities followed before filing the FIRs as well as if similar cases were registered in Saudi Arabia or not. In addition, they have also been told to explain why these cases had been filed in Pakistan.
On April 28, Prime Minister Shehbaz Sharif had left for Saudi Arabia on a three-day visit, along with a delegation including Bilawal Bhutto-Zardari, Nawabzada Shahzain Bugti, Marriyum Aurangzeb, Miftah Ismail, Khawaja Asif, Chaudhry Salik Hussain, Dr Khalid Maqbool Siddiqui, Mohsin Dawar and Maulana Tahir Ashrafi.
After their arrival in Madina, they headed to Masjid-e-Nabwi to offer prayers.
However, angry protesters, apparently supporters of the PTI, gathered around PM Shehbaz and his delegation and shouted slogans of "thieves" and "beggars" – one of the pictures captured on the scene showing the premier sitting in a vehicle visibly perturbed by the incident.