Murriyam Aurganzeb, Talal Chaudhry among the 45 identified and about 600 unidentified people named in FIR.
LAHORE:A first information report (FIR) was registered against Pakistan Muslim League-Nawaz (PML-N) Vice President Maryam Nawaz and other party leaders for holding multiple corner meetings in the Punjab capital on Monday, ahead of the Pakistan Democratic Movement's (PDM) anti-government rally scheduled for December 13.
Besides Maryam, PML-N spokesperson Marriyum Aurangzeb, Talal Chaudhry, Hasmat Shah, Shizra Mansab and seberal others have also been named in the FIR.
The PML-N leaders have been booked under sections pertaining to the Punjab Public Order Maintenance Ordinance, Punjab Infectious Disease Ordinance, Punjab Sound Systems Act and Punjab Regulation and Control of Loudspeakers and Sound Amplifiers Ordinance.
The FIR has been registered against 45 identified people, and about 500 to 600 unidentified people.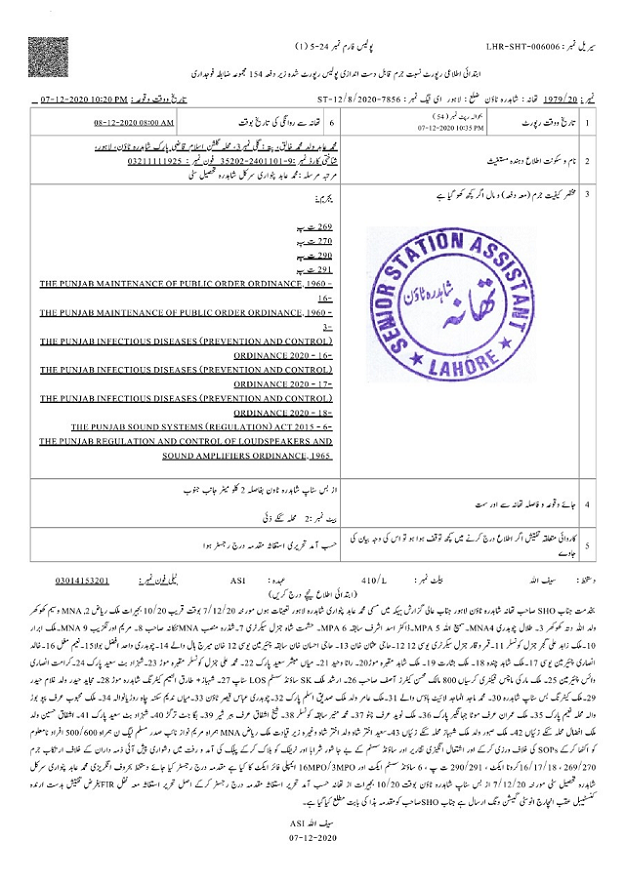 Addressing a press conference in Lahore yesterday, on December 7, PPP leader Qamar Zaman Kaira said the government was changing its tactics to try and stop the alliance from holding the rally.
The opposition alliance said it will go ahead with its December 13 rally in Lahore despite government warnings against breaching Covid-19 safety SOPs.
A day earlier, Maryam, while addressing corner meetings in the Punjab capital, urged party supporters to ensure their participation in the PDM's much-hyped Lahore rally.
She once again predicted that the days of Prime Minister Imran Khan's government were numbered as the PDM, the all-opposition alliance, was set to hold its latest power show in Lahore despite repeated government warnings.
Taking a jibe at PM Imran, Maryam said she has coined a new name for him — "Tabedar Khan" (obedient Khan) – suggesting that the premier did not have real powers to run the country and someone else was calling the shots from behind the scene.
However, in an interview with a local news outlet over the weekend, PM Imran had lashed out at the opposition's alliance, saying that they were holding rallies to "secure relief in corruption cases".
The prime minister had also rained down on the opposition ahead of its Peshawar and Multan rallies, for persisting on holding the public gathering despite a sharp rise in Covid-19 cases across the country.
Highlighting the intensity of the second wave of the pandemic, the premier said the "problem confronting us in Pak during COVID 19 is of a political leadership that has never gone through any democratic struggle, nor worked with ordinary citizens to understand the problems they confront, nor contributed in any substantive way for betterment of ordinary citizens".
The prime minister added that the opposition alliance's "only goal is NRO at whatever cost to the lives of people & the country's economy."