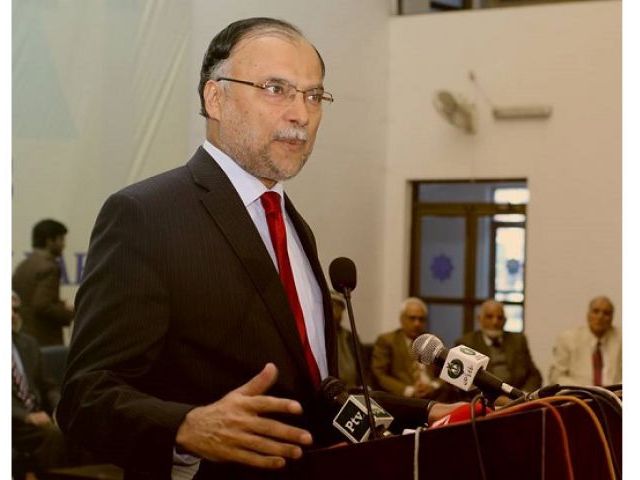 ISLAMABAD: Equating Prime Minister Imran Khan's speech in Swat with his past days atop a container, PML-N leader Ahsan Iqbal accused the premier of allegedly breaking the rule of law and defying the election commission's ban by attending rallies.
Addressing a press conference at the Parliament Lodges on Wednesday, Iqbal said investigation into PTI's foreign funding case was underway and a decision is awaited.
He condemned the incumbent government for holding a rally in Swat despite the ECP ban, adding that the commission should disqualify PTI lawmakers or else they will make a mockery out of every law.
Iqbal also accused PM Imran, without offering substantial proof, of signing an agreement with IMF and compromising the country's sovereignty.
"To stand with Imran means to stand with inflation and unemployment. Standing with Imran Khan is same as standing with liars," he said. "Imran has been giving the same speeches for four years. Inflation has not come down. Speeches do not reduce inflation. The poor can't buy medicine."
The former PML-N minister maintained that institutions are being challenged and there is no precedent for creating chaos in the country.
Iqbal also accused the PTI leaders of not being accountable to anyone. "Their time has come. Nothing will happen from meetings and they all will be held accountable," he said, adding that the prime minister must resign and go home.
The PML-N leader further said rulers must know the price of tomatoes and potatoes, accusing the premier of pushing the country into debt.
Iqbal clarified that PML-Q is still the government's ally and the opposition is awaiting their decision. "Political opposition is not considered political enmity."
He demanded that the PEMRA bans the sitting prime minister's speeches, urging the Supreme Court to take a suo motu notice of statements given by government ministers.
Responding to a question, he said the reason for the delay in convening the National Assembly is that the government does not have enough numbers to defeat the opposition's no-confidence motion.
"If they had enough numbers, they would have called an immediate session and thwarted the movement," Iqbal concluded. "Elected forces in the National Assembly can form a coalition government together. This national government can solve national problems."