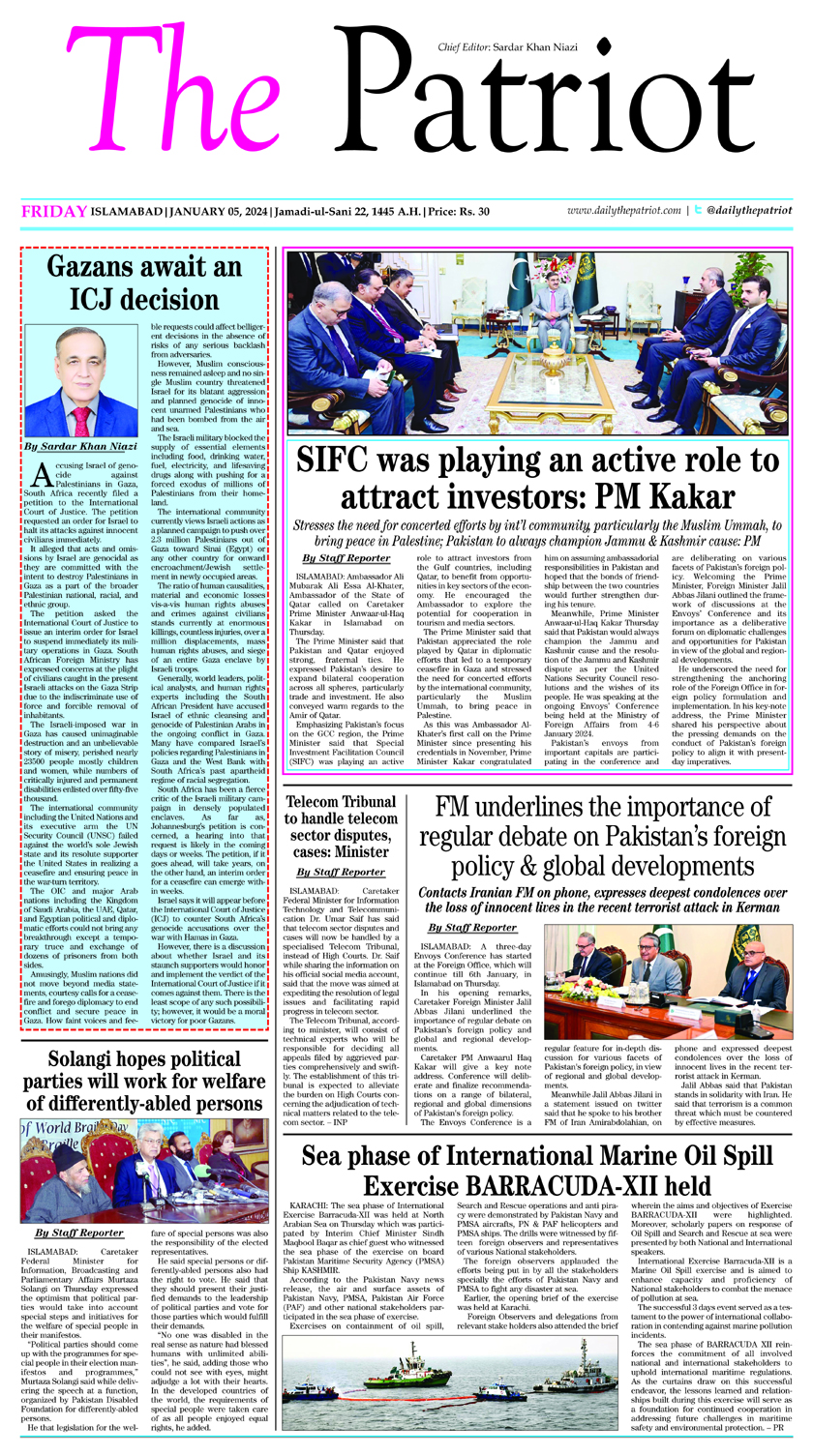 Pakistan's progress linked with Imran's accountability: Marriyum 
By Staff Reporter
ISLAMABAD: Minister for Information and Broadcasting Marriyum Aurangzeb on Wednesday said the country's progress and prosperity was linked with the accountability of Imran Khan as he was the "biggest security threat" for Pakistan. "The country has not faced the biggest security threat in its history like the 'Foreign Funded Fitna and fraud of Imran Khan', who has played a serious game with the national security and interests," she said while reacting to the remarks of the Pakistan Tehreek-e-Insaf (PTI) chairman. "The country will surely prosper if Imran Khan were made subservient to the law," she added. Being the head of government, she said, Imran Khan was solely responsible for all the wrongs committed during the four-year tenure of PTI, but the real power was exercised by his wife Bushra Bibi and her friend Farah Gogi. Referring to Imran Khan's remarks about his limited powers as the country's chief executive, Marriyum said had he had absolute power, then the gravity of his loot and plunder would have been inconceivable. With "limited power", Imran Khan had damaged the country's interests and played sinister games to achieve his political motives, she said, adding the state would have been in danger if he had held "absolute power". She said Imran Khan should have told the masses if he did not enjoy complete power while being in the government for some four years. Ironically, he had unleashed his full power to victimize his political opponents, she added. Marriyum alleged that Imran Khan traded off Kashmir for foreign funding and pushed the national economy into a quagmire with the "limited power".
Green Financing imperative for climate change mitigation: Sherry
By Staff Reporter
ISLAMABAD: Federal Minister for Climate Change Senator Sherry Rehman on Wednesday said the "green financing" was imperative for mitigation of climate change where adaptation plan was prerequisite to ensure the climate resilience of the country. The minister convened a meeting of the Taskforce on Green Financing, discussing at length, the framework and policies required to deal with the access to climate funds. The meeting was attended by Special Assistant to the Prime Minister (SAPM) on Government Effectiveness Dr Jahanzaib Khan and representatives from Economic Affairs Division, Foreign Affairs and Finance Division. Talking on the issue of Green Financing, the minister stressed, "We are unable to unlock any climate financing despite our need for $101 Billion merely for EV Transition. GEF and GCF are the sole UNFCCC entities in Pakistan, dealing with climate financing. But the funding process is lengthy and ineffective. Adaptation rebuilding and mitigation would require sizeable funding that is yet to materialize. We need to look at our own ability to establish climate governance across provinces." In conclusion, she stressed, "At this point, in the flood-hit areas, we have no ability to execute climate governance. 33 million people have been affected badly. All our climate resilience funds have been disbursed for helping the flood-hit. We need to look for other donor platforms, which can provide our country with the much-needed resilience and recovery funds. Speed and scale for adaptation climate finance will be on the agenda for the upcoming conference of the parties (COP)."
Sachi Baat
The usurious system is the biggest obstacle in the way of the development of Pakistan, says SK Niazi
I was not invited to the finance bill session during the current government: Abdul Akbar, Chatrali, KP government did not have enough money to pay the government employees. The province experienced a severe financial crisis: Sardar Muhammad Yusuf
By Staff Reporter
ISLAMABAD: SK Niazi, Chief Editor, of Pakistan Group of Newspapers, talks on the program "Sachi Baat". He stated, "We should all raise our voices regarding the end of the usurious system. The usurious system is the biggest obstacle in the way of the development of Pakistan. Is there any way to give subsidies to government employees for Hajj? SK Niazi raised an important question to his guest. The current government increased Imran Khan's popularity by showing no confidence in him, SK Niazi said. On a special invitation and talk to exclude the usurious system, SK Niazi invited Mulana Abdul Akbar Chatrali to pay special tribute for his great efforts against the usurious system in Pakistan. In the program "Sachi Baat," Jamaat-e-Islami leader Maulana Abdul Akabar Chatrali speaks with another Jamaat-e-Islami leader. He stated that I had proposed a bill and that it had not yet been passed by the parliament. I was not invited to the finance bill session during the current government. Pakistan will not be able to develop without ending profiteering. We need to fight more to end the usurious system. The Khyber Pakhtunkhwa provincial government could not build any mega projects in 3 and half years. Imran Khan became stronger due to the actions of the PDM. He further added, "What did the coalition government do by amending the NAB laws?" Leader of the Muslim League (N) Sardar Muhammad Yusuf talks on the program "Sachi Baat". He thanked the Chief Editor of Pakistan Group of Newspapers SK Niazi and stated, "Sir, I got and got special attention from your channel. I congratulate you for raising your voice against the usurious system. By the grace of Allah, I (Sardar Muhammad Yusuf) cast my vote against the usurious system. There is no room in our country's system for usurious behavior. He further added that my faith taught me to raise my voice against the usurious system. My point of view on the issue of interest is absolutely clear and I also express it. The performance of the Khyber Pakhtunkhwa government is absolutely zero. In the government of Imran Khan, the provincial government did not have enough money to pay the government employees. The province experienced a severe financial crisis. He raised the question that if Imran Khan was sincere for the country, he would have sat in the assembly. The government's focus is on the rehabilitation of the flood victims, he concluded his statement.
UN peacekeeping chief lauds Pakistan's role in counter-terrorism 
By Staff Reporter
RAWALPINDI: The United Nations (UN) Under-Secretary-General for Peacekeeping Operations, Jean-Pierre Lacroix called on Chief of Army Staff (COAS) General Qamar Javed Bajwa in Rawalpindi on Wednesday, said Inter-Services Public Relations in a statement. According to ISPR, matters of mutual interest and overall regional security situation were discussed in the meeting. COAs Bajwa appreciated role of the office of Under Secretary in promoting UN core values and their response during crises. The UN dignitary acknowledged Pakistan's contribution in UN peacekeeping Missions and extraordinary achievements in counter-terrorism.
PM arrives in Kazakhstan to participate in CICA summit
Shahbaz says court's verdict vindicates their stance
ASTANA: Prime Minister Shehbaz Sharif on Wednesday arrived in Kazakhstan's capital Astana to participate in the 6th Summit of the Conference on Interaction and Confidence Building Measures in Asia (CICA), being held on 12-13 October. Deputy Prime Minister and Finance Minister of Kazakhstan, Yerulan Zhamaubayev received PM Sharif at the NursultanNazarbayev International Airport. The prime minister was accompanied by members of the cabinet and senior officials.During his stay in Astana, PM Sharif will meet the President of Azerbaijan, IlhamAliyev, and also attend the banquet hosted by President of Kazakhstan, Kassym-JomartTokayev in honour of leaders of the CICA member states. The prime minister will address the plenary meeting of CICA on October 13, where he will elaborate upon the significance of CICA as a unique forum for promoting interaction, understanding, and collaboration amongst countries across Asia to address common challenges. He will also highlight Pakistan's perspective on regional and global issues. On the sidelines of the summit, the prime minister will hold bilateral meetings with the leaders of various CICA member States aimed at fostering greater cooperation, particularly in the fields of trade, and investment. Prior to his departure from Nur Khan Airbase this morning, PM Sharif in a tweet stressed a greater need to promote engagement and understanding to form win-win partnerships among the countries in Asia. "I believe CICA is capable of shaping a new configuration of economic cooperation and security in Asia through greater connectivity," he said. Earlier, the Foreign Office in a statement said, "The Prime Minister's participation in the CICA Summit attests to the importance attached by Pakistan to promoting connectivity and economic cooperation in Asia, in keeping with the objectives enshrined in the CICA Charter." CICA is an intergovernmental process comprising 27 countries from all across Asia. Established in 1992, it focuses on promoting peace, security, and socio-economic development in the Asian continent. Pakistan is one of its founding members.CICA offers an invaluable platform for advancing the objectives of regional stability and prosperity through dialogue and win-win cooperation.It promotes confidence-building measures under five broad domains: economic dimension, environmental dimension, human dimension, new challenges and threats, and military-political cooperation. -- PR
NA Speaker praises Japan for assisting aid to flood affectees
By Staff Reporter
ISLAMABAD: The National Assembly Speaker Raja Pervez Ashraf Wednesday expressed his gratitude to Japan for assisting aid to flood affectees in Pakistan. The NA Speaker in a meeting with Ambassador of Japan to Pakistan Mitsuhiro Wada appreciated Japan's emergency aid and grant for flood affectees of Pakistan and Japan's overall support for the socio-economic development of Pakistan. He also expressed a desire to learn from Japan to efficiently tackle climate-induced disasters. Matters pertaining to further Pakistan-Japan bilateral ties and worldwide climate change were discussed in the meeting. The Speaker extended profound condolences over the sad demise of former Japanese Prime Minister Shinzo Abe. He said that the late Japanese Prime Minister made invaluable contributions to improving the Pakistan-Japan relationship. He also remarked that Pakistan attaches great importance to its relations with Japan and acknowledge the valuable contributions made by Japan in supporting Pakistan's development efforts over the years. Pak-Japan bilateral relations have strengthened over the time and would be further strengthened in the future through enhanced Parliamentary cooperation between the legislatures of both countries, he added. Raja Pervez Ashraf said members of the vibrant Pakistan-Japan Parliamentary Friendship Group established in the National Assembly of Pakistan were playing a pivotal role by building bridges of friendship and bringing Japan closer to Pakistan. He extended an invitation to the Speaker of the House of Representatives of Japan to visit Pakistan.
Govt departments are failed to serve the people
By District Reporter
CHAKWAL: Senior journalist Khawaja Babar Salim Mehmood said on Wednesday that at present around 32 provincial and ten federal departments are working in Chakwal district. After receiving the salary from the taxes, they should create convenience for the people and solve the problems of the people on a priority basis, but the situation is that every department's effort and desire is to obstruct the legitimate activities of the people while taking bribes and illegal activities. Things are being done in a minute and that is why people are grinding in the mill of misery with each passing day. District Council Chakwal and Municipal Committee Chakwal are earning lakhs of rupees from their owned shops but the situation is that there are so many irregularities and irregularities and the government treasury is being drained of lakhs of rupees. A star hotel to be set up in the district complex, the rent of which was fixed at Rs 56,000 per month in 2017 through auction, has been closed for the past five years and its security has been returned to the successful bidder, and so far a large shop (A grant of more than three lakh rupees has been given to District Council Chakwal from Hotel. He was speaking live from Chakwal Press Club Studio. Zulfiqar Mir, the host of the program, said that if the district administration ensures the supply of things to the people only at the fixed prices, the people can get a lot of relief. While the market committee issues the price list of vegetables and fruits on a daily basis, but unfortunately, none of the carriers, shopkeepers and traders are willing to sell vegetables and fruits at these prices, serious measures are needed in this regard. Senior journalist Khawaja Daniyal Saleem said that at present there is a situation of Andhernagari Chopt Raj in the country, 500 years ago during the reign of Lal Shahbaz Qalandar, when the ruler in Sehun was increasing the oppression of the people every day, Shahbaz Qalandar gave him a warning message. But when he did not stop, Shehbaz Qalandar turned his limbs upside down and the palace of ruler Chopt was turned upside down and from that time this proverb Andher Nagri Chopt Raj is famous and Pakistan also needs a Qalandar like Lal Shahbaz now. Senior Journalist Raja Iftikhar Ahmad said that the prices of petrol have decreased but it is forbidden for any transporter to reduce the fare by even a penny, while the transport fares are being increased with each passing day. He demanded the Regional Transport Authority to come out on the roads and curb the transporters and bind the transporters as per the rent chart set by the government. Taj Mohammad Linga participated as an observer on this occasion.
Conference on Unlocking Digital Health Care: Affordable health for all at Health Asia
By Staff Reporter
KARACHI: Saman-e-Shifa Foundation & Easy Health Tech are organizing conference on Unlocking Digital Health Care: Affordable health for all at Health Asia on Friday, 14 October, 2022 at 2pm at Expo Center, Karachi. This conference is in continuation of earlier conference held on Sept 13, 2022 on Boosting Medical devices development in Pakistan at Expo center, Karachi, well attended by officials from DRAP, PPMA, HDAP, Pharma Industry and faculty from Engineering and Medical Universities. The health care industry hasn't always enjoyed a reputation for operating at the forefront of technological innovation. But the recent COVID-19 pandemic brought several opportunities for digital health advancements into clear focus, beginning with a quick pivot to virtual care. Seemingly overnight, health care providers across the globe in general and in Pakistan rapidly expanded telehealth  capabilities to effectively transition in-person health care appointments to a virtual setting.
Save The Children Committed USD 50 million for Relief and Rehabilitation post Floods 2022
By Staff Reporter
KARACHI: As the post-flood rehabilitation of damaged schools infrastructure across Sindh will take a long time to complete, the provincial government and Save the Children has planned to set up 600 Temporary Learning Centers (TLCs) in four districts of Dadu, Sanghar, Shikarpur and Khairpur with an aim to resume students' educational activities stalled following the devastating floods. In order to ensure the smooth and effective relief and rehabilitation process, Save the Children has committed USD 50 million for the floods response 2022. In this regard, Save The Children has signed a Letter of Understanding with Sindh Government's Sindh Education Foundation (SEF) and Legal Rights Forum (LRF) to establish 600 Temporary Learning Centers (TLCs) besides scaling up the response and support for flood affected children on immediate basis. To witness the development and ensure continuous support, Country Director Save the Children, M. Khurram Gondal, Global Humanitarian Director Save the Children, Gabriella Waaijman and Director Advocacy, Policy and Government Liaison, Usman Aslam visited temporary learning centers and children friendly spaces being managed in Dadu and also provided Food/ Non-Food Items, dignity kits and other necessary relief items to the flood affected communities in district Dadu. "We are ensuring resumption of students' education despite the damage caused to the schools due to the recent flood," Khurram Gondal said on the occasion.
CM Sindh meets Governor Sindh
By Staff Reporter
KARACHI: Chief Minister Sindh Syed Murad Ali Shah called on Governor Sindh Kamran Khan Tessori here on Wednesday at Governor House. Law & order situation in the province, rehabilitation of rain and flood affectees, need and importance of close relations between Federal and Sindh Government, federally funded development projects in the province, foolproof arrangements for local bodies polls Karachi and Hyderabad divisions and other matters of importance were discussed on the occasion. Governor Sindh said that every problem could be resolved with mutual consultation. Would act as a bridge between federal and provincial governments to resolve all issues for the benefit of masses of Sindh, Governor Sindh pledge. Chief Minister Sindh congratulated Governor Sindh for assuming the office of Governor and said that we would move forward in consultation of each other.
LG Minister inaugurates WSSP' SCADA system on tube-wells
By Staff Reporter
PESHAWAR: Khyber Pakhtunkhwa Local Government Minister Faisal Amin Khan Gandapur on Wednesday inaugurated Supervisor Control and Data Acquisition (SCADA) system and Automatic Water Testing Devices installed on Water and Sanitation Services Peshawar (WSSP) tube-wells. In an effort to switch towards automation, the company installed first of its kind SCADA system on 46 tube-wells in the province and automatic water quality sensors to check water quality in its first phase. The project is implemented with financial assistance of UNICEF and technical support from University of Engineering Technology Peshawar (UET) at a cost of Rs12.9 million. Chief Executive Officer WSSP Dr Hassan Nasir, General Manager Planning, Monitoring, Evaluation and Reporting (PMER) Syed Zamirul Hassan, Zonal Manager Anwarul Haq were present on the occasion. General manager PMER briefed the minister on importance and operation of SCADA which will enable WSSP automatic switching of tube-wells and get accurate data on electrical and water supply parameters. He said the data would be saved through GSM or mobile SIM on a website and a monitoring dashboard that help WSSP measures exact power consumption of each tube-well and quantity of water it pumps into water supply system. "WSSP can also ascertain if a tube-well's water production capacity is increasing or decreasing, enabling the company to devise long-term plan on basis of that data in future," the general manager said. The minister was also briefed on installation of automatic water quality sensors installed on six tube-wells at a cost of Rs5 millions. The general manager explained that the devices would automatically take samples from water and test its quality. "It will instantly test water sample with less chances of error, save transport cost and timely identification of contamination."
Saeed Ghani asks voters not to vote for Imran Khan in upcoming by-polls
By Staff Reporter
KARACHI: Sindh Labour and Human Resources Minister, Saeed Ghani, has asked the public not to vote for the Chairman of Pakistan Tehreek-e-Insaf, Imran Khan, in the upcoming by-elections in the country as the former prime minister wouldn't go to the National Assembly to duly represent them and present their issues. The Sindh Labour Minister, who is also Pakistan People's Party Karachi President, put forth the suggestion to this effect on Wednesday while speaking at a press conference here at the Sindh Assembly building. Ghani reminded the voters of the constituencies whereby-polls are going to be held on October 16 that the PTI Chairman was already an MNA as he could hold only one seat in the National Assembly at a time. He said that Imran Khan if emerged victorious in the upcoming by-elections wouldn't go to the parliament to take oath as a new MNA. "People cast their vote to elect a candidate for their due representation in the assembly so that he could raise their issues on the floor of the legislature but the case of Imran Khan is different as after winning the by-polls he wouldn't go to the assembly for representing the voters in the constituency," he said. He appealed to the voters of the constituencies where by-elections were going to be held to select such a candidate who had the ability to go to the assembly for their due representation. Ghani said the PTI Chairman had ridiculed all the national institutions and law of the land. He said that whatever the conduct of the former PM on the issue of controversial diplomatic cipher was nothing except being an ant-state activity that also went against the oath taken by Imran Khan as a public office holder. The Sindh Labour Minister was of the view that every Pakistani had suffered because of the decision of Imran Khan not honouring the agreement of his own government with the IMF. He said that a treason case should be lodged against Imran Khan for his grave wrongdoings during his tenure as the PM as the PTI Chairman didn't deserve votes in the upcoming by-polls. To a question, the Sindh Labour Minister suggested that local government polls in Karachi should be held in two phases given the limited resources available at the disposal of the government to ensure peaceful and smooth conduct of the polls. He, however, maintained that the final decision in this regard rests with the Election Commission of Pakistan.
Rabita-e-Alam-e-Islami delegation calls on CM Punjab
By Staff Reporter
Lahore: A delegation led by Secretary-General Rabita-e-Alam-e-Islami Sheikh Muhammad bin Abdul Karim Al-Essa met with Chief Minister Punjab Chaudhry Parvez Elahi at his office where it was accorded a warm welcome by the CM on wednesday. Ambassador of Saudi Arabia Nawaf Bin Saeed Ahmed Al-Maliki, Abdul Rahman Khalil Al-Khadidi, Abdul Wahab Muhammad Abdul Aziz Al-Shahri, Khalid Mufarah Al-Watiyabi, Muhammad Saeed Al-Ghamdi, Saeed Al-Harthi and others were included in the delegation. Sheikh Muhammad bin Abdul Karim Al-Essa and others thanked CM Parvez Elahi for the wonderful welcome and hospitality in Punjab. Shaikh Muhammad bin Abdul Karim Al-Essa appreciated the services of Chief Minister Parvez Elahi concerning religion and stated that he has taken a historic step by enacting legislation to make the oath of the Finality of Prophethood (PBUH) mandatory in the marriage certificate. The auspicious steps taken by the Punjab government regarding religion are commendable, he added. You have done great work regarding the religion of Islam and Allah Ta'ala will reward you for this good work. We appreciate your special interest in religious services. Our full cooperation is with you and will remain so, he further said. The CM said that the relations between Pakistan and Saudi Arabia are exemplary. Every Pakistani considers Saudi Arabia as their second home and our hearts beat together; he said and noted that Saudi Arabia has stood by Pakistan in every hour of the trial. Even during the recent floods, every Pakistani appreciates the assistance provided by the Saudi government and Saudi brothers. We are grateful to the people of Saudi Arabia on behalf of the government of Punjab and the people, he added. The chief minister said that Allah Ta'ala has enabled him to establish the Quran Board and Sira't Academy. The government has added a clause related to the Finality of Prophethood (PBUH) in the marriage certificate; he stated and mentioned that at the time of marriage, it is, now, mandatory to take the oath of Finality of Prophethood (PBUH). Thanks to this, the future of our girls is safe and no girl and her family will be cheated on in the future. The CM said that ulema of all schools of thought have been given representation in the Ulema Board. With the consultation of ulema and religious scholars, the publication and sale of books and materials, based on religious hatred, have been banned in the province and all controversial literature has been confiscated. The government has also made legislation in this regard, he added. Allah allowed making the Nazra Quran and its translation mandatory for the students in schools. Frames of Quranic verses have been displayed in all government offices of Punjab. In the building of the Punjab assembly, the verses about the Finality of Prophethood (Peace Be Upon Him) are shining beautifully. He noted that the Rabita-e-Alam-e-Islami was making great efforts to promote interfaith harmony. The government would continue to serve the religion, he concluded. Speaker Punjab Assembly Muhammad Sibtain Khan, Provincial Minister Mian Mahmood-ur-Rasheed, Rasikh Elahi, Hafiz Ammar Yasir MPA, Chairman Punjab Qur'an Board and General Secretary Wafaq ul Madaris Maulana Muhammad Hanif Jalandhri, Mufti Ahmad Ali of Jamia Ashrafia, Chairman Ruet-e-Hilal Committee Pakistan Maulana Abdul Khabir Azad, additional chief secretary, former principal secretary GM Sikandar, former BoP president Hamish Khan, secretaries of Auqaf, information departments and others were also present.
Court Notice
In the Court of Judge, Banking Court No. 3 Lahore Old State Bank Building OPP G.P.O, Shahrah-e-Quaid-e-Azam Lahore. Suit No.186/ 2022.Samba Bank Ltd Plaintiff Versus Shehzad Ali Shad (defendants). Summons U/S 9(5) of the Financial Institutions (Recovery of Finances) Ordinance, 2001. (Ordinance No: SL VI of 2001).1) Summons to Shehzad Ali Shad S\O Sham Shad Ali Shehzad House No 251 Block J-I Sun flower Society Johar Town, Lahore and Serene Engeering, pvt Ltd Allama Iqbal, Air Port International serene Air, pvt Ltd lahore . Whereas the aforesaid plaintiff has instituted a suit against you and others suit for Rs 1734542/52 along with the mark up claimed to be payable by you. Summons U/S 9(5) of Ordinance No XL VI of 2001 referred to above is hereby issued requiring you to make within 30 days of the service of this summon an application for leave to defend the suit U/S 10 ibid. Take notice that on your failure to file such application within time specified above the Banking Court shall pass a decree as prayed for in the plaint, in favour of the plaintiff Banking Company. Next date for the further proceedings, in the case has been fixed on 10-11-22. Given under my hand and seal of the court this 10-11-2022. Judge Banking Court no.3, Lahore
Court Notice
In the Court of Judge, Banking Court No. 3 Lahore Old State Bank Building OPP G.P.O, Shahrah-e-Quaid-e-Azam Lahore. Suit No.184/ 2022.HBL Bank Ltd Plaintiff Versus Summar Tufail (defendants). Summons U/S 9(5) of the Financial Institutions (Recovery of Finances) Ordinance, 2001. (Ordinance No: SL VI of 2001).1) Summons to Summar Tufail S\O Muhammad Tufail R/o Gosia, Muhalla, Sher Rabani Ferozabad Tehsil and District Sheikhupura . Whereas the aforesaid plaintiff has instituted a suit against you and others suit for Rs 830340/54 along with the mark up claimed to be payable by you. Summons U/S 9(5) of Ordinance No XL VI of 2001 referred to above is hereby issued requiring you to make within 30 days of the service of this summon an application for leave to defend the suit U/S 10 ibid. Take notice that on your failure to file such application within time specified above the Banking Court shall pass a decree as prayed for in the plaint, in favour of the plaintiff Banking Company. Next date for the further proceedings, in the case has been fixed on 04- 11-22. Given under my hand and seal of the court this 10-10-2022. Judge Banking Court no.3, Lahore
Public Notice
Federal Government Employs housing Authority 10 Maw Area G-10/4 Islamabad It is hereby informed that Plot No. 120 Street No. 08 Sector G/1 G-14 Islamabad Mr. Muhammad Ishaq son of Muhammad Ibrahim Mouza G-14/1 was transferred, after whose death the following heirs want to transfer this plot to their names. Muhammad Ashfaq, Muhammad Ishtiaq, Samina Tahir, Rubina Amjad, Ezra Ishaq, Muhammad Mushtaq, if anyone has any objection to this transfer, other than the claimant to be heir or any objection to the above mentioned plot or any If there is a sale agreement with or has obtained any kind of loan from any bank, then appear in the office within 15 days or notify in writing otherwise this plot will be transferred to the names of the above heirs by taking unilateral action. Assistant Director (Estate-II)FGE Housing Authority G-10/4 Islamabad.
Distribution of Awards 2022 jointly by Education department and Press Club
By Staff Reporter
ISLAMABAD: In recognition of the performance in the field of education of the teachers of different institutions at national level, a gold medal and Shields have been awarded to Associate professor Dr. Manzoor Khan Afridi from Islamic International University, Dr. Syed Qandil Abbas from Quaid e AzamUniversity, Dr.Aqeela Asif from Comsats University, andReumahSohail, PhD scholar, Preston University, by theEducation Department of Punjab and Press Club Sheikhupura in a graceful ceremony held in Council hall. All awardees were well known educationists in their respective fields and several awards, shields and gold Medals on their credit. Justice (R)NasiraJaved Iqbal was the Chief Guest in the event. She addressed the gathering and stressed upon the quality education and personality development for the cultured and peaceful societal setup. The ceremony was organized by Muhammad Imran Ameen and his team. The event was highly appreciated by the public at all levels due to encouragement and recognition of the dedicated faculty members of different cities of Pakistan.
Nine outlaws held; weapons and drugs seized
By Staff Reporter
ISLAMABAD: Islamabad Capital police apprehended nine criminals involved in criminal activities and recovered drugs and weapons with ammunition from their possession, a police public relations officer said. He said that DIG Operations Sohail Zafar Chatha had ordered all zonal officers to curb the crime in their respective areas and arrest those involved in criminal activities and looting innocent people. Following these directives, a Secretariat police team arrested an accused namely Muhammad Razaq and recovered 1130 gram hashish from his possession. Likewise, the Sangjani police team arrested an accused namely Atif Khan and recovered one 30 bore pistol along with ammunition from his possession. Similarly, Tarnol police team arrested a lady accused namely Zar Pari and recovered 1620 gram hashish from his possession. Noon police arrested an accused namely Muhammad Saeed and recovered 1020 gram hashish from his possession. Moreover, Shahzad Town police arrested an accused namely Kashwar and recovered one 9mm pistol from his possession. Koral police arrested an accused namely Muhammad Waqas for possessing illegal weapons and recovered one 30 bore pistol from his possession. Cases have been registered against the nabbed accused and further investigation is underway. DIG Operations Sohail Zafar Chatha said that the safety of the lives and property of the citizens is our prime responsibility and no laxity will be tolerated in this regard.
MMBL CFDO highlights the power of Fintech at the GITEX Global 2022
By Staff Reporter
ISLAMABAD: Pakistan's largest digital bank, Mobilink Microfinance Bank Limited (MMBL)'s Chief Finance and Digital Officer (CFDO), Sardar Mohammad Abubakr shared his expertise on Fintech Surge: ESG & Fintech – Society, Inclusion & the Environment at the GITEX GLOBAL 2022, held in the 2nd week of October at Dubai World Trade Centre. GITEX GLOBAL, the world's largest tech show, unifies the world's most influential ecosystems advancing business, economy, society, and culture through the sheer power of innovation. MMBL is part of the VEON group, a global digital operator that provides converged connectivity and online services across seven countries. As part of its digital operator strategy, VEON is transforming people's lives, creating opportunities for greater digital inclusion, and driving economic growth across countries that are home to more than 8% of the world's population. During his address, Sardar Abubakr stressed the need to recognize the huge strides Pakistan has made in digitalization. Dedicated to harnessing the power of technology, MMBL is at the forefront of digital innovation, making digital and financial solutions more inclusive, efficient, and affordable for everyone, especially women and Small & Medium Enterprises (SMEs)- two highly influential segments for increased economic development. The Bank's ever-growing partnerships portfolio is a testament to the expansion we are doing for maximizing the outreach of our financial services. This year, Gitex Global is hosting more than 4,500 companies, thousands of exhibitions, and 100,000+ attendees from 170 countries, in addition to over 1000 industry leaders and subject experts from diverse fields as speakers. Building a bridge between technology and finance, Fintech Surge featured 100+ globally leading financial industry experts, entrepreneurs, innovators, investors, and regulators. With over 40 million registered users, including 15+ million monthly active mobile wallets, MMBL remains committed to expanding access to financial services and bridging the financial gaps that persist in Pakistan. Abubakr underlined that the non-financial factors including environment, social, and governance are crucial to the sustainability of the fintech industry, therefore, these should be considered to initiate long-term growth with reduced risks. He also emphasized the need for businesses to ensure compliance with social and environmental requirements to anchor themselves well in the societies they function in. Quoting the example of his organization, Sardar Abubakr shared: "MMBL commits all efforts with sustainability and customer-centricity at the forefront. The Bank strives to catalyze positive social change through the financial inclusion of marginalized segments, especially women and the rural populations, not only through microcredit but also through specialized training and provision of access to customized digital and financial product offerings. We are deploying the power of digital - a great enabler & equalizer, to empower the masses holistically."
Flood affected areas require 2.99 mln seed bags for Rabi crops
By Staff Reporter
ISLAMABAD: Flood affected areas across the country need 2.99 million seed bags to fulfill the requirements of upcoming Rabi season, Commissioner Food Security ministry of National Food Security and Research informed a meeting held here at the NFRCC on Wednesday. The meeting chaired by Minister for Planning and Development Ahsan Iqbal was informed that around four million acres of cultivatable area have been affected by flood across the country. Chairman National Disaster Management Authority (NDMA) Lieutenant General Akhtar Nawaz, provincial secretaries of agriculture and other concerned officials also participated in the meeting. The Rabi crop, especially the cultivation of wheat and the measures regarding the supply of subsidy-based seeds were reviewed in the meeting. The forum was also appraised of the progress made so far on the NFRCC web portal and dashboard.
New strategy formed to counter traffic jam in Capital
By Staff Reporter
Islamabad: Following the special directives of Inspector General of Police (IGP) Islamabad Dr Akbar Nasir Khan, a new strategy has been formed by Islamabad Capital Police to make the traffic system in the federal capital more effective and to improve the traffic flow in rush hours. According to the details, the entry of heavy traffic causing massive traffic jams in Islamabad will not be allowed on the main highways of Islamabad IJP and Expressway from 07 to 10 in the morning and 4 to 10 in the evening. At the same time, due to the construction work on IJP road and Expressway, the entry and parking of heavy traffic has also been banned, legal action would be taken against every vehicle causing obstruction to the traffic. The Special Enforcement Squad of Islamabad Capital Police will also ensure safe travel for citizens on Islamabad Expressway, IJP Road, Srinagar Highway and other major highways and other places of the city to ensure the implementation of traffic rules. They will also provide all possible assistance to ensure safe travel for the citizens. For any query and complaint citizens can contact the Islamabad capital police helpline "Pucar-15" or 051-9261992. Drivers are also requested that, before starting the journey, keep listening to Islamabad Capital Police FM Radio 92.4 to get traffic alerts and traffic updates in order to avoid any harsh situation.
TDCP has opened the cable car for tourists in Patriata after repairs. Manager Ejaz Ahmad Butt 
By Staff Reporter
RAWALPINDI: Newly appointed MD Tourism Department Corporation Punjab, Agha Muhammad Ali Abbas soon after assuming his charge visited Patriata Chairlift Top and reviewed all the facilities provided to the tourists in detail. On this occasion, Regional Manager T.D.C.P Ijaz Ahmad Butt, Manager North, Moazam Nazir & Sheikh Munir and the administration also accompanied him. Director TDCP visited Patriata Top and after inspecting the cable car issued instructions to operate it for tourists. Director Agha Muhammad Ali Abbas while talking on this occasion said that every possible step will be taken to provide quality and safe recreational facilities to the tourists. He said that TDCP is trying to promote local tourism for which new initiatives will be taken and cable car and chair lift are one of those. The people there will get new livelihood opportunities which will improve their quality of life. Considering the interest of tourists, the cable has been restored after necessary repairs. He directed that the inspection should be done on time and tourists should be provided with the best facilities and a peaceful environment.
Chief Collector Customs assures to address customs issues of business community
By Staff Reporter
ISLAMABAD: Business community is playing a key role in promoting trade and economic activities and all possible measures would be taken to address their customs related issues. This was said by Muhammad Imran Khan Mohmand, Chief Collector (Customs North), Islamabad while addressing the business community during his visit to Islamabad Chamber of Commerce & Industry (ICCI). Muhammad Imran Khan Mohmand said that an improved Export Facilitation Scheme would be rolled out soon to facilitate the exporters. He said that the business community should take advantage of the Trade Information Portal of Pakistan to improve their knowledge about import and export matters. He said that the We-BOC system is also facilitating the traders in customs clearance and they should take advantage of it. He said that the business community should cooperate with the customs department in identifying those who misuse the green channel to make it more effective for clearance of containers. He assured that the customs department would consider the issues highlighted by the business community to address them. Speaking at the occasion, Ahsan Zafar Bakhtawari, President, and Islamabad Chamber of Commerce & Industry said that the best option to resolve the current economic crisis is to boost exports and foreign reserves. He stressed that short, medium and long term measures should be taken to improve exports. He further said that the customs should arrange seminars in chambers of commerce across the country to educate the business community about improving exports.
Pakistan was saved from sinking into an economic quagmire
By Staff Reporter
ISLAMABAD: FPCCI's Presidential candidate Atif Ikram Sheikh on Wednesday said Pakistan was temporarily saved from sinking into the economic quagmire but serious economic issues are present which should be resolved without further delay. He said that erroneous economic priorities and wrong decisions can push the country to bankruptcy sooner than expected therefore merit should be given priority. Atif Ikram Sheikh who has also served as Chairman PVMA, VP FPCCI and President ICCI said that a solution to the current economic crisis is possible with political will. The lack of unity also hinders the resolution of the crisis, he said, adding that those who matter give priority to personal and political interests over the national interest and instead of expanding the economy they try to boost their vote bank. Most important economic decisions are made on political grounds and without consulting the independent economist or the business community. Atif Ikram Sheikh warned that the loss of resources cannot last long because the economy is not strong and it cannot withstand more extravagance, bad decisions and poor governance. Exports and remittances have always failed to fill the gap between imports leading to borrowing. The reasons for low export volume include inflated business costs, tax system, inconsistency in policies, poor governance, difficulties in starting a business and shortage of energy.
GSTAR 2022 Curtain Raiser 
By Kamran Raja
ISLAMABAD: The aim of GSTAR is to explore pressing challenges emerging from the global strategic environment and technological developments impacting national security and providing inputs on future counterstrategies, especially in the aerospace sector. The Centre for Aerospace & Security Studies (CASS) is holding its two-day flagship International Conference called 'Global Strategic Threat and Response (GSTAR)' from 19-20 October 2022 under the core theme 'Evolving Global Order: Challenges and Opportunities.' A curtain raiser for media was held at CASS with a view to share the details of the conference. Representatives from all major national and international media houses attended the curtain raiser. The media personnel were also shown around CASS premises and briefed about the Centre's work. The biennial GSTAR is a unique international forum, initiated by CASS to review the most significant global strategic trends and challenges by bringing together national leadership, reputable international and Pakistani experts from think tanks, academia, defence services, intellectuals, and OEMs as well as provide an opportunity to Pakistan's policy leadership to share the country's strategic vision. The conference will feature international scholars and practitioners from Canada, China, Germany, Latvia, New Zealand, United States and United Kingdom. In addition to the Inaugural and Closing plenaries, the conference will have four thematic plenaries on 'International Security Environment Emerging Challenges and Opportunities, Geoeconomics Driver of the Asian Century' Emerging Technologies & Future Warfare' and 'Aerospace Security Determinants and Future Prospects. The two-day event is being organized at Air Headquarters Officers' Mess in the capital, Islamabad.
Benazir income support programme distributes over Rs65b among 2,603,881 flood-affected families
By Staff Reporter
ISLAMABAD: Financial aid of Rs.25000 under Prime Minister's Flood Relief Cash Assistance through Benazir Income Support Programme (BISP) has been provided to every flood affected families in the flood hit areas of Pakistan and so far a total amount of Rs.65,097,025,000 have been disbursed among 2,603,881 affected families under this programme. In this regard special payment centers have been established in by Benazir Income Support Programme (BISP) the flood affected areas through which till to date 201,230 affected families have received Rs.5,030,750,000 in Balochistan; 1,787,027 families have received Rs.44,675,675,000 in Sindh; 294,858 families have received Rs. 7,371,450,000 in KP, 320,324 families have received Rs.8,008,100,000 in Punjab and 442 families have Rs11,050,000 in Gilgit Baltistan respectively. Federal Minister for Poverty Alleviation and Social Safety / Chairperson Benazir Income Support Programme (BISP) Ms. Shazia Marri has stressed upon the concerned staff who is present at the campsites to fully cooperate and facilitate the female beneficiaries in their respective regions. BISP urges affected families to forward their CNIC number to 8171 for registration in Flood Relief Cash Assistance program and upon receiving payment message they can visit their nearby campsite to receive their payment. A control Room has also been established at Benazir Income Support Programme headquarters with cells at provincial level to ensure smooth payments.
President for enhancing bilateral trade volume with Hungary
Islamabad: President Dr Arif Alvi has underlined the need to substantially increase the volume of bilateral trade between Pakistan and Hungary from its existing level of $50 million to $150 million to help realize the full potential of bilateral trade, business and investment. The President said this while talking to Pakistan's Ambassador-designate to Hungary, Mr Asif Hussain Memon, who called on him in Aiwan-e-Sadr, today. The President highlighted the need to create linkages between the private sectors of Hungary and Pakistan for forging possible joint ventures in the fields of agriculture, vertical farming, robotics, information technology, water management, flood water management, crop insurance and development of high-yielding seeds. The President expressed the hope that the economic experts of the two countries need to collectively find practical ways to implement planned initiatives in the next session of the Joint Commission on Economic Cooperation (JCEC). The President advised the envoy designate to engage the Hungarian Oil and Gas Company (MOL), which had a sizable investment in Pakistan, and encourage it to extend its operations to renewable energy as well. While underlining the areas of furthering bilateral cooperation between the two countries, the President said that there was great potential for cooperation with Hungary in water resources management, agriculture, food, education, IT sector and higher education sector. He also emphasized the need for the full utilization of scholarships offered by the Government of Hungary to Pakistani students and asked the ambassador-designate to coordinate with the Higher Education Commission to finalize the MoU for the scholarship program on a top priority basis. He appreciated that the Government of Hungary was likely to increase the award of the current 200 scholarships to 400 in the near future, which, he said, should be fully utilized. He said that a mechanism should be established to attract Pakistani human resources educated and trained in Hungary back to Pakistan and to ensure the utilization of their acquired knowledge and training in critical fields for bringing improvement to Pakistan's economy. The President also appreciated the support of the Government of Hungary for GSP+ status to Pakistan and stated that there was a need to ensure Hungary's continuous support for the renewal of GSP+ status to Pakistan. He advised the envoy to highlight the true image of Pakistan and the sacrifices rendered by the Pakistani nation to counter terrorism and extremism in the country, at the same time he should also highlight the discrimination, intimidation and violence being perpetrated against the minorities in India. He said that there was a need to talk about Hindutva philosophy as well as the increasing trend of Islamophobia in India, which was putting the lives and properties of Muslims under threat. --PR
ISLAMABAD:  Ameer Jamaat e Islami Siraj ul Haq addressing the Minar Pakistan Youth Convention meeting in Qurtaba City, Islamabad.
Imran gets protective bail in prohibited funding case
By Staff Reporter
ISLAMABAD: The Islamabad High Court (IHC) on Wednesday granted protective bail to Chairman PTI Imran Khan till October 18, in prohibited funding case. Chief Justice Athar Minallah heard the case filed by Former Prime Minister Imran Khan seeking protective bail in FIR registered by Federal Investigation Agency against him in prohibited funding scam. Additional Attorney General Munawar Dogal argued that the petition of protective bail could be heard only when the matter belongs to the other province. The chief justice remarked that the special court should have heard the bail case, adding that if there was an issue then this court was granting protective bail till that time. Earlier, Imran's lawyer Suleman Safdar Advocate contended that there was a risk of arrest of his client. He said that prohibited funding case should have been heard by special judge central. The advocate prayed the court to grant his client protective bail so that he could file bail petition to the concerned forum. On a query of the bench, the lawyer said that Imran Khan was currently at his home in Banigala and his house was surrounded by the police. Imran Khan could appear within 30 minutes if court gives directives, the lawyer said. The court ordered that PTI chief shouldn't be arrested until he appeared before the bench. Later, Imran Khan appeared before the court and he was granted protective bail against surety bonds worth Rs5,000. The court instructed the petitioner to approach the relevant case during the time. It may be mentioned here that the registrar office had raised three objections on the bail petition of Imran Khan in case registered by FIA under Foreign Exchange Act. The registrar office objected over the lack of biometric of Imran Khan in his petition and attaching unverified copy of the FIR. The registrar office also objected that how the petitioner could file plea in IHC before moving to special court. The FIA had registered an FIR against 11 people including former Prime Minister Imran Khan in prohibited funding matter.
Essays on Dr Qadeer's life should include in curriculum
By Staff Reporter
ISLAMABAD: Central President of All Pakistan Private Schools and Colleges Association, Malik Ibrar Hussain has demanded of the government to include the essays in the curriculum of educational institutions on the life and achievements of late Dr Abdul Qadeer and his outstanding works as nuclear scientist. The initiative would create awareness among the new generation about their real heroes, said Malik Abrar Hussain while talking to a state run news agency. Dr. Abdul Qadeer Khan's services in making Pakistan an invincible nuclear power are unforgettable, he added. The patriotism, courage and bravery of the Late Qadeer Khan will be remembered forever, Malik Ibrar added. Malik Abrar Hussain used to say that nations that remember their national heroes, would achieve high status in the world. "The credit for making Pakistan the seventh nuclear power in the world and the first Islamic power undoubtedly belongs to a great personality like Dr. Abdul Qadeer Khan, who worked tirelessly to make Pakistan a nuclear power despite the world's restrictions. And finally, on May 28, 1998, Pakistan conducted nuclear tests which put Pakistan on the frontline in the world nations" he mentioned.
Malala Yousafzai visits flood hit areas of Dadu, inspects devastation
Murad, Malala discuss effects of flood on children education
By Staff Reporter
DADU: Nobel Laureate Malala Yousafzai on Wednesday visited flood hit area of district Dadu and reviewed the devastation caused by the monsoon rains and the flash floods. Accompanied by her father Ziauddun Yousafzai, Sindh Health Minister Dr Azra Pechuho, Education Minister Sayed Sardar Ali Shah and singer Shehzad Roy, Malala Yousafzai inspected the Chhandan area of Juhi and lamented the devastation caused by the flood. The purpose of Nobel Laureate's visit is to help victims in rehabilitation as floods had devastated hundreds of thousands families in Sindh and other parts of the country. Meanwhile, Sindh CM Syed Murad Ali Shah also praised the visit of Malala Yousafzai and said due to her visit of the flood hit areas of Sindh, a strong voice about human tragedy will be spread all over the world. Meanwhile, Sindh Chief Minister Syed Murad Ali Shah in his meeting with Noble Peace laureate Malala Yousafzai said that her visit to flood hit areas of Dadu and meeting with the affected families living in camps has further stressed the need of supporting the devastated people for their rehabilitation. The CM and the Noble laureate discussed over all flood situation, its devastations and the need to help the devastated people to rehabilitate them. Malala said that the education of the school going children living in camps has been affected badly. She added that she had visited tents girl's schools and spent some time with the students. "Their morale was high and their spirit for receiving education was commendable," she said.
India replicating Israeli model of settler colonialism in IIOJK: Speakers
By Staff Reporter
ISLAMABAD: All Parties Hurriyat Conference (APHC) AJK chapter and Legal Forum for Kashmir (LFK) jointly organized a report launch and press-briefing on the imminent situation in the Indian Illegally Occupied Jammu and Kashmir (IIOJK) in the wake of India's settler colonial program. Colonial Diary, a repository of settler colonial diktats in IIOJK was launched on Wednesday to apprise the international community of Indian machinations political, legal, and economic subjugation of Kashmiris which amounts to war crimes under International Law. The report has been compiled by the team of Legal Forum for Kashmir (LFK). It includes the around 220 legislation, administrative changes, orders, notifications, and press releases by the Indian State in the last three years (August 2019 – August 2022) after the abrogation of Article 370. Colonial Diary is the repository of settler colonial diktats by the Indian administration in IIOJK. The documents included in the repository are the various legislation, administrative changes, orders, notifications, and press releases by the Indian State after the abrogation of Article 370. The repository includes various laws, articles, and bills on different issues and with diverse themes including Land acquirement for military purposes, the Roshini Act, Termination of government employees under 311 (2) (c), Waqf properties, Pandit Migration, Jammu Kashmir Reorganization Act (2019), Domicile Certificate, Delimitation Commission, etc. According to a report, "Kashmiris fear the new laws are aimed at a land grab to dilute the Muslim-majority character of the region, whose partial autonomy was scrapped in August 2019, bringing it under New Delhi's direct control." Kashmiri Lawmakers believe that it is a pathway paved for replicating the Israeli model of occupation and colonization of the West Bank in Kashmir towards dis-empowerment and dispossession of the locals, particularly Kashmiri Muslims, to exercise hegemonic control through new settlers. The press-briefing was also attended by APHC leadership including Imtiaz Ahmed Wani Secretary Information Sheikh Yaqoob, Mushtaq Ahmad Bhat; Mian Muzaffar; Sheikh Abdul Majid, Zahid Ashraf,Manzoor Ahmad Dar, Bashir Ahmad Usmani; Mukhtar Ahmad Baba, Spokesperson Masarat Alam Bhat, Chairperson Muslim League JK and Altaf Ahmad Wani, Director KIIR.
Indian authorities disallow masses to participate in martyr APHC leader's funeral in Srinagar
Desk Report
SRINAGAR: In Indian illegally occupied Jammu and Kashmir, the authorities disallowed masses to participate in the funeral prayers of the martyred All Parties Hurriyat Conference leader, Altaf Ahmad Shah, on late Tuesday night in Srinagar. According to Kashmir Media Service, the authorities snapped the internet service and sealed Lal Bazar, Waza Colony and Buchpora areas of Srinagar when the body of the martyred leader reached his home in Buchpora. The occupation authorities deployed Indian troops, paramilitary and police personnel in strength in these areas to prevent people from visiting the residence of Altaf Ahmad Shah in large numbers and attend his funeral, a mourner said. He said only those persons who were in the house including relatives and nearby residents were allowed to participate in the funeral of the martyred leader. As the area was sealed no outsider was permitted to enter the locality, he added. Heavy deployment of Indian forces' personnel was also made at the local graveyard where the martyred was laid to rest.
Hurriyat leaders term custodial death of Altaf Shah as cold-blooded murder
Desk Report
SRINAGAR: In Indian illegally occupied Jammu and Kashmir, Hurriyat leaders have strongly denounced the custodial death of senior leader of All Parties Hurriyat Conference, Altaf Ahmad Shah, terming it a cold-blooded murder. According to Kashmir Media Service, the illegally detained APHC Vice Chairman, Shabbir Ahmed Shah in a message sent from New Delhi Tihar jail and released in Srinagar expressed deep shock over the demise of Altaf Ahmed Shah in the Indian captivity. He denounced in strong terms the Indian apartheid regime's brutal attitude towards the Kashmiris and said Altaf Ahmed Shah's tragic death in custody speaks volumes about the dangerous tactics the communal Modi regime has been using to eliminate legitimate political voices of Kashmir that have refused to toe its diktats. The APHC Vice Chairman termed the death of Altaf Shah as a cold-blooded murder. He said that it was quite unfortunate that the Indian authorities blatantly refused to provide him medical care and remorselessly ignored his fast-deteriorating health condition. "Detaining Kashmiri leaders and political activists under bogus cases and leaving them to rot in jails far away from their homes is part of the Modi government's policy intended to render the ongoing freedom struggle a leaderless movement," he said. Thousands of Kashmiris including the top rank Hurriyat leaders who have been arrested before and after 5th August 2019 have been lodged in Indian jails, he said.
Fleet of 20 coaches from China to reach Pakistan in Oct: NA told
By Staff Reporter
ISLAMABAD: Parliamentary Secretary for Railways Kiran Imran Dar on Wednesday informed the National Assembly that the first fleet of 20 state-of-the-art coaches from China would arrive Pakistan at the end of October 2022. During the question hour, she said Pak Railways procured 230 new passenger coaches from China to provide comfortable journeys to the passengers as per international standards. She said Pakistan Railways was rigorously perusing ML- 1 project under CPEC to upgrade its track which was delayed during the last four years. The speed of the train, she said, will increase from 65- 105km/h to 120– 160km/h. The journey time will be reduced by half after the implementation of this project. She said the signaling system of 44 stations had been automated by Computer Based Interlocking (CBI) over Shandadpur-Mirpur, Mathelo and Lodhran- Shandara Bagh sections.