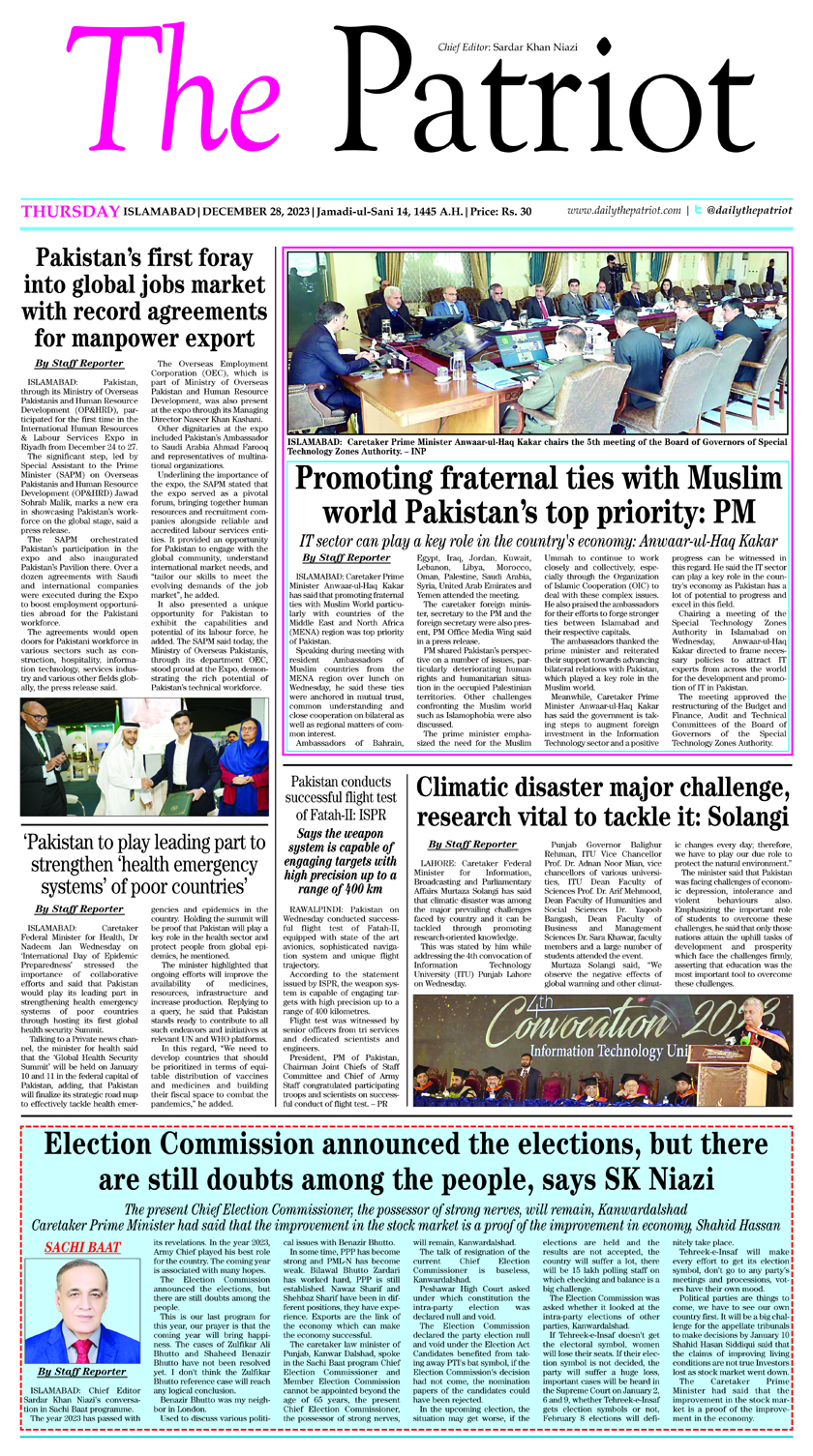 Process of appointment of army chief present in law & constitution & decision will be made according to this: PM
When Nawaz Sharif will return back he will bring back the prosperity along with him, Audio leaks regarding 'Cipher' exposed true face of PTI Chairman, No one will be allowed to take illegal action or law into their hands
By Staff Reporter
ISLAMABAD: According to Prime Minister Mian Muhammad Shehbaz Sharif, recent Cipher audio leaks have revealed the genuine face of Pakistan Tehreek-e-Insaf (PTI) Chairman and former Prime Minister Imran Khan to the people. He stated that the procedure of appointing an army head is outlined in law and the constitution, and that the choice will be taken with the blessings of Almighty Allah, adding that the media should not be concerned about the topic. He stated that when Mian Muhammad Nawaz Sharif returns, he will bring prosperity with him, and that when the treatment is completed and doctors allowed, Nawaz Sharif will return to Pakistan. Addressing a news conference in Islamabad on Thursday with Minister for Planning, Development, and Special Initiatives Ahsan Iqbal Chaudhry, Minister for Information and Broadcasting Marriyum Aurangzeb, Advisor to the Prime Minister on Establishment Ahad Khan Cheema, and SAPM Ataullah Tarar Advocate, PM Shehbaz Sharif said it was the PTI Chairman who harmed the country's relationship with the outside world, which the current government is trying According to the Prime Minister, the coalition government's stance has been vindicated. Shehbaz Sharif, the PTI Chairman, was harshly criticised for making bogus accusations against our constitutional struggle. He also stated unequivocally that the administration had no involvement in the audio leaks. According to the Prime Minister, the government has spent about one hundred billion rupees on flood relief and support. He stated that sixty billion rupees have already been spent under BISP. Billions of rupees have been spent to provide flood victims with blankets, tents, food packages, and other necessities. Prime Minister Shehbaz Sharif stated that China has provided 90 million dollars for flood victims, while other countries such as the United States, Saudi Arabia, the United Arab Emirates, and Japan have also offered assistance to flood victims. He stated that the federal and provincial governments, as well as other organisations, are working tirelessly to provide support to flood victims. He noted, however, that the PTI Chairman is attempting to obstruct the flow of foreign assistance. In response to a question, the Prime Minister stated that the Islamabad High Court had handed Maryam Nawaz Sharif a clean chit on merit. He claimed Maryam Nawaz appeared in court for four years and faced incarceration alongside Nawaz Sharif.
Assault & pelting of stones on teachers by KP police 'condemnable and shameful': Marriyum
By Staff Reporter
ISLAMABAD: Marriyum Aurangzeb, Minister for Information and Broadcasting, said on Thursday that the assault and pelting of stones on teachers by Khyber Pakhtunkhwa police in Peshawar were "condemnable and disgusting." "Imran Khan, who seeks Haqeeqi Azadi under the guise of a so-called conspiracy, is stoning the teachers in KP for demanding salaries," Marriyum Aurangzeb said in a news statement. She stated that the instructors were complaining about Imran Khan's economic revolution, which had been imposed on the people of Khyber Pakhtunkhwa for the past eight years. Marriyum Aurangzeb stated that the teachers marched at the Peshawar Assembly Chowk to protest Imran Khan's "fascist and oppression."
Not easy to disqualify someone for life: CJP
By Staff Reporter
ISLAMABAD: Chief Justice of Pakistan Umar Ata Bandial said on Thursday that it is not so easy to disqualify someone for life. According to details, a three member bench of the apex court, headed by Chief Justice, conducted hearing on plea filed by PTI leader Faisal Vawda against his lifetime disqualification. The CJP, while hearing the plea, observed that no one can be declared dishonest without examining the evidence and the declaration of Article 62(1-F) can only be given by the court.
Dar announces electricity rate for exporters Rs19.99 per unit
By Staff Reporter
ISLAMABAD: Federal Finance Minister Ishaq Dar announced on Thursday an electricity fixed tariff of Rs19.99 per unit for the textile industry's export sector. Chief Gohar Ejaz, patron of the All Pakistan Textile Mills Association (APTMA), met with Finance Minister Ishaq Dar on Thursday to discuss the industry's electricity tariff. According to information, APTMA Patron in Chief Gohar Ejaz led the textile industry delegation and was successful in resolving textile-related difficulties. Ishaq Dar attended a joint press conference with Gohar Ejaz and other textile sector officials following the negotiations with the APTMA delegations. Dar told the media that he had not used harsh measures yet, but that the dollar had begun to fall in value against the Pakistan rupee. He acknowledged that the dollar's actual worth versus the Pakistani rupee is less than Rs200. He stated that the rise in the value of the rupee against the dollar benefits the country. The finance minister stated that his administration will supply power to exporters at a set rate of Rs19.99 in order to enhance Pakistani exports and solve local textile sector difficulties. Ishaq Dar further stated that his government will provide a subsidy to exporters ranging from 90 billion to 100 billion in a single year. Dar stated that the government would not violate the prime minister's vow to keep the rate unchanged for the current fiscal year. Dar stated that he has offered a subsidy to exporters since he has finances and there is no need to ask anyone in this regard. Dar reported that exports climbed by 12.7% in 2017. He stated that the currency exchange rate cannot be left open, and that India and the United Kingdom have also intervened in the currency market.
50 percent of flood-ravaged Sindh dewatered: Bilawal Bhutto
Says Asif Ali Zardari's health improving
By Staff Reporter
KARACHI: Foreign Minister and PPP Chairman Bilawal Bhutto Zardari has declared that the flood disaster was not over yet as hill torrents from Balochistan mountains were still coming to Sindh. Addressing a news conference at Sindh CM House in Karachi on Thursday, Bilawal Bhutto said about 50 percent of the flood-ravaged areas of Sindh has been dewatered. He was accompanied by Sindh Chief Minister Syed Murad Ali Shah, Sindh PPP President Senator Nisar Khuhro, Minister Information Sharjeel Memon, Minister Irrigation Jam Khan Shoro, Saeed Ghani, Murtaza Wahab, Advisor to CM Rasool Bux Chandio and others. Bilawal said although 50 percent of floodwater had been drained out from Sindh, still the water was coming down from the hills of Balochistan. "Let me tell you it is not over yet, it is not over yet," Bilawal added. Meanwhile Bilawal Bhutto Zardari has said the condition of his father, former president Asif Ali Zardari is 'improving'. In his informal talk with the newsmen in Karachi, Bilawal Bhutto Zardari said they were thinking about Asif Ali Zardari's surgery, but doctors have decided against it as the former president is improving. The PPP chairman urged the workers to pray for the speedy recovery of Asif Zardari.
Impolite political affairs
By Sardar Khan Niazi
Imran Khan represents the visions, expectations, and ambitions of the people of Pakistan. He will withstand all the unpleasant remarks against him until the 2023 elections. His arrest and detention or disqualification will lead nowhere. Imran Khan is a leader who has organized masses including the urban upper middle class. He dexterously uses the power of social media. He surely shall be able to maintain his support base until the elections next year. The PDM government cannot project Pakistan's political direction. The governance quality by present rulers, the economic revival, inflation control, flood relief, and rehabilitation will play a major role in deciding the political direction. The PTI chief's arrest and disqualification will not change the present political direction. The public mood is strongly defiant, as has been seen by the previous two attempts to seize him. The PDM government planned strategy using strong administrative actions, maligning Imran Khan through an IT-based smear campaign, entrapping him in unending legal battles, and appraising the PTI's narrative over state-controlled media would not be able to stem the pro-Imran tide. Presently, the despair is mostly economic despair. It is the main cause, which is mobilizing the dispossessed masses under the PTI leadership. The public discontent is actually challenging the PDM government. Two threatening issues loom large on the horizon: the perilous state of the national economy and the dire situation in the vast flood-affected areas of the country. Agriculture is the backbone of the economy. Farmers caught by the intolerable impact of rising inflation, black marketing, and energy price hikes under the umbrella of the Kissan Ittihad reached Islamabad and put forward several demands before the government. Millions upon millions of unfortunate victims of the devastating rainy season are waiting for the promised bounties to arrive in form of food, medicines, and donations to kick-start their journey back home. Unluckily, Prime Minister Shahbaz Sharif has blamed the PTI Chairman Imran Khan for ruining Pakistan's economy, which has caused quite a commotion in different circles of the country and abroad. Plunging to newer historic lows every now and then, in the pursuit of their dreams does not suit the politicians. As a member of the executive, PM Sharif would have been in a more desirable position bearing in mind the implicit rules about decency before letting the cat out of the bag, that too, before global media. The PDM government does not matter for the vast majority of Pakistanis in the rural heartland, especially in flood-ravaged areas. PDM has not so far been able to meet the challenge of floods and fix the economy which is why it has failed to make a dent in PTI's popularity and vote bank. The PDM government has devised a plan to counter the PTI-long march. It consists of the deployment of the Army in the capital city's Red Zone in order to halt the entrance of marchers into the high-security area. As many as 30,000 personnel of Islamabad and Sindh Police, Rangers, and FC are to be deployed to ensure law and order in the capital city. No matter in what way the PTI is trying to bring the masses to join the long march, which actually hurts the PDM government, the present rulers need to act within the limits of decency and in accordance with its current station. Our sear homeland deserves some redeeming feature; a new beginning; freedom out of the chaos. There is a need especially on the part of the PDM government to prevent the looming clash and resolve the difference of opinion without harming the economy or distracting attention from the miseries of millions of people facing hunger and disease. The way out is to talk and talk only.
H.E Charles meets Kh Asif; discussed defence, science and technology
ISLAMABAD: H.E Mr. Charles Joseph M Delogne, Ambassador of the Kingdom of Belgium called on Minister for Defence, Khawaja Muhammad Asif, at his office in Islamabad today. Minister for Defence highlighted that there is enormous potential to further strengthen relations between the two countries in various fields including trade investment, defence, science and technology and people to people contact. He reiterated that Pakistan is committed to stability and peace in the region with particular focus on its relations with Afghanistan and India. A peaceful Afghanistan is in the interest of Pakistan and of the whole region. Pakistan continues to stress upon political settlement and encouragement of Afghans to work towards peace. Moreover, Khawaja Asif mentioned that Belgium is an important NATO ally. It may share its experience with Pak Defence Forces in capacity building. He expressed that Pakistan's desire to enhance defence collaboration with Belgium on transfer of technology basis and ease of access to defence technology of EU. Both sides agreed to further strengthen the institutional framework for high level bilateral coordination to achieve regional as well as global peace and prosperity. - PR
No desire to meet Nawaz Sharif: CM Punjab Chaudhry Parvez Elahi 
CM for expediting the anti-dengue campaign, also condoles loss of lives
By Staff Reporter
LAHORE: Chief Minister Punjab Chaudhry Parvez Elahi has said that everything ordered by chairman PTI Imran Khan, during the long march, would be obeyed. Rana Sanaullah should look around that whose governments are there. Imran Khan owns Punjab. Khyber Pakhtunkhwa, Azad Kashmir and Gilgit Baltistan are also owned by Imran Khan, he said. If there is a long march, Rana Sanaullah will not even get a place to stand. While talking to the media in London, Parvez Elahi said that he has no desire to meet Nawaz Sharif, nor do I want to meet him. After living together for a long time, one should learn; I know every single person in their family; he added and regretted that these people have ruined the country. The chief minister said that Shehbaz Sharif did not behave well with Punjab during the floods. Regrettably, Punjab made the Sharif family chief minister and prime minister two or three times, but they did not help the flood victims in Dera Ghazi Khan and Rajanpur. They did not pay even a single penny, he cited. Through his vision, Imran Khan collected huge donations for the flood victims. Imran Khan's popularity led to a successful telethon in which I also participated; he remarked and added that two and a half billion rupees were collected through the telethon. The CM said that Rana Sanaullah opened fire on innocent women and children. The confessional statement of Rana Sanaullah is present in the assembly which we are going to give to the court as evidence. There, he said that a State was being formed within the State, and we had to do more. Rana Sanaullah thought that there was no one to hold him accountable. A team consisting of an advocate general, secretary law and eminent lawyers has been formed and they will be punished in the Model Town tragedy case. While Chief Minister Punjab Chaudhry Parvez Elahi has ordered to make the anti-dengue campaign more effective throughout Punjab and in this context, has issued necessary instructions to the cabinet committee for anti-dengue from London. He said that proper reporting and monitoring should be done and the full focus should be on clinical management with anti-dengue measures. Anti-dengue teams should be mobilized at the grassroots; they should visit regularly and upload on the dashboard. At the district level, deputy commissioners should hold meetings daily and review the situation themselves, he said and added that the reports of the meetings and inspections should be sent to the Chief Minister's Office regularly. The CM said that work should be continued during Sundays and other holidays for the prevention of dengue. The surveillance teams should pay special attention to hotspot areas and parks and green areas should be particularly checked and sprayed as needed. Meanwhile, monitoring of indoor and outdoor surveillance teams should also be ensured. Anti-dengue activities should be seen not only in Lahore but in every city in Punjab, he stressed. He directed that breeding spots of dengue mosquitoes should be eliminated on a priority basis and the local community should also be included in the dengue prevention campaigns. All treatment facilities should be provided to dengue patients. He said that negligence in the treatment of dengue patients will not be tolerated. Alongside this, people should be sensitized about measures to prevent dengue, he concluded. Meanwhile, Chief Minister Punjab Chaudhry Parvez Elahi has expressed grief and regret over the loss of precious human lives in a traffic accident on the Indus Highway near Hyderabad.
Punjab govt is taking all possible steps to improve the administrative affairs: Saqib Manan
By Tahir Nakash
ATTOCK: Commissioner Rawalpindi Division Saqib Manan has said that the Punjab government is taking all possible steps for the improvement of administrative matters. Waqar Akbar Cheema Assistant Commissioner Suman Abbas, COMC Attock Sardar Aftab Khan and other officers were also present. At the beginning of the visit, the commissioner planted a sapling in connection with the plantation drive at the DC office in Rawalpindi and later the officers of the departments across the district. Deputy Commissioner Attock briefed Commissioner Rawalpindi about the history of district Attock. Regarding development works, Commissioner Rawalpindi was told that 80 schemes are currently being worked on under the annual development program across the district. Which will cost 23808.368 million rupees. In these schemes, 1011 million on 26 highway schemes, 2487.363 million on 22 building schemes, 1340 million on 07 schemes of public health, 1868 million on 03 schemes of small dams, 189 million on two sports schemes, 01 scheme of IDeep will cost 5320 million rupees In the meeting, Commissioner Rawalpindi was briefed on Dengue, Corona, Polio and other important topics. Commissioner Rawalpindi inspected the construction of Haji Shah Road during the visit. It will cost 986.693 million rupees and it will be completed in December 2023.
3-day campaign will start on October 24 for more than 8 lakh children; DC Multan
By Staff Reporter
Multan: Deputy Commissioner Muhammad Tahir Witto said that, on the instructions of the Punjab government, a 3-day national campaign will start in Multan district on October 24 during which more than 8 lakh children will be administered polio drops from house to house. He expressed this yesterday while addressing a meeting of the departments in connection with the anti-polio campaign at the Deputy Commissioner's office. Deputy Commissioner Muhammad Tahir Witto said that the district administration has given the task to the departments to organise the polio campaign. Strict action will be taken against the heads of the negligent departments. The Punjab government has a zero tolerance policy to eradicate polio. All departments will play an active role in the success of the polio campaign. Deputy Commissioner Tahir Vito further said that those who do not take polio drops will be dealt with strictly. Deputy Commissioner Tahir Vito addressed the parents and said that the only way to defeat polio is to support the health department of Multan in the polio campaign.
UBL and Sindh Agriculture University Tandojam collaborate towards Agriculture Development
By Staff Reporter
KARACHI: United Bank Limited (UBL) and Sindh Agriculture University Tandojam (SAUT) recently entered into an agreement to initiate a research project for the development of improved cotton and wheat seed varieties. This research will develop climate resilient wheat and cotton seeds with better germination rates, significantly improving crop yields and income for the agriculture sector of Pakistan. The agreement signing ceremony was held at UBL Head office Karachi and was attended by Mr. Shazad G. Dada, President & CEO UBL and Dr. Fateh Muhammad Mari, Vice Chancellor of SAUT along with senior executives from both institutions. During the session, Mr. Shazad G. Dada said, "As Pakistan's most progressive and innovative bank, UBL's vision is to support the agricultural sector of Pakistan through research, development and use of technology. We feel the need for this is now, more than ever, as we start the re-building process following the devastating floods earlier in the year. As the State Bank of Pakistan's nominated champion Bank for the province of Sindh we are proud to collaborate with SAUT and will continue to work towards finding innovative solutions to support the agriculture sector of Pakistan." Dr. Fateh Mohammad Mari, Vice Chancellor of SAUT said, "SAUT is one of the premium agriculture institutes of the country. It has been actively exploring all the avenues of improving quality agriculture graduates who are contributing towards the adoption and extension of best agricultural technologies." Mr. Mari thanked UBL for their support in meeting this shared objective and agreed with the points highlighted by Mr. Shazad G. Dada. The leadership of both the institutions expressed their resolve for effective collaboration and for exploration of other possibilities which may help in the overall development of Pakistan's agriculture sector.
Balochistan's flood-hit areas see surge in water-borne diseases
By Staff Reporter
QUETTA: Following the flash floods triggered by heavy rains, Balochistan continued to witness surge in water-borne diseases, with the government setting up medical camps to treat patients in flood-affected areas. Following the flash floods triggered by heavy rains, Balochistan continued to witness surge in water-borne diseases, including diarrhoea, dengue, malaria, and typhoid. According to Balochistan Health Department, another 2,434 cases of Malaria were reported across the flood-hit areas of the province. Meanwhile, 1,723 patients were suffering from acute respiratory disease. The health department also reported 723 cases of various skin diseases, 534 of diarrhoea, and 174 of eye diseases. Almost 470 cases of cholera were also reported in the flood-affected areas. Moreover, 18 cases of typhoid and nine cases of jaundice were reported in the flood-ravaged areas. A total of 6,877 patients were reported in the affected areas, the health department added. Earlier on October 3, five flood-hit districts of Balochistan including, Suhbatpur, Jaffarabad, Nasirabad, Jhal Magsi and Dera Bugti reported as many as 3,131 malaria cases. The report said during the last 14 days as many as 37,224 malaria cases were registered in the aforesaid districts of Balochistan. The current positivity ratio for the vector-borne disease is recorded at 49pc in the province.
Pakistan pilgrims' 2nd maximum among Umrah pilgrims visit KSA
By Staff Reporter
ISLAMABAD: Above 11.2 million pilgrims have visited the Kingdom of Saudi Arabia since beginning of the Umrah season commenced on Muharram 1, 1444 Hijri. A total of 12,67,490 Umrah pilgrims have visited the Saudi Arabia, according to a report of the Saudi Ministry of Hajj and Umrah. Umrah pilgrims from Indonesia, the most populous Muslim nation, ranked first among the countries which had sent the highest number of pilgrims. Total 3,17,200 Indonesian pilgrims arrived in the holy land to perform Umrah during the ongoing season. Pakistan came second with 195,224 pilgrims visited the Kingdom to perform Umrah. An overwhelming majority of 880,929 Umrah pilgrims came by air, according to the Saudi Hajj and Umrah Ministry. There are 470 Saudi companies and establishments that are licensed to provide services to the Umrah pilgrims and visitors during the 10-month Umrah season that ends on Dhul Qa'ad 29, just before the annual pilgrimage of Hajj..
Court Notice
In the Court of Judge, Banking Court No. 1 Lahore Old State Bank Building OPP G.P.O, Shahrah-e-Quaid-e-Azam Lahore. Suit No.283/1/ 2022. Rana Hammad Ajmal s/oRana Muhammad Ajmal Plaintiff Silk Bank ltd etc(defendants). Summons U/S 9(5) of the Financial Institutions (Recovery of Finances) Ordinance, 2001. (Ordinance No: SL VI of 2001).1) Summons to Silk Bank ltd through its recovery manager Kalma Chowk Branch Lahore. 2) Silk Bank ltd through its recovery officer debit card Section, Kalma Chowk Branch Lahore. Whereas the aforesaid plaintiff has instituted a suit against you and others suit for declaration with permanent injection along with the mark up claimed to be payable by you. Summons U/S 9(5) of Ordinance No XL VI of 2001 referred to above is hereby issued requiring you to make within 30 days of the service of this summon an application for leave to defend the suit U/S 10 ibid. Take notice that on your failure to file such application within time specified above the Banking Court shall pass a decree as prayed for in the plaint, in favour of the plaintiff Banking Company. Next date for the further proceedings, in the case has been fixed on 10-10-22. Given under my hand and seal of the court this 04-10-2022. Judge Banking Court no.1, Lahore.
Court Notice
In the Court of Judge, Banking Court No. 1 Lahore Old State Bank Building OPP G.P.O, Shahrah-e-Quaid-e-Azam Lahore. Suit No.234/1/ 2022. Babar Zaman Khan Plaintiff Silk Bank (defendants). Summons U/S 9(5) of the Financial Institutions (Recovery of Finances) Ordinance, 2001. (Ordinance No: SL VI of 2001). Summons to Silk Bank Branch, Kalma chowk Lahore through Bank manager . Whereas the aforesaid plaintiff has instituted a suit against you and others suit for declaration with permanent injection along with the mark up claimed to be payable by you. Summons U/S 9(5) of Ordinance No XL VI of 2001 referred to above is hereby issued requiring you to make within 30 days of the service of this summon an application for leave to defend the suit U/S 10 ibid. Take notice that on your failure to file such application within time specified above the Banking Court shall pass a decree as prayed for in the plaint, in favour of the plaintiff Banking Company. Next date for the further proceedings, in the case has been fixed on 31- 10-22. Given under my hand and seal of the court this 05-10-2022. Judge Banking Court no.1, Lahore.
PROCLAMATION
Allotment letter no.Ref MCCHS/2478 date 13 july 2004 of plot no.A-16,street N/A, Sector NP1,measuring 1 kanal, in phase situated in Defence Housing Athority, Rawalpindi in the name of saif ul haq Chaudhry has been lost in District Courts Rawalpindi and if any person found then informed me. Masoom shahid raja (legal heir) d/o saif ul Haq chaudhary, R/o H #.154,Lane no.3,gulistan colony Israr Housing Scheme, Rawalpindi.0333-5155452
PROCLAMATION
Allotment letter no.Ref MCCHS/2479 date 13 july 2004 of plot no.A-15,street N/A, Sector NP1,measuring 1 kanal, in phase situated in Defence Housing Athority, Rawalpindi in the name of Naseem kousar Chaudhry(late) has been lost in District Courts Rawalpindi and if any person found then informed me. Masoom shahid raja (legal heir) d/o saif ul Haq chaudhary, R/o H #.154,Lane no.3,gulistan colony Israr Housing Scheme, Rawalpindi.03335155452
Chakwal is heaven of archaeology and tourism
By District Reporter
CHAKWAL: Senior journalist Khawaja Babar Saleem Mahmood said on Thursday that the Punjab Archeology Department has discovered 75 such sites in Chakwal district in 1994, whose ages are between 1,000 and 280 million years old and indeed the Salt Range is an archeological paradise and here But in terms of tourism, there are many attractive places where the tourism department can earn crores of foreign exchange from here by paying a little attention. The fossils of Bin Amir Khatun have caused a sensation all over the world, while the five thousand year old Katas Raj can also be promoted in terms of interfaith tourism to attract millions of Hindus and the annual festival at Pushkar Raj in India. It seems to be a little less holy place than Katas Raj which is attended by five million Hindus from all over the world. While Katas Raj is their most respected and sacred place according to Hindu religion. He was talking about tourism at Live from Chakwal Press Club studio. The host of the program, Zulfikar Mir, said that in the last 75 years, no attention has been given to the attractive region of Chakwal district and the Risalt Range, although it has been established that many lost natural treasures are buried within the Salt Range. While the history of this area is millions of years old, the gold, uranium and platinum potentials have also been revealed in the mountains of the Salt Range. Senior journalist Khawaja Daniyal Salim said that the reason for the amazing development in Europe and other regions is that another sect prevailed over the conservative religious influence and opened the way for development and prosperity. He further said that the beautiful lakes, waterfalls and green places in the salt range are not less than Switzerland, but the government can promote tourism without any big investment by bringing the local people together. Senior journalist Raja Iftikhar Ahmad said that the area is surrounded by beautiful mountains at the Ghazial Dam site in Landi Patti, and people's attention can be gained at the local level by providing some facilities here. Senior analyst Abdul Khaliq Darwish said that crores of rupees are earned only through tourism in European countries, but in our neighborhood, Nepal is a country that has no exports but is improving its economic condition in terms of tourism.
PROCLAMATION
Allotment letter no.Ref MCCHS/2478 date 13 july 2004 of plot no.A-16,street N/A, Sector NP1,measuring 1 kanal, in phase situated in Defence Housing Athority, Rawalpindi in the name of saif ul haq Chaudhry has been lost in District Courts Rawalpindi and if any person found then informed me. Masoom shahid raja (legal heir) d/o saif ul Haq chaudhary, R/o H #.154,Lane no.3,gulistan colony Israr Housing Scheme, Rawalpindi.0333-5155452
Court Notice
In the Court of Judge, Banking Court No. 1 Lahore Old State Bank Building OPP G.P.O, Shahrah-e-Quaid-e-Azam Lahore. Suit No.234/1/ 2022. Babar Zaman Khan Plaintiff Silk Bank (defendants). Summons U/S 9(5) of the Financial Institutions (Recovery of Finances) Ordinance, 2001. (Ordinance No: SL VI of 2001). Summons to Silk Bank Branch, Kalma chowk Lahore through Bank manager . Whereas the aforesaid plaintiff has instituted a suit against you and others suit for declaration with permanent injection along with the mark up claimed to be payable by you. Summons U/S 9(5) of Ordinance No XL VI of 2001 referred to above is hereby issued requiring you to make within 30 days of the service of this summon an application for leave to defend the suit U/S 10 ibid. Take notice that on your failure to file such application within time specified above the Banking Court shall pass a decree as prayed for in the plaint, in favour of the plaintiff Banking Company. Next date for the further proceedings, in the case has been fixed on 31- 10-22. Given under my hand and seal of the court this 05-10-2022. Judge Banking Court no.1, Lahore.
RAWALPINDI: Deputy Commissioner Rawalpindi Tahir Farooq is reviewing the speed of work on the project of construction of streets in Chak Jalal Deen
Industrialists demand new Industrial Zone in Capital to boost exports
By Staff Reporter
ISLAMABAD: A delegation of Islamabad Industrial Association (IIA) led by its President Zikria A. Zia visited Islamabad Chamber of Commerce & Industry (ICCI) and stressed that ICCI should step up its efforts with the relevant government authorities for a new industrial zone in the Capital to boost industrialization and exports. The delegation also congratulated the new Office Bearers of ICCI and hoped that they would play an effective role in resolving the key issues of local industry. Addressing the delegation, Ahsan Zafar Bakhtawari, President, Islamabad Chamber of Commerce & Industry said that Islamabad was experiencing rapid urbanization and population growth, but unemployed young talent was being wasted due to lack of jobs. He said that industrialization was the best option to absorb youth in jobs. He said that many investors were keen to set up industries in the Islamabad region but due to absence of a new industrial zone, they were unable to make new investments. He emphasized that the government should cooperate with ICCI in early materialization of this important project that would yield multiple benefits for the economy. He assured the delegation that ICCI would make all possible efforts to address their highlighted issues. Faad Waheed Senior Vice President, Muhammad Azhar ul Islam Zafar Vice President ICCI and Khalid Iqbal Malik Group Leader said that the economy of Pakistan was facing multiple challenges and the government should focus on promoting investment and industrialization that would help revive the economy and overcome economic problems of the country. The delegation members said that the CDA Board in a meeting had agreed to charge Rs.100,000/- per kanal for lease extension of industrial plots instead of 1% of current market price of the industrial plot, but the decision has not been implemented as yet. They said that ICCI should take up this issue with CDA for early implementation of its decision. They said that the country was likely to face gas shortage in winter as the government could not get any bidder for a long-term contract for LNG import and said that ICCI should work with the government to save the local industry from gas loadshedding. They called upon the government to revise power tariffs for industry in order to reduce the high production cost and make our exports more competitive in the international markets. Prominent industrialists including Khalid Javed, Mian Akram Farid, Tariq Sadiq, Mian Shaukat Masud, Muhammad Ejaz Abbasi, Nasir Qureshi, Shaban Khalid, Rafat Farid, Iftikhar Anwar Sethi, Waqas Masud, Shaukat Hayat, Hamayun Kabir, Omais Khattack, Bilal Munir, Muhammad Ali Mirza, Mahmood Ahmed Warraich, Muhammad Yahya, Malik Jalil Ahmed Awan, Dr. Muhammad Usman and others were in the delegation.
Pakistan adds up 48 more infections to its corona virus tally
By Staff Reporter
ISLAMABAD: Pakistan has posted another 48 corona virus infections and no fatality during the last 24 hours showed the figures released by the National Institute of Health (NIH) on Thursday morning. The death toll in the country remained that same at 30,620 while the number of total infections now rose to 1,572,883 after adding the fresh 48 cases. During the last 24 hours, 11,807 tests were conducted throughout Pakistan whereas the positivity ratio slipped to 0.41 percent. The number of patients in critical care was recorded at 38. Another Covid-19 variant could emerge this winter, Fauci warns Anthony Fauci, director of the US National Institute of Allergy and Infectious Diseases, has said that "we should not be surprised" if a new Covid-19 variant emerges this winter. "We should anticipate that we very well may get another variant that would emerge that would elude the immune response that we've gotten from infection and/or from vaccination," Fauci said during an event with the USC Annenberg Center for Health Journalism on Tuesday. Fauci said we're currently moving "in the right direction," but, but, but: "We are entering into the winter months, where no matter what the respiratory disease is, there's always a risk of an uptick." Last winter, the Omicron variant led to a surge in COVID-19 cases as public health officials urged people to get vaccinated or get booster shots. Since then, there have been multiple Omicron sub-lineages, Fauci added. An updated Omicron-specific booster, called bivalent, has been recommended for certain age groups in the U.S. What he's saying: Fauci, who has been Biden's chief medical adviser and is retiring from government service later this year, was cautious when asked if he thinks an end of the pandemic is in sight. "I think it would be a bit cavalier to all of a sudden say we're completely through with it," he said. He acknowledged that there has been a decrease in COVID-19 related deaths in recent months but said it's still not at a level he's comfortable with. President Biden in recent weeks clarified remarks that the pandemic was over, acknowledging he was criticized for the remarks but saying the pandemic "basically is not where it was." The big picture: COVID-19 cases have been trending downward in recent months throughout the world. But winter will push more people inside. COVID has killed more than 6.5 million people and infected more than 619 million worldwide, per Johns Hopkins University's online tracker. Meanwhile, scientists have been tracking three new sub-variants in recent weeks.
1,100 containers arranged to seal Islamabad ahead of PTI long march
By Staff Reporter
ISLAMABAD: Islamabad Police have arranged 1,100 containers to seal the federal capital in view of the PTI's long march; it has been learnt on Thursday. Sources said the capital city would be completely sealed for a period of one week after the announcement of long march's date by the party. They added that similarly the government had decided to shut down schools and colleges and postpone exams during the march. As many as 2,500 personnel of the police and of other law-enforcement agencies (LEAs) would be deployed in the city, and all of them would have 50, 000 rubber bullets, the sources disclosed. Furthermore, the LEAs had already been provided over 60,000 teargas shells, they informed. Besides that, the sources disclosed that 10 drones had been arranged for dropping shells on the protestors. Sources also said that for the first time in the country's history, anti-riot helicopter would be used. Not only that, the security agencies had prepared lists of PTI's financers in order to arrest them before the march, they concluded. Although, initially there were doubts that whether the PTI would go ahead with its planned long march. But after recent developments such as the acquittal of PML-N Vice President Maryam Nawaz in the Avenfield reference and the return of Ishaq Dar as finance minister of the country have convinced the party's leadership that it was time to set out on a long march in order to press the coalition government to hold the general elections early.
Yesterday's political hero becomes zero today
By Staff Reporter
ISLAMABAD: The former head of Pakistan Muslim League Minority Wing, Karamat Masih people know it with Hero, is suffering from serious health problems these days. He is suffering from throat cancer. Yesterday's political hero has been forced to become zero today. Former leader Karamat Masih, who is popular in political circles as a hero, is currently fighting the battle of his life. He operated on his throat and said that the treatment of this disease is possible only outside. The hero said that he has built three churches with his own efforts, one of which has been built in Adiala Jail. That he is a true Pakistani from head to toe, at this time of trouble he should not be left alone.
Pakistani rupee delivers another knock-out punch to US dollar
By Staff Reporter
ISLAMABAD: The Pakistani rupee delivered another knock-out punch to the US dollar in the early interbank trading on Thursday as the greenback kept reeling in face of the emboldened local currency following Finance Minister Ishaq Dar's statement that the government would soon be able to put the American currency "in its right place. As the forex dealers took position in the interbank market, the Pakistani rupee straight away soared by Rs2.19 and was currently being traded at Rs221.75. The US dollar on Wednesday managed to end the day at Rs223.94. The Pakistani rupee had accumulated Rs17.90 appreciation in its value during the last nine business days. The surge in rupee's value has lessened the burden of foreign debt to the tune of Rs2,200 billion. Experts opined that the recent encouraging trade balance data, hopes from multilateral institutions of additional inflows were the additional factors for the Pakistani rupee to reclaim its lost value. The trade deficit fell 31 percent year-on-year to $2.88 billion in September, according to data from the Pakistan Bureau of Statistics. Exports slightly fell 1 percent to $2.39 billion in September from $2.41 billion a year earlier. Imports declined 20 percent year on year to $5.27 billion. The deficit in the first quarter (July-September) of FY2023 narrowed 21.4 percent to $9.2 billion against $11.72 billion in the same three months of the last year.
15 criminals held; weapons and narcotics recovered
15,098 driver's challaned over signal violations during the ongoing year
By Staff Reporter
ISLAMABAD: Islamabad Capital police apprehended 15 criminals involved in criminal activities and recovered hashish and weapons with ammunition from their possession, a police public relations officer said. He said that, DIG Operations Sohail Zafar Chatha had ordered all zonal officers to curb the crime in their respective areas and arrest those involved in criminal activities and looting innocent people. Following these directives, a Nilore police team arrested accused two accused namely Afzal Zaheer and Ali Muhammad and recovered 1240 gram Ice and one 30 bore pistol from their possession. Likewise, the Koral police team arrested an accused namely Fazal Nabi and recovered one 30 bore pistol from his possession. Moreover, a Karachi company police team arrested a drug peddler namely Jahanzaib and recovered 1060 gram hashish and one 30 bore pistol along with ammunition from their possession. Sabzi Mandi police arrested three accused namely Mukamal Khan, Irfan Ullah and Aziz Ullah and recovered two daggers from their possession. Cases have been registered against the nabbed accused and further investigation is underway. During a special crackdown against proclaimed offenders and court absconders police teams arrested seven accused from different areas of a city. DIG Operations Sohail Zafar Chatha said that the safety of the lives and property of the citizens is our prime responsibility and no laxity will be tolerated in this regard. Meanwhile, Islamabad Capital Police (ICTP) issued 15,098 fine tickets to road users over violation of traffic signals during the ongoing year, a police spokesman said. He said that, following the directions of IGP Islamabad Dr Akbar Nasir Khan, a special campaign is underway to check violations while various squads are performing duties at main roads of the city and taking action against the violators.
National Energy Efficiency and Conservation Authority Ministry of Science and Technology
Children can play an Important Role to make Pakistan an Energy Efficient Country
ISLAMABAD: (NEECA) has organized a one-day seminar on Children's Role in Energy Efficiency and Conservation at Army Public School, Defense Campus Islamabad. The purpose of the seminar was to raise awareness among School students regarding Energy Efficiency and Conservation while informing them how they can play their role in making Pakistan Energy Efficient by switching to energy-efficient appliances and introducing those in their social circle and daily life. The seminar was followed by distinct speakers from NEECA, including the Director General NEECA, the Communication Expert, and the Head of the Army Public School. All speakers highlighted the importance of Energy Efficiency and Conservation. The Communication Expert highlighted that NEECA has been provided with a mandate to preserve energy in five major sectors of the economy, including industry, buildings, transport, power, and agriculture. She emphasized that there is a need to build interest amongst the people of Pakistan including the youth, to conserve energy in their houses and convince their families to do the same. DG NEECA Dr. Muhammad Shaheen further said that there is a strong need to change people's behaviors toward Energy consumption. Using fossil fuels to overcome the energy crisis would affect our environment in the shape of Climate Change. In addition, he suggested that we should reduce the unnecessary consumption of energy in everyday use. DG NEECA highly appreciated the school administration and showed his gratitude.
Youth makes postcard competition a big success as Chromatic vows to continue
By Staff Reporter
ISLAMABAD: In an effort to make Pakistan tobacco-free, Chromatic Trust has successfully completedthe second round of awareness campaignsto ban nicotine pouches and modern tobacco products involving the youth of age between 8 to 25 to send a clear message that tobacco in any form is unacceptable through this post card competition. During this month-longdigital campaign, Chromatic Trust encouraged youth to use their creative minds to design postcards digitally on Photoshop, illustrator or any other software demanding ban on nicotine pouches and other modern tobacco products. More than 500 entries were received during this postcard competition from all across Pakistan. The jury of experts chose 22 years old NavrozVadsaria from Karachi as the winner of the first prize which is 50,000 rupees, 20-year-oldUm e Rubab from Islamabadwon the second prize of 20,000 rupees and 25-year-old Abdul RehmanNagifrom Lahore won the third prize of 10,000 rupees. All 500 entries were displayed during the art walk in the event which took place in a local hotel in Islamabad where health experts, policymakers, media personnel and students were present. Special Advisor to Prime Minister Mr. Faisal Karim Kundicongratulated Chromatic Trust's CEO Mr. Shariq Khan for initiating this competition and said those who participated in this postcard competition are all winners. He appreciated the efforts of Chromatic Trust for sensitizing children at schools, colleges, and university on the harmful effects of nicotine pouches and E-cigarettes. He assured his full support in order to restrict the sale of nicotine pouches to adolescents. Convener Parliamentary Task Force on SDGs Ms. RominaKhursheedAlamsaid this post card competition is a wonderful way to create awareness among youth. She said tobacco kills over 8 million people every year and we need to do a collective effort to curb this menace.
President Alvi emphasizes the need for awareness regarding the early detection of breast cancer
ISLAMABAD: President Dr Arif Alvi has said that 50 thousand precious lives could be saved every year by creating awareness regarding self-examination and early diagnoses of breast cancer in the country. He said that in Pakistan every year 100,000 women were affected by breast cancer and many lost their lives due to the lack of awareness and education. The President said this while addressing the media persons during an interaction regarding October being the breast cancer awareness month, at Aiwan-e-Sadr, today. The President said that unfortunately due to the lack of awareness regarding the deadly breast cancer, the women neither carry out their self-examination nor seek medical advice after observing unusual growth in the body, resultantly cancer spreads to other parts of body and becomes un-curable. He said that social taboos also played a significant role in the high mortality rate due to this disease in the country, as most of the time women were reluctant to talk about this disease with their family members and usually did not consult with medical practitioners. He said that if breast cancer was diagnosed at an early stage, there was a 98% chance of a complete cure, enabling the person to live a normal and healthy life. However, the chances of cure decreased proportionally as the disease spread to the entire breast or to the other parts of the body. He said that Pakistan had limited healthcare facilities and resources to handle the treatment of the patients who had been diagnosed at the later stages, so the best way out was the early diagnosis of breast cancer. The President emphasized that all possible steps should be taken to empower the women in the country, they must be provided equal opportunities for employment, seeking loans and starting their own businesses and they should be given their rightful share in the inheritance. He said that it would not only empower the women financially but also enable them to take necessary decisions with confidence to take care of their health and seek health advice whenever it is required. The President highlighted that the status of awareness regarding breast cancer had improved significantly due to the campaign headed by Mrs Samina Alvi. He said that Mrs Alvi has also drawn a comprehensive plan of action for the entire year wherein the awareness regarding the disease will be spread through organizing events, installing standees in the shops, malls and other business centres, distribution of brochures and pamphlets and utilizing health workers at the grassroots levels in towns, villages and rural areas to impart awareness regarding self-examination for the early diagnosis of disease.
PML-N, ECP behind audio leaks scandal, alleges Imran
By Staff Reporter
ISLAMABAD: Former Prime Minister and Pakistan Tehreek-e-Insaf (PTI) Chairman Imran Khan accused the Pakistan Muslim League-Nawaz (PML-N) and the Election Commission of Pakistan (ECP) of being behind the audio leaks scandal on Thursday. During his discussion with journalists, Imran Khan again requested that ECP CEC Sikandar Sultan Raja quit, while also challenging the open hearing on the Toshakhana case and stating that the long march is not far away. Former Prime Minister [Imran] claimed that the people would flock to the long march in big numbers, and that no one could stop them [PTI] from conducting one. Claiming that the PTI has barred abroad Pakistanis from joining the political party, Imran stated that if the overseas Pakistanis are not 'acceptable,' there is no need to collect remittances from them. Imran requested that the ECP explain what transpired with the Pakistan Muslim League-Nawaz (PML-N) and Pakistan People's Party funding cases (PPP). The Pakistan Tehreek-e-Insaf (PTI) supremo [Imran] emphasised that if free and fair elections are not held, the country will incur no consequences. The former prime minister also stated that the method for appointing the CEC and its members, as well as the Chairman of the NAB, should be modified. "With the Daska election, I learned that the entire game had altered. "I am convinced that a plot to disqualify me has already been devised." "Imran asserted. Imran, in a jab at his political opponents, stated that he has been saying since the beginning that his opponents are not 'democratic,' but rather 'criminals.' Imran slammed the incumbent government before expressing gratitude to the coalition government for bringing the institution back to life. In response to the by-elections, Imran stated that the PTI will be 'victorious' regardless of rigging.
LAHORE: Provincial Health Minister Dr. Yasmin Rashid is addressing the participants of the Pak-Turkey Media Expo at Expo Center Lahore.
'Army chief should be appointed on merit'
In an interview with a private TV channel, Sirajul Haq says Pakistan Army should be brought under a legal frame on the lines of SC
By Staff Reporter
ISLAMABAD: Pakistan's Emir Jamaat-e-Islami Sirajul Haq has emphasised the importance of a revolutionary system for the country, and that God's religion is a revolutionary, welfare, and successful system. Sirajul Haq made these remarks in an interview with a private television programme on Thursday. He stated that in order to transform Pakistan into an Islamic welfare state, an Islamic system must be established here. He emphasised the importance of appointing the chief of army staff (COAS) based on merit and seniority rather than the whim of a single individual, as is the case with the nomination of the top justice of the Supreme Court, which is not based on the will of the president or prime minister. The Pakistan Army should be placed under a legal framework similar to that of the Supreme Court of Pakistan, as previously witnessed when Zulfiqar Ali Bhutto installed General Ziaul Haq as army leader, who destroyed the former's administration, adding that the same thing happened to everyone. He stated that this is why there is a need to establish a system for the appointment of the army chief by abolishing the prime minister's discretionary powers, as it is the will of the country's 220 million people that governments and institutions should not be run on the basis of a single person, but on the basis of a system and principle. Mafia representatives surrounding the previous prime minister and Chairman Pakistan Tehreek-e-Insaf (PTI) had invested for their own benefit. "We witnessed throughout the last four years that people invested and gained as quickly as they recognised chances," he said. According to Sirajul Haq, those who disagree with the policies of the Pakistan People's Party (PPP), the Pakistan Muslim League-Nawaz (PML-N), and the Pakistan Tehreek-e-Insaf (PTI) are politically immature. These are the same people, and the only variation is a difference in political parties, as if an uncle was in one political party and his nephew was in another, as Asad Umar is on one side and Zubair Umar is on the other. "This is why I call them mafias who occupy political parties and then utilise them to further their own goals." "Their entire purpose is to create money," he stated, adding that Pakistan has been orphaned for a long time, but Almighty Allah is protecting our country. "We have declared from the beginning that all of these people are non-serious and have been holding the country hostage for 75 years," he remarked. He went on to say that even in closed rooms, all of their chats revolved around their personal interests rather than people's interests, and that upon learning about their individual conversations, they were shocked at how such news came to light. He stated that their primary goal is to protect their own skin and interests while continuing to do so. He stated that the nation is dissatisfied with the formation of a committee or the holding of an inquiry into audio leaks, and that a judicial commission should be formed so that facts can be presented to the people.
The 'political issue' over PTI resignations should be settled in Parliament, according to the IHC
By Staff Reporter
ISLAMABAD: Chief Justice Islamabad High Court (IHC) Justice Athar Minallah stated that the resignations of Pakistan Tehreek-e-Insaf (PTI) members of the National Assembly are a political matter that should be settled in Parliament. On Thursday, the Chief Justice of the IHC heard a petition against the acceptance of resignation by ten PTI MNAs without using the constitutional procedure. Lawyer Ali Zafar stood in court on behalf of the petitioners, arguing that the Article 64 process had not been completed. The court asked the lawyer to first clarify whether they are working against the party's policies and whether the party has taken any action against them. The CJ IHC went on to say, "What is the goal of this petition and is it justified?" While urging petitioners to demonstrate their good intentions, the court stated that it does not interfere in the affairs of Parliament. Advocate Ali Zafar told the court that the petitioners support the party's agenda and are not opposed to it. As a result, the court questioned why they wanted to return to Parliament. The prior petition was different, according to the court.
After the premier apologizes, the AJK government and opposition heal relations
By Staff Reporter
MUZAFFARABAD: A standoff between the government and opposition parties in Azad Jammu and Kashmir (AJK) appeared to have ended on Wednesday, when Prime Minister Sardar Tanveer Ilyas apologised on the floor of the Legislative Assembly to two prominent opposition figures. The spat, sparked by Prime Minister Ilyas's remark about Leader of the Opposition Chaudhry Latif Akbar about a week ago, erupted on Monday when Law Minister Sardar Faheem Akhtar Rabbani threw his phone at former Prime Minister Raja Farooq Haider during the assembly session after an alleged exchange of barbs. The unsavoury episode not only sparked scuffles and torrents of insults between the two sides, causing the chair to suspend the session for two days, but it also sparked violent street protests by Mr. Haider's PML-N supporters. Despite the fact that PM Ilyas and Mr. Rabbani promptly expressed regret for the incident, public protests by PML-N activists persisted for three days, but with less force and intensity. They held siege to the Civil Secretariat's main entrance on Wednesday, forcing MPs to take an alternate path to the assembly building. As a precautionary measure, Speaker Chaudhry Anwarul Haq barred everyone from entering the visitors' galleries, a move he later reversed following a sit-in conducted by journalists in front of the assembly building. As the house resumed proceedings following Asr prayers, PM Ilyas praised both Mr. Haider and Mr. Akbar, referring to them as his elder brothers.
LAHORE: Information Adviser Punjab Umar Sarfaraz Cheema holding a press conference at the GPR office. Punjab Chief Minister's Political Advisor Iran Dola is also present.
NAB summons 21 PTI leaders over Rs50b Bahria Town, NCA deal
By Staff Reporter
ISLAMABAD: The National Accountability Bureau (NAB) has summoned 21 members of former Prime Minister Imran Khan's cabinet over the permission of shipping £140 million from Britain to Bahria Town founder Malik Riaz's account. In 2019, the Pakistani government reached an arrangement with M/S Bahria Town Pvt Ltd to sell a costly property in the centre of London and transfer the proceeds to Pakistan. This agreement came after M/S Bahria Town Pvt Ltd reached an out-of-court settlement with the British National Crime Agency in a case in which the latter froze an amount of around 140 million GBP out of 190 GBP, including Ali Riaz Malik's purchase of 1-Hyde Park London. Malik Riaz then used the money to pay the Rs450 billion fine imposed by the Supreme Court in connection with the illegal acquisition of land in Karachi's Bahria Town. Ghulam Sarwar Khan, Murad Saeed, Pervaiz Khattak, Shafqat Mehmood, Shireen Mazari, Ali Haider Zaidi, and Hammad Azhar have all received notices from the NAB. The NAB also summoned Ali Riaz Malik, the son of Malik Riaz for investigation. As per details the summoned people alongwith dates are include: Murad Saeed and Ghulam Sarwar Khan on October 1; Pervaiz Khattak and Ali Riaz Malik on October 12; Zubaida Jalal and Hammad Azhar on October 13; Shafqat Mehmood and Shireen Mazari on October 14; Khalid Maqbool Siddiqui and Ejaz Shah on October 17; Ali Amin Gandapur and Farogh Naseem on October 18; Ali Zaidi and Khusro Bakhtiar on October 19; Azam Khan Swati and Asad Umar on October 20; Umar Ayub and Muhammad Mian Somro on October 2 21; Sheikh Rasheed Ahmed and Fawad Chaudhry on October 24; and Mehboob Sultan and Faisal Vawda October 25.The NAB also said that the former prime minister Imran Khan could also be summoned in light of his cabinet members' statements.
ECP to issue finalized voter lists for all constituencies on Friday: Sources
By Staff Reporter
ISLAMABAD: On Friday, the Election Commission of Pakistan (ECP) announced the release of finalised voter lists for all national and provincial constituencies in the country. The total number of registered voters in the country has risen to 12,21,96,122 (122.2m), with 66.4 million male voters and 55.7 million female voters. According to voter records, Punjab has more than half of the registered voters (70.6m eligible voters), with Sindh having the second-highest number of voters (25.6m registered eligible voters). According to ECP data, Khyber Pakhtunkhwa (KP) has 20.8 million registered voters, while Balochistan has only 5.09 million. According to ECP statistics, the federal capital, Islamabad, has 984,477 registered voters. Earlier this month, the ECP resolved to work with the Local Bodies and the (NADRA to verify and correct voter lists. The ECP resolved to work with the Local Bodies and NADRA to correct flaws in the ECP voter lists, according to the information. According to ECP sources, citizens will also be invited to assist in the correction of voter rolls. According to the ECP, an awareness campaign will be launched, and people will be able to validate their votes by texting their CNIC number to 8300.