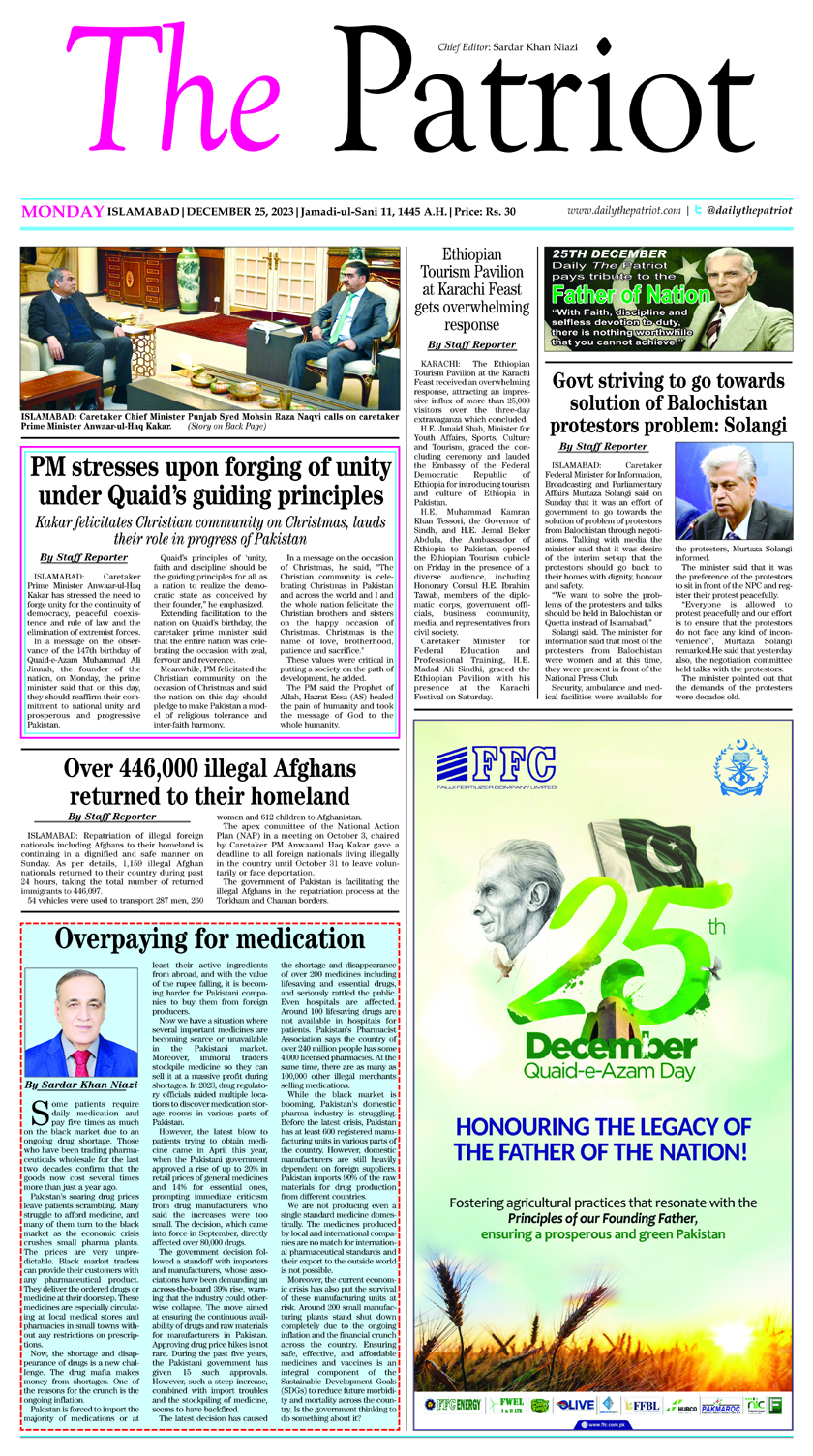 Effective diplomacy, feasible for healthy economy: COAS
Military separated itself from politics
Web Desk
WASHINGTON: Chief of the Army Staff Gen Qamar Javed Bajwa says effective diplomacy is only possible through strong economy. He made the remarks during an informal conversation at a luncheon hosted by the Pakistan Embassy in Washington. The Army Chief stated that rebuilding the country's ailing economy should be the primary concern of all sectors of society since it is difficult to attain established objectives without a robust economy. To settle the air once and for all, General Qamar Javed Bajwa has said unequivocally that he would retire after serving his full tenure. The Army Chief stated that the Armed Forces have removed themselves from politics and intended to do so in the future. General Bajwa also reminded the country that rebuilding the ailing economy should be a top concern for all sectors of society. The Army Chief stated that he will fulfil his prior vow to resign his office after finishing his second three-year term in two months. In a casual conversation with the luncheon attendees, General Bajwa stated, "Rehabilitating the country's ill economy should be the main concern of all parts of society." Without a healthy economy, the country would be unable to attain its objectives. Diplomacy cannot exist without a healthy economy." A huge number of diplomats were also present for the event, which was addressed by the Army Chief.
ADB will grant up to $2.5b for flood disaster assistance to Pakistan: Yong Ye
By Staff Reporter
ISLAMABAD: The Asian Development Bank (ADB) will provide flood relief assistance to Pakistan in the amount of US$ 2.3 to 2.5 billion, including US$ 1.5 billion for the BRACE programme, which will be presented to the ADB Board for approval later this month, according to Country Director ADB for Pakistan Yong Ye, who met with Finance Minister Senator Mohammad Ishaq Dar and his delegation at the Finance Division here Wednesday. Yong Ye also informed the minister on ADB's current and planned initiatives in many areas, including social protection, food security, and energy. The Asian Development Bank (ADB) also granted a $3 million grant on August 31 for the urgent purchase of emergency products such as food and tents until August 31, 2022. In addition, the ADB intends to deploy a $500-700 million package for much-needed emergency relief assistance, early recovery and rehabilitation, and reconstruction. The package is expected to be approved before the conclusion of the current fiscal year. The Finance Minister greeted the group and praised the ADB's contribution and assistance in advancing Pakistan's sustainable development.
None of PTI's MNAs left Federal Lodges: Irfan Siddiqui
By Staff Reporter
ISLAMABAD: Senior member of the Pakistan Muslim League (PML-N) senator Irfan Siddiqui wrote in his tweet on the social networking website Twitter, "PTI has once again brought the Pandora's Box of resignations to the court. Five months have passed, but not one of the 123 members of the National Assembly has vacated the official residence of the Federal Lodges". He ironically mentioned that "they are claiming the Riyasat-e-Medina (State of Medina) Masha'Allah."
Sachi Baat
Army Chief helped the Imran Khan government and the current government too at the global level: SK Niazi
Army chief is not concerned about any particular party or class, his concern is for the country: Naeem Khalid Lodhi, Economic situation is going to improve with the arrival of Ishaq Dar: Mirza Ikhtiar Baig, Falling dollar rate and lower prices of petroleum products were all fixed: Dr. Ashfaq Hasan, No politician should get relief in corruption cases, If politicians are imprisoned, country's system will stop: Aftab Jahangir
By Staff Reporter
ISLAMABAD: SK Niazi, Chief Editor, Pakistan Group of Newspapers, talks on the programme "Sachi Baat". He stated, "The Army Chief has given a clear message regarding the completion of his tenure. The Army Chief will fulfil what he has said, and I don't understand why people are worried about the Army Chief's tenure and the new chief's appointment. Every commander is qualified to become an Army Chief. The army chief made it clear that the army would stay away from politics. The Army Chief helped the Imran Khan government and the current government at the global level. Whatever the army chief says will be in the country's interest, this month or next month, the appointment of a new army chief will be confirmed. The economic conditions will gradually improve. Political stability is very important for the improvement of the country's economy". On the statement of the Army Chief, the defence analyst Lt. General (R) Naeem Khalid Lodhi presented his views in "Sachi Baat". He stated, "Politicians are worried about their political careers. Who will be the new army chief? The army chief is not concerned about any particular party or class, his concern is for the country. Whoever the army chief comes, he is eligible to become the army chief. He confirmed the SK Niazi statement that Qamar Javed Bajwa helped the Imran Khan regime and is helping the current coalition government. Senior economist Mirza Ikhtiar Baig and Dr. Ashfaq Hassan talked on "Sachi Baat" about the current condition of Pakistan and presented their expert opinion on the state of the economy. Mirza Ikhtiar Baig The price of the dollar has gone down. The dollar has gone from 240 to 223 rupees; the government has also reduced the prices of petroleum products. Positive measures will reduce the prices of food items. The economic situation is going to improve with the arrival of Ishaq Dar. The new finance minister should give time to improve the situation. The biggest problem we have at the moment is the reserves of the State Bank. He further said that it is alarming that the price of Pakistani bonds has decreased. In the form of bonds, 1 billion dollars will have to be paid. The price of Pakistani bonds has decreased by 60%. Pakistani bonds should not be thrown into the market at cheap prices. Sri Lankan bonds were under pressure after the statement on the flood situation and Pakistani payment. Sri Lankan bonds were selling at 40 cents even after the default. The country's economic conditions have worsened since the flood. Unfortunately, every person who comes to power blames the privies rules, and that is unfortunate. While Dr. Ashfaq Hassan stated that the value of Pakistani bonds is low due to risk, the dollar is currently the strongest currency in the world. After the increase in the interest rate in America, the dollar has become stronger. Dr. Ashfaq Hasan said the falling dollar rate and lower prices of petroleum products were all fixed. Currently, the conditions in the country are not favourable for the economy. Due to political instability, the country's economy is on the verge of collapse. In the coming months, oil prices will increase further due to the LNG shortages in Europe. On the long march from PTI chairman Imran Khan, the leader of PTI, Aftab Jahangir, exclusive to "Sachi Baat". He stated, "No politician should get relief in corruption cases. If the politicians are imprisoned, the country's system will stop. On the day Maryam Nawaz got her passport, she went to London to meet her father. Protest and sit-in is our constitutional right. It is a legal right to protest and protest without chaos. Maulana Fazal ur Rehman and Bilawal Bhutto also protested during the PTI era. What happened with the PTI protest on May 25 was also seen by the whole world. People from the whole country will come out against the current government. SK Niazi condemned the illegal detention of activists and politicians for political victimization.
PM edict Thar Coal Mines with railway network by March next year
By Staff Reporter
ISLAMABAD: Prime Minister Shehbaz Sharif directed on Wednesday that the Thar Coal Mines be linked to the country's railway network by March 2023. During a conference presided over by the prime minister, it was determined that the federal and Sindh governments would work together to complete the project of connecting Thar Coal Mines to the train network. Prime Minister Shehbaz Sharif and Sindh Chief Minister Syed Murad Ali Shah will sign a Memorandum of Understanding in this respect on Wednesday. The prime minister told the meeting that development projects needed to be done at "Pakistan Speed" since the previous administration had caused irreparable damage to the country during the past four years. He stated that the government was attempting to restart the development process that had been purposefully suspended by the previous administration from 2018 to 2022. "During our previous administration, we completed development projects in record time. To begin with, the previous administration suspended current development projects that were squandering public funds as a major conspiracy "He made a statement. He stated that with the connection of Thar Coal Mines to the railway network, local coal will be used in power plants instead of imported coal. Prime Minister Shehbaz Sharif stated that using Thar coal in power plants will save $2 billion per year. The gathering was told that once the Thar Coal Mines were linked to the rail network, local coal will be used not only by the power plants of Jamshoro and Port Qasim, but also by other power plants and businesses in the country, saving the state money. The prime minister directed the relevant authorities to expedite construction on the project in order to finish it by March 2023. The conference was attended by federal ministers Ishaq Dar, AhsanIqbal, KhurramDastgir, special aides to Prime Minister Jahanzeb Khan, ZafaruddinMahmood, and senior officials. The meeting was attended by Railway Minister Khawaja Saad Rafiq and Sindh Chief Minister Murad Ali Shah through video conference.
Imran could have challenged NAB legislation in NA: SC
By Staff Reporter
ISLAMABAD: Justice Syed Mansoor Ali Shah stated on Wednesday that Pakistan Tehreek-e-Insaf (PTI) Chairman and former Prime Minister Imran Khan may have objected to the National Accountability Bureau (NAB) modifications in the National Assembly. In the Supreme Court, a three-member panel led by Chief Justice Justice Umar Atta Bandial heard Imran Khan's plea against NAB revisions. Justice Ijaz-ul-Ahsan and Justice Mansoor Ali Shah were also present. "How and why could he [Imran] quit the legislature without the consent of his constituency," Syed Mansoor wondered. "People trusted Imran Khan and elected him to the National Assembly. How and why could he quit the assembly without the consent of the people in his district? "Justice Shah made the statement while hearing the petition alongside Justice Ijaz Ul Ahsan and CJP Umar Ata Bandial. He said that if the previous prime minister had remained in the parliament, he might have voiced concerns about the new NAB law. The statement was made in response to Imran Khan's lawyer Khawaja Haris argument that elected representatives of the people may only approach the courts if the job in their particular constituencies was not completed. "Your petitioner has brought the [NAB] modifications to court, but he might have trusted the legislature and stayed in it," Justice Shah said. Haris responded by saying that the government passes legislation based on its majority. Meanwhile, Haris provided arguments addressing the "significant" changes in rules governing plea bargaining. "After acquittal, the accused might request reimbursement for plea deal money," Haris stated.
Crime rate in Chakwal district is higher than other 36 districts: revealed experts
By District Reporter
CHAKWAL: Senior journalist Khawaja Babar Salim Mehmood said on Wednesday that Chakwal district is the spiritual land of Sufis, saints and this is the reason why despite all the difficult conditions and a large number of Afghans, the crime rate in Chakwal district is higher than other 36 districts of Punjab. I am quite low. In terms of law and order, Chakwal district is still the most peaceful region of Punjab, but now in the changed situation, there is a need for serious measures by the administration and the police to control the crimes and this is the reason why the new DPO. The 15 lakh people of Chakwal district have high expectations on the appointment of Kamran Nawaz Panjotha, because the number of thefts, robberies and murders in Chakwal district is increasing day by day. He was speaking live from Chakwal Press Club Studio. The host of the program, Zulfikar Mir, said that there is a trend of continuous increase in the incidents of theft and robbery, but unfortunately, the report of all these operations is not being registered in the police stations, which is a matter of concern. Senior journalist Khawaja Daniyal Saleem said that the whole system is the system is rotten, the investigation system is very poor and the judicial system is on gold. Life and wealth are not safe. Young journalist Mehran Zafar Malik said that the genie of inflation is still out of the bottle and the problems of the common man are increasing day by day. But its effects have not yet reached the common man. Senior journalist Raja Iftikhar Ahmed said that the current situation has arisen due to political instability, the role of public representatives in Chakwal district has almost disappeared and public representatives have not been seen in public for the past several months. Senior analyst Abdul Khaliq Darwish said that the people will get a big relief if the artificial inflation in Chakwal district is controlled. People will benefit. The prices of essential commodities fixed by the district administration are not available in any shop in Chakwal district, so special measures should be taken to eliminate artificial inflation.
Faysal Bank & K-Electric Collaborate for Customer's Relief in times of Economic Crunch
By Staff Reporter
KARACHI: Faysal Bank Limited (FBL), one of the leading Islamic Banks in the country and K-Electric has come together to ease customer's payment burden in times of economic crunch. As part of the collaboration, Faysal Islami Noor Card holders will now be able to pay their electricity bills through easy installment plan options of up to 3 months. Faysal Islami Noor card has gained immense popularity amongst industry card customers because it is a Shariah-compliant alternative to conventional credit cards that offers amazing discounts and offers. Speaking on the occasion, Head Consumer Finance (FBL), Mr. Aneeq Malik said: "Customer convenience has always been of paramount importance to the Bank and our partnership with K-Electric is a depiction of our commitment to our customers. We are confident that through the proposition will allow customers to manage their monthly expenditures in a more convenient and relaxed manner." Delighted at the launch of this campaign, Chief Distribution Officer at K-Electric, Mr. Amer Zia said, "Our collaboration with Faysal Bank through this offer is another testament of our commitment towards providing maximum relief to our consumers". Mr. Feroz Khan, Head Unsecured Business (FBL) further added, "We are committed to further building customer loyalty by offering the best in class products and benefits to our valued customers. This collaboration aims to ease customer expenditure on their KE billings specifically in the high billing periods."
Murad for efficient water use to ensure food security in climate hit areas
By Staff Reporter
KARACHI: Sindh Chief Minister Syed Murad Ali Shah, on Wednesday, stressed on efficient use of agriculture water to ensure food security amid changing cropping patterns due to climate change. In a meeting with Australian High Commissioner Neil Hawkins here at CM House, Murad Ali Shah said that Pakistan, particularly the people of Sindh has become the first victims of climate change and millions of internally displaced persons (IDPs) were facing numerous problems due to unprecedented heavy rains and flooding. The CM said that in the early Kharif Sindh was facing acute shortage of water and then heavy monsoon downpours turned everything upside down. He added that water was becoming an expensive commodity therefore we have to ensure its efficient use for agricultural purposes. Food security could only be ensured by focusing on agriculture research and introducing modern high-yield varieties of wheat and rice crops requiring less water, the CM Shah opined. He informed that issues of outbreak of dengue, malaria, and skin disease in IDPs was being dealt with by establishing medical camps to provide treatment to the patients while efforts for swiftly draining out accumulated water were underway. 0The Australian HC accompanied by First Secretary Ashleigh Light and Political Secretary Fareeha Shamim expressed profound grief and sorrow over the loss of life caused by the recent floods. Impact of climate change has started emerging in the shape of heavy downpours, scorching heat, and melting of heat; the high commissioner noted and suggested release of flood water into the River and finally discharged in the sea which might help maintaining stability of the ecosystem. The visiting diplomat and the chief minister also agreed to take benefit from each other's experiences in respect of cropping patterns and high-yield crops. The chief minister presented shield, Sindhi ajrak, and cap to the visiting guest, who reciprocated with presenting a book to Murad.
SHC expresses dissatisfaction over facilities in tent cities 
By Staff Reporter
SUKKUR: Sindh High Court (SHC) circuit bench on Wednesday expressed dissatisfaction over facilities in tent cities for flood victims. A division bench, comprised of Justice Zafar Ahmed Rajput and Justice Shamsuddin Abbasi, heard petitions with regard to floodwater drainage and providing relief to affected people. Deputy Commissioner Khairpur and officers of revenue, irrigation departments, SCARP and PDMA appeared in the case hearing. "In Gambat's tent city a medical camp was established but the staff is unavailable," the court said while expressing dissatisfaction over facilities in tent cities. "The photos submitted, are of a medical camp in a house, when people are living in tents, why the doctors not sitting there," Justice Zafar Rajput remarked. The bench resented over misreporting to the court about the medical camp and ordered suspension of the Assistant Commissioner and Mukhtiarkar Gambat. The court also suspended the District Health Officer (DHO) Khairpur over failing to provide medical facilities. The bench also ordered inquiry against the AC and Mukhtiarkar Gambat. The high court bench directed Secretary Health to initiate an inquiry against DHO Khairpur. DHO Khairpur, AC and Mukhtiarkar Gambat tendered apology to the court. The bench granted the apology and withdrawn suspension orders of the officers. "Earlier, people were dying by water and now they will die by diseases," Justice Rajput remarked. "The winter is ahead, how much blankets and warm clothes provided in relief camps," the bench questioned. "What facilities the PDMA providing in tent cities," the bench asked. "SCARP tube-wells are discharging water from various areas," Chief Engineer Sukkur Barrage told the court. The court directed for providing Ring Bund to Thari Mirwah and Khora and pumping out water from the area.
Gas production dropped by 6% in 2020-21 – OGRA annual report 
By Staff Reporter
LAHORE: Oil imports went up by 27.82%, while natural gas production dropped by 6% in the fiscal year 2020-21, the annual report of the Oil and Gas Regulatory Authority (OGRA) shows. According to the annual report, natural gas production dropped to 2006 mmcfd after a 6% drop in 2020-21. However, local refineries' production went up by 14.48%, the report read. The refineries' oil production went up to 10.66 million tons in 2020-21. However, LPG production in local refineries went up by 25.32%. Petroleum demand spiked by 12.95% in 2020-21 and went up from 17.63% to 19.92%. Punjab got 52% (1426 mmcfd) of the total gas, while Sindh got 39% (1052 mmcfd). Despite the crisis, Oil and Gas Regulatory Authority (OGRA) gave away 467,000 new connections during the financial year 2020-21. OGRA, in its annual report, said that it gave 305,409 new connections in Punjab, 77,152 in Sindh, 66,209 in Khyber Pakhtunkhwa and 18,284 in Balochistan during 2020-21.
Meezan Bank wins the 'Best Company in Financial Category' award at MAP 37th Corporate Excellence Awards
By Staff Reporter
KARACHI: Meezan Bank, Pakistan's leading Islamic bank has been conferred with the top honour in the Financial Sector category at the Management Association of Pakistan's (MAP) 37th Corporate Excellence Awards ceremony held recently, at Karachi. The Award recognizes Meezan Bank for its outstanding performance and demonstrating progress and enlightened management practices. Founding President and CEO of Meezan Bank, Mr. Irfan Siddiqui received the award on behalf of the Bank at the ceremony which brought together senior management, dignitaries, business leaders and eminent personalities from the corporate sector of Pakistan. Also present at the occasion were Meezan Bank's Senior Management including the Deputy CEO, Mr. Ariful Islam. This award is a testament to Meezan Bank's continued leadership in the banking sector. This win also coincides with the Bank's 25 year anniversary of providing unparalleled Islamic banking services in the country. Commenting at the occasion Mr. Irfan Siddiqui expressed his gratitude to Allah (SWT) for His blessings on the entire Bank and thanked the organizers for conferring the Bank with the 'Best Company in Financial Category' award. He said, "Since inception to date, Meezan Bank remains one of the fastest growing banks of the country. Throughout this period our teams have remained agile, decisive and innovative in providing Shariah-compliant financial solutions to our customers in a simple and seamless manner. Our approach and commitment towards our Vision of establishing 'Islamic banking as banking of first choice' will further our drive in the journey to make Pakistan Riba-free, InshaAllah." The Corporate Excellence Awards were instituted by MAP in 1982 and are divided into Industrial and Financial categories, and Not-For-Profit organizations. Short-listed companies are evaluated on the basis of a detailed financial evaluation and management practices criteria. It is worth mentioning that the financial evaluation covers the period of preceding three years in order to absorb the effects of fluctuations and also to recognize the impact of long-term policies and strategic decisions.
CM orders to devise a foolproof system to resolve college teachers' issues 
Mentorship, friendship, endless support and kindness are some of the words he associates with the teachers
By Staff Reporter
LAHORE: Chief Minister Punjab Chaudhry Parvez Elahi has directed to devise a foolproof mechanism to resolve college teachers' issues and stressed that the solution of the problems of nation-builders is a collective responsibility. The teaching staff of Government Fatima Jinnah College Chuna Mandi called on CM the other day. The CM assured to give sympathetic consideration to the issue of contract teachers and assured that the Punjab government would solve their genuine issues on a priority basis. On his direction, a committee of secretaries of higher education, regulation and law departments was formed to present feasible proposals within 14 days. The CM noted that the teachers are rendering the yeoman service of educating the youth with passion and hard work. Meanwhile, he added that strict punishments have been proposed to curb drug addiction in educational institutions and drug pushers would be given strict punishments. An autonomous body would be formed in Punjab to curb drugs along with setting up special courts and police stations; he added and asked the teachers to play their role in sensitising the youth about the hazards of drugs. Attachment to religion and religious education is an important means to remain safe from drugs, he concluded. Former principal secretary GM Sikandar, ACS, secretary higher education and others were also present. Meanwhile on teacher day Chief Minister Punjab Chaudhry Parvez Elahi has felicitated the teachers' community on world teacher's day, adding that his teachers have played a profound role in the position he is holding today. In his message issued on Wednesday, the CM said that mentorship, friendship, endless support and kindness are some of the words he associates with the teachers. It goes without saying that teachers rekindle their students' nascent minds with knowledge and new ideas and help us become better human beings, he said. The teacher enjoys an important societal status and is considered a spiritual father; he said and added that students could earn respect and glory due to the hard work of their teachers. Respect and honor to the teachers is the duty of everyone as they are the benefactors of the nation and pride. Today, we have to reiterate a commitment that respect for the teachers will be ensured in every case, he concluded.
Atif Khan inaugurates digitization of food department
PESHAWAR: Khyber Pakhtunkhwa Minister for Food, Science Technology & Information Technology and Sports & Youth Affairs Atif Khan on Wednesday formally inaugurated digitization of food department aimed at bringing transparency and streamlining affairs of food sector during a ceremony held at Peshawar. The ceremony was attended by members provincial assembly and other concerned officials in large number. The provincial minister clicked button to launch the new revamped system here at food directorate, saying that it is a landmark development in the province in terms of food sector management. Addressing to the ceremony, the minister said that ICT based intervention/digitization system of food department is a comprehensive tool, which covers almost all areas, from go downs management, fleet management, to e-inspection regime. With this system put in place, he said government will now be able to know record of the wheat stock with just a click of a button. "The beauty of this system is the instant accessibility to data, and decision makers will be able to know the real-time status of wheat stock in the province, details of the wheat needs, stock in the go downs, and that with millers and suppliers," Atif Khan added.
Court Notice
In the Court of Waqas Ahmed Warriach Civil Judge Jhelum Suit for Degree, Case Title Sakina BiBi etc vs Raja Huq Nawaz etc To, Patwari Halqa Rehana Tehsil Dina Dist Jhelum, Ali Shan son of Muhammad Sulman R/o Rehana Jatan Tehsil Dina Dist Jhelum. As there is not possible to call the Defendants through Summons in the instant Suit so through proclamation in Newspaper, You are directed to appear in the court on 06.10.2022 at 8:00AM, otherwise ex-parte proceedings will be initiated.
CHANGE/CORRECTION IN FATHER'S NAME
I Hammad Ullah have been passed secondary school certificate annual examination 2020 under roll number 648409 from B.I.S.E., Sargodha. My father's name is Muhammad Ibrahim whereas on certificate has been mentioned as Ibrahim which is incorrect. I want to get changed my father's name from Ibrahim to Muhammad Ibrahim. If any person/organization/agency have any objection, than the same may be intimated in writing within 15 days to the secr tary, Board of intermediate & Secondary Education, near 49-tail Faisalabad road, Sargodha.
Correction in Names
I Muhammad Bilal Khan has passed the Electrical Engineering years 2017-2021 the registration No. is FA17-BEE-183 from Comsats University Islamabad, Wah Campus. My name is written as Mohammad Bilal Khan and my Father's name is Mohammad Qasim Khan in record which is incorrect. My correct name is Muhammad Bilal Khan and my Father's correct name is Muhammad Qasim Khan. I want to get changed my name and my Father's name. If any person/organization/agency has objection, the same may be Intimated in writing to secretary education within 15 days.
CDA Union to cooperate in resolving key issues of business community
By Staff Reporter
ISLAMABAD: Ahsan Zafar Bakhtari, President, Islamabad Chamber of Commerce and Industry said that for better protection of the interests of the business community, sitting President ICCI should be made a member of CDA Borad. He said that till the nomination in CDA Board, President ICCI should be invited as an Observer to the meetings of CDA Board to take care of the issues of trade and industry. He said that most of the issues of the business community were related to CDA and CDA Union should help in addressing them to facilitate the growth of business activities. He assured that ICCI would support the protection of genuine rights of CDA employees. He said this while addressing a delegation of CDA Mazdoor Union that visited ICCI led by its Secretary General Ch. Muhammad Yasin to congratulate the new Office Bearers of ICCI. President, CDA Mazdoor Union Aurangzeb Khan and others were in the delegation. Faad Waheed Senior Vice President, Muhammad Azhar ul Islam Zafar Vice President ICCI stressed for the need of close liaison between ICCI and CDA Union to achieve their common goals. Khalid Iqbal Malik, Group Leader hoped that CDA employees would work more diligently to address the major issues of business community and the citizens. He said that the role of CDA employees was also important in making Islamabad one of the most beautiful capitals of the world. Speaking at the occasion, Ch. Muhammad Yasin, Secretary General CDA Mazdoor Union said that the business community was the backbone of the economy and CDA Mazdoor Union would cooperate in resolving its burning issues. He said that ICCI members were playing an important role in developing the city and creating jobs and it was the duty of CDA employees to facilitate them in business promotion. He said that the CDA Union was supportive of the inclusion of sitting President ICCI in the CDA Board. It was agreed that both sides should join hands and work together for the development of the city and growth of business activities. Zafar Bakhtawari, Mian Akram Farid, Muhammad Ejaz Abbasi former Presidents ICCI and others also spoke at the occasion and stressed that CDA in consultation with ICCI should accelerate efforts for the better development of markets, industrial areas and the overall city.
Traditional and Pictorial Calligraphy Competitions at PAC
By Staff Reporter
RAWALPINDI: Traditional and pictorial calligraphy competitions were organized in Punjab Arts Council in connection with Ashra Shan-e-Rehmatulil Alameen. Member of National Assembly Kanwal Shuzab and Member of Punjab Assembly Farah Aang were the chief guests of the competitions. Special guest Kanwal Shuzab said in his speech at the ceremony that we believe that Prophet Muhammad (S.A.W) is the reason for the creation of this universe. We need to tell the world how much we love Hazrat Muhammad ﷺ. Our faith is incomplete without selfless love for Hazrat Muhammad (S.A.W). Member Punjab Assembly Farah Agha said that the art of calligraphy should become popular in Pakistan. The children have painted the verses of the Holy Quran in a very beautiful way on the canvas with the help of colors. Naheed Manzoor said that the art of calligraphy is the heritage of Muslims and this art is centuries old. Punjab Chief Minister Chaudhry Parvez Ahli has proved his great love for Prophet Muhammad (S.A.W) through the decision of Ashra Shan-e-Rehmatulil Alameen. The calligraphy competition has given young calligraphers a platform to improve their art.
Sara Inam's father all praise for media for projecting his daughter's case
By Staff Reporter
ISLAMABAD: Engineer Inamur Raheem, father of Sara Inam, who was brutally murdered by her husband, renowned journalist Ayaz Amir's son Shah Nawaz Amir around a fortnight ago, on Wednesday thanked media for highlighting the murder case of his daughter. Talking to the media, he said that Sara was the youngest of three brothers and sisters. "In year 2000, we moved to Canada where my daughter who was fond of reading and writing did masters in Economics. Later she worked at the UBL and the USAID. She also did a job at Abu Dhabi," he explained. Engineer Inam added that although there were marriage proposals, but his daughter's focus was on her studies. "And it was towards the end of July this year that we came to know that she had married," he said, adding, "Initially, we got suspicious and questioned her as to why she took the decision without consulting the family members. But she replied that now she was 38 years old and could take the decision on her own." And later, he went on to say, when we learnt that Sara had married Ayaz Amir's son, our confidence was restored. Speaking on the occasion, Farrukh Inam, Sara's brother, said that the entire family was grieved over her death. "She was quite competent," he recalled. He demanded exemplary punishment for his sister's murderer. "The Almighty Allah has commanded us to remain firm and do justice to the victims despite all odds," he concluded.
NTDC slapped with another Rs10 million fine
By Staff Reporter
ISLAMABAD: Hardly a day had passed since the National Electric Power Regulatory Authority (NEPRA) had imposed fine to the tune of Rs10 million on the National Transmission and Dispatch Company (NTDC), the latter again invited the wrath of the Authority on Wednesday when it was again fined Rs10 million for failing to restore the power supply in some parts of the country on time after some of the electricity towers were uprooted due to strong winds. According to the statement issued by the NEPRA, two towers of 500 KV of Dadu-Jamshoro transmission line and six towers of Port Qasim-Matyari line in Sindh had been uprooted due to strong winds in May 2022 following which 1,320 megawatts of electricity had exited from the system, which had resulted in a partial power breakdown in the country. The statement said that it took the NTDC 10 days to restore power supply in the areas where there was a blackout, prompting the NEPRA to initiate an inquiry into such an inordinate delay. "And it was after the inquiry was over that the Authority first issued a show-cause notice to the NTDC, and when the latter did not respond to the notice on time, the NEPRA slapped fine on it," read the statement
COMSTECH Virology Fellowships Closing Ceremony held in Surabaya
By Staff Reporter
ISLAMABAD: The closing ceremony of COMSTECH fellowship for Research and Advanced Training in Virology and Vaccine Technologies held in Surabaya, Indonesia. Under this program, Ms. Faiza Nadeem, PhD Student at International Centre for Chemical and Biological Sciences, Karachi, Ms. Faiza Marrium, Officer In-charge, Tetanus Toxoid Production Lab, National Institute of Health, Islamabad, Dr. Mohsein Cheema, Lecturer, University of Lahore, Lahore and Prof. Dr. Mahmoud Mohamed Tawfick, Associate Professor, Al-Azhar University, Cairo completed their fellowships at Universitas Airlangga in Surabaya, Indonesia with the cooperation of Ministry of Health, Indonesia, BioFarma and Universitas Airlangga. Assistant Secretary General for Science and Technology of Organization of Islamic Cooperation (OIC) H.E. Mr. Askar Mussinov said in his remarks that I am very happy to talk to you on the occasion of closing ceremony of very impactful program happening under joint efforts of COMSTECH & Ministry of Health, Indonesia, BioFarma and Universitas Airlangga. He hoped that returning research fellows are going back to their countries with polished technical skills and game changing mind sets in their fields. Ambassador Mussinov said that this program does not only develop technical capacities of the up and coming scientists but also promotes science diplomacy which eliminates cultural, sectoral, and knowledge barriers between different factors such as policy-makers, researchers, diplomatic bodies and civil society. Coordinator General COMSTECH, Prof. Choudhary thanked the Ministry of Health, Indonesia for generous support towards this program. He said that many OIC countries are totally dependent on selected countries for every health care need, be it diagnostic equipment, kits, ventilators or PPEs. He said in the context of this situation, the program was started with the aim to prepare next generation of scientists of OIC nations to meet the challenges of current and future pandemics/epidemics.
Eagle Squad is playing key role in eradicating crime; DIG Safe City 
By Staff Reporter
ISLAMABAD: Following the special directives of Inspector General of Police (IGP) Islamabad Dr Akbar Nasir Khan, Safe City Islamabad Eagle Squad emergency response unit is fully operational and playing a key role in crime prevention. According to the details, Safe City Eagle Squad acted as first responder in case of any emergency in Federal Capital Islamabad and played a key role in eradicating crime from the city. DIG Safe City Romail Akram said that, in September, the Eagle Squad took stern action against criminals and checked a total of 51,550 motorcycles and 27,487 vehicles during snap and special checking, out of which 4196 suspicious motorcycles and 134 vehicles were impounded in the police station. While on duty in different zones in Islamabad, during patrolling, the Eagle Squad also ensured the arrest of the accused involved in mobile snatching and heinous crimes.
Islamabad Capital Police campaign in full swing against traffic rules violators 
Caught seven criminals; weapons and narcotics recovered 
By Staff Reporter
ISLAMABAD: The campaign of Islamabad Capital Police to check violation of traffic rules is in full swing and special efforts are being made to maintain traffic discipline in the city. The main objective of this campaign is to ensure safety to people while road users are being educated for lane discipline during drive. Following the special directions of Inspector General of Police (IGP) Islamabad Dr. Akbar Nasir Khan, Islamabad capital police has constituted special teams to control lane violations on various roads and ensure smooth flow of traffic in the city. Strict checking is being made against those not using helmets during bike ride. Islamabad capital police education team remains present on all important roads including Islamabad Expressway, Srinagar highway to educate road users about traffic rules. Islamabad capital police FM Radio 92.4 is also disseminating the messages about road safety and to educate the audience about traffic rules. Citizens were asked to cooperate with the Islamabad capital police officials by following traffic laws, action would be taken against those not following lanes during drives; the sole purpose is to ensure a safe road environment in the city. Meanwhile, Islamabad Capital police apprehended seven criminals involved in criminal activities and recovered hashish and weapons with ammunition from their possession, a police public relations officer said. He said that, DIG Operations Sohail Zafar Chatha had ordered all zonal officers to curb the crime in their respective areas and arrest those involved in criminal activities and looting innocent people. Following these directives, a Lohi Bher police team arrested an accused namely Muhammad Shahzad involved in drug peddling and recovered 1120 gram heroin from his possession. Likewise, the Abpara police team arrested an accused namely Falak Naz and recovered one 30 bore pistol from his possession. Cases have been registered against the nabbed accused and further investigation is underway. During a special crackdown against proclaimed offenders and court absconders police teams arrested five accused from different areas of a city. DIG Operations Sohail Zafar Chatha said that the safety of the lives and property of the citizens is our prime responsibility and no laxity will be tolerated in this regard.
Pakistani rupee keeps on thrashing US dollar
By Staff Reporter
ISLAMABAD: Ever since PML-N's Ishaq Dar has become the country's finance minister, Pakistani rupee has yet again outclassed the US dollar in the opening session of the interbank market on Wednesday. The value of Pakistani rupee improved as it was appreciated by massive Rs2.14 and was currently being traded at Rs223.50. On Tuesday, the greenback was closed at Rs225.64. The dollar rate kept on depreciating after Finance Minister Ishaq Dar declared that the surge in the American currency's value was unrealistic. It should come down to below Rs200, he added. In an interview with a private TV channel, Ishaq Dar stated that rupee was under value as its value should be below Rs200 against the USD. He said the dollar at the moment is pitching very strong internationally but the government will bring it down through its policies. The PKR recovery is steady since the last week of September. The resuscitation of the local unit could also be attributed to the revised policies of the State Bank of Pakistan for foreign exchange companies. The Mettis Global quoting an official of the Intermarket Securities has said that a decrease in international oil prices coupled with lowering foreign exchange liquidity demand are the main reasons why the rupee is appreciating. He said that "the rupee can gain more strength against the greenback and will likely appreciate to Rs215-220 in coming time."
Pakistan records uptick in corona virus infections
By Staff Reporter
ISLAMABAD: Pakistan has reported an uptick in corona virus infections a day after reporting lowest cases in many months. Pakistan on Tuesday reported just 16 Covid-19 infections reflecting the pandemic is taking last breaths in the country. The statistics of the National Institute of Health (NIH) which were released on Wednesday morning showed that Pakistan has recorded 57 corona virus infections and one fatality during the last 24 hours (Tuesday). The death toll in the country climbed up to 30,620 while the number of total infections now stood at 1,572,835 after adding the fresh 57 cases. During the last 24 hours (Tuesday), 13,021 tests were conducted throughout Pakistan whereas the positivity ratio nearly doubled to 0.44 percent to previous day's 0.23 percent. The number of patients in critical care was recorded at 46. New Zealand could face another Covid-19 wave. According to Xinhua news agency, New Zealand could be hit by another Covid-19 wave before the end of the year, a COVID-19 modeler warned. Prof Michael Plank of the University of Canterbury called on Kiwis to get boosted if they haven't been, according to a report in the New Zealand Herald. COVID-19 cases and hospitalizations have been increasing in European countries such as Germany, Denmark, Belgium and Britain, Plank said, citing this as an example of another imminent pandemic wave. Factors such as waning immunity and new Omicron sub-variants BQ.1.1, a BA.5 descendant, and another sub-type, BA.2.75.2, have been combined to contribute to the forming of another wave in the future, he said. "So whatever happens in the Northern Hemisphere, I'd expect something similar to happen here -- maybe in a matter of weeks," said Plank, quoted by the New Zealand Herald. He noted that many New Zealanders were no longer masking up and the border already opened up last month. New Zealand recorded 9,975 new community cases of COVID-19 and 33 more deaths from the pandemic last week, the Ministry of Health said on Monday.
RAWALPINDI: Additional Deputy Commissioner General Qasim Ijaz is presiding over the meeting held regarding the anti-Polio campaign.
Alvi approved filing petition to SC in Reko Diq Project
By Staff Reporter
ISLAMABAD: President Dr. Arif Alvi on the advice of the Prime Minister approved the summary for submitting a referral to the Supreme Court of Pakistan under Article 186 of the Pakistan Constitution of 1973 in the Reko Diq Project. Previously, the Apex Committee led by the Minister of Finance, and Tethyan Copper Company Pakistan (Private) Limited shareholders agreed on a framework for the resolution and revival of the Reko Diq Project in March 2022. In a meeting held on September 30, 2022, the Federal Cabinet approved the filing of a Reference to the Supreme Court of Pakistan under Article 186 of the Constitution with respect to the following legal issues of public importance: i. Whether the earlier Supreme Court decision published as Maulvi Abdul Haque Baloch v. Federation of Pakistan PLD 2013 SC 641, the Pakistan Constitution, legislation, or public policy exclude the Governments of Pakistan and Balochistan from entering into the Reko Diq Agreements or impact their validity? and ii. Is the proposed Foreign Investment (Protection and Promotion) Bill, 2022, lawful and constitutional if passed?
PTI long march: Imran says he still holds 'trump card'
By Our Correspondent
LAHORE: Former Prime Minister and Pakistan Tehreek-e-Insaf (PTI) Chairman Imran Khan said on Wednesday that he still had a "trump card," adding that he will select the location and timing of a possible lengthy march. PTI leader Waseem Ramay met with former Prime Minister, who tasked the party leaders with preparing for the lengthy march. On this occasion, Imran stated that 6,000 people from each district should be gathered for the Haqeqi Azadi March. After finishing preparations for the long march, each party group shall send its data to Senator Shibli Faraz, according to the PTI chairman. Continuing the meeting on long march preparations, PTI leader announced that a call for the long march would be issued as soon as the organisations' data was ready. Earlier, Imran Khan presided over a meeting at the Chief Minister House attended by Asad Umar, Shah Mahmood Qureshi, Mian Aslam Iqbal, Yasmin Rashid, Hammad Azhar, and other dignitaries. Imran Khan lashed out at his political opponents on this occasion, declaring that the country must free itself of the corrupt mafia.
Million people experiencing unfathomable life anguish after flood: Masood Khan
Web Desk
WASHINGTON: "Millions of women and children affected by recent floods are experiencing "inexplicable life pain," according to Pakistan's Ambassador to the United States, Sardar Muhammad Masood Khan."Forced to confront all types of adversities in improvised shelter dwellings and facing immense miseries of haplessness," he stated, "these climate refugees require immediate attention and long-term commitment from the international community." The Ambassador delivered these statements during a fund-raising event hosted by Refugee Girls Worldwide (RGW), a non-profit humanitarian organisation dedicated to improving the lives of refugee girls in Turkey, Palestine, Ukraine, Pakistan, and Canada. RGW provides monthly assistance to 3000 refugees through food, education, and relief initiatives. It was revealed that 1050 girls were receiving monthly education support, 3000 refugees were receiving food boxes, and 1000 women were receiving self-care and infant health counselling.
LAHORE: Chairman Imran Khan held a meeting with the representatives of Insaf Doctors' Forum (IDF).
Minister rules out any breach of the IMF deal
By Staff Reporter
ISLAMABAD: After the International Monetary Fund (IMF) pressed on Pakistan abiding to its policy pledges, a top government official stated that the country had not violated the agreement with the Fund, adding that "any deficit in petroleum levy will be addressed in the coming months." According to media reports, Dr. Aisha Ghous Pasha, Minister of State for Finance and Revenue, made the comment on the floor of the National Assembly Standing Committee on Finance. The committee debated whether the State Bank of Pakistan had taken any measures to reverse the path of currency manipulation by select banks. However, neither the central bank nor the Ministry of Finance provided an adequate explanation for the action taken against the banks. Earlier, a foreign media outlet cited the IMF's country official Esther Perez as saying that the terms agreed upon between Pakistan and the fund had not changed. "Policy pledges made by Pakistani authorities as part of the seventh and eighth reviews under their IMF-supported programme remain in effect," she told Reuters. She stated that policy debates, including how to prioritise assistance to flood victims while maintaining macroeconomic stability, will begin in the coming weeks when the damage assessment report is out.
ISLAMABAD: Deputy Speaker National Assembly Zahid Akram Durrani, with students of The City School Junior Branch Islamabad at Parliament House.
'PTI regime amended NAB laws for political victimisation'
By Staff Reporter
ISLAMABAD: Special Assistant to the Prime Minister (SAPM) on Narcotics Control Attaullah Tarar on Wednesday said it was the past regime of PTI that started amending National Accountability Bureau (NAB) laws for political engineering and victimization of opponents. "It is clarified that no revisions to NAB legislation were initiated during the tenures of the PML-N and PPP." "These (NAB law reforms) were carried out during the era of Imran Khan Niazi with a specific purpose and backdrop," he said at a press conference here, replying to PTI leader Chaudhry Fawad Hussain's complaints to the recent revisions to NAB rules. He said that the height of political victimisation and the NAB-Nazi link might be gauged by the fact that all opposition members of first two rows of National Assembly were behind bars owing to accountability legislation he referred to as "black laws." He expressed regret that Shehbaz Sharif was detained by NAB officers after serving a six-month sentence in a false case, whereas Maryam Nawaz Sharif was arrested in front of her father, Nawaz Sharif. The NAB did everything illegal only because Imran Niazi wanted to see it happen, he added.
PTI MNAs seek IHC over resignation acceptance
By Staff Reporter
ISLAMABAD: In the most recent political manoeuvre, the PTI petitioned the Islamabad High Court (IHC) on Wednesday for acceptance of the resignations given by party lawmakers following Imran Khan's dismissal as prime minister. On April 11, all PTI MNAs resigned in unison, two days after PTI Chairman Imran Khan was deposed as prime minister in a no-confidence vote called by the opposition. Former deputy speaker Qasim Suri, who was serving as interim NA speaker following Asad Qaiser's departure, accepted all of the resignations on April 15. However, once Raja Pervez Ashraf was chosen speaker, he decided to verify the resignations by interviewing each legislator personally. The resignations of PTI members were then unveiled, and Raja accepted 11 of them. The joint suit, submitted by ten of the eleven MPs, claims that the NA speaker "illegally" announced them to have resigned, prompting the ECP to de-seat them.
S. Korea donates aid to NDMA for flood victims
By Staff Reporter
ISLAMABAD: South Korea handed over Rs9.2 million in cash donations to the National Disaster Management Authority (NDMA) on Wednesday for flood victims. South Korean enterprises such as Korea Hydro and Nuclear Power donated Rs4.6 million and Mira Power Rs2 million during a ceremony at the Korean Embassy, while Embassy contributed Rs2.6 million. Korean Ambassador Suh Sangpyo stated that it is in addition to previous gifts of USD 300,000 and over USD 500,000 provided by their government and private sector organisations and groups operating in Pakistan. The Ambassador recalled that the first shipment of relief goods, consisting of approximately 300,000 water purification tablets, 30,000 emergency blankets, and various other essential relief items, had already been handed over to the NDMA, and that a second shipment of relief items, consisting of family sized tents, collapsible water bags, and thermal blankets, is on its way and will dock at Karachi Sea Port by October 16.
US Ambassador Blome paid visit to AJK to strengthen ties: Embassy
By Our Correspondent
MUZAFFARABAD: US Ambassador Donald Blome visited Azad Jammu and Kashmir (AJK) to promote the US-Pakistan alliance and emphasise the two nations' extensive economic and cultural links, as well as people-to-people interaction. During his visit from October 2 to 4, the ambassador met with AJK Prime Minister Tanveer Ilyas as well as leaders from academia, industry, culture, and civil society. According to a statement released by the US Embassy, the US envoy lay a wreath to memorialise the victims of the 2005 earthquake and stated that "over the 75 years of our cooperation, the United States has always stood by Pakistan, especially when it was most needed." Following the earthquake, the US government and corporate sector gave substantial humanitarian assistance. The United States military sent humanitarian supplies. Blome underlined in his discussions that the US was maintaining its long heritage of assisting Pakistan in times of great need, having donated more than $66 million in cash, food, housing, and health aid in response to the disastrous flooding. A US military airbridge supplied crucial supplies to the people of Pakistan as part of the American assistance.
International Teachers Day, AJK PM's Special Assistant pays tribute to teachers
By Our Correspondent
MUZAFFARABAD: According to Chaudhary Rafiq Nayar, Special Assistant to Prime Minister Azad Jammu and Kashmir (AJK) on Information, only a teacher can actually convert a nation into a developed one, and society should appreciate their work by paying honour to them. On International Teachers' Day on Wednesday, Nayar told APP that the purpose of observing this day was to raise awareness in society about the importance of teachers in developing the country and the nation, and that teachers should recognise their importance and play the role of educating the society. He stated that teachers are nation builders who steer society in the correct way, and that no society can attain the aim of progress unless teachers are respected. He also underlined the need of instructors doing their roles by realising their importance. While recalling his student days, he stated that there was a tremendous respect for teachers at the time, and the relationship between student and teacher was extremely healthy and strong, which he stated was now weaker and needed to be strengthened. He stated that his administration will create opportunities for brilliant and educated young people to enter the teaching profession through a transparent and merit-based approach in order to deliver great instructors to the nation's future leaders and builders. He urged the students to value teacher respect during their studies, citing it as a means to opening doors to success in their careers. The International Teacher's Day was also observed in AJK in various ways by all segments of society, with parents paying respect to teachers via social media postings and kids welcoming their instructors via colourful greeting cards.
Media barred from covering today's AJK assembly session
By Our Correspondent
MUZAFFARABAD: Roads leading to the Azad Jammu Kashmir (AJK) Legislative Assembly in Muzaffarabad have been closed, and media workers have been prevented from covering the session, which is scheduled to begin today. Protests against the commotion in the House during the last session, on the other hand, have reached their third day. Protesters set fire to tyres and obstructed traffic at the assembly's gate. Later, they attempted to enter the building through the gate. Protesters chanted shouts against Law Minister Faheem Rabbani, demanding that he quit not just from his cabinet but also from his assembly seat.
Maryam departs, London after acquiring passport
By Our Correspondent
LAHORE: Maryam Nawaz, Vice-President of the Pakistan Muslim League-Nawaz (PML-N), departed for London on Wednesday after receiving her passport on the decision of the Lahore High Court (LHC). Maryam is accompanied by her personal maid. She went to Raiwand to see her grandparents' and mother's graves before departing for London. People took selfies with her when she arrived at Lahore's Allama Iqbal Airport. She will go from Doha to London on a connecting flight. After three years, she will meet her father, PML-N supremo Nawaz Sharif. Earlier on Monday, the LHC ordered the restoration of Maryam Nawaz's passport after a three-member bench led by the Chief Justice of the LHC concluded the appeal submitted by the PML-N leader for the return of her passport after the National Accountability Bureau (NAB) decided not to oppose Maryam's plea.