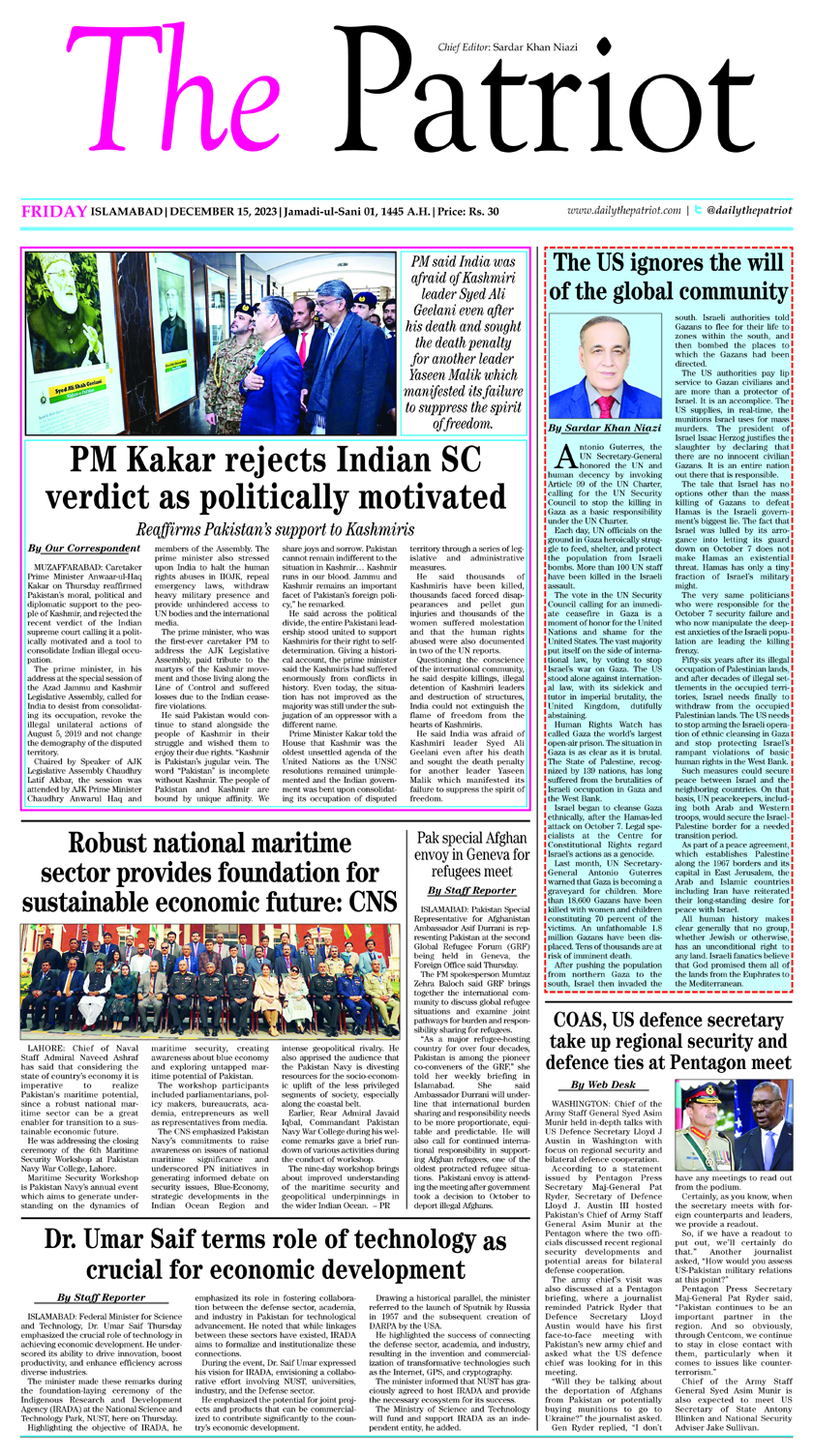 Our Chinese friends are still assisting flood victims in Pakistan
Mian Mansha meets PM, donates Rs 23 million for flood affectees
By Our Correspondent
ISLAMABAD: Prime Minister Mian Muhammad Shehbaz Sharif has said that our Chinese friends continue helping the flood victims in Pakistan. PM Shehbaz Sharif announced on Twitter on Sunday that the overall sum of help has grown from 400 million RMB to 644 million RMB. PM Shehbaz Sharif expressed gratitude to the Chinese government, CPC, Red Cross Society of China, sister provinces, and People's Liberation Army. "Our Chinese friends are still assisting flood victims in Pakistan." The total amount of help has risen from 400 million RMB to 644 million RMB. "We are grateful to the Chinese government, CPC, Red Cross Society of China, sister provinces, and People's Liberation Army for their aid," Prime Minister Shehbaz Sharif tweeted. Meanwhile, on Sunday, renowned businessman Mian Muhammad Mansha and his son Hassan Mansha paid a visit to Prime Minister Muhammad Shehbaz Sharif in Islamabad. Mian Muhammad Mansha gave Rs. 23 million to the Prime Minister's Flood Relief Fund at the meeting.
PAF continues relief, rehabilitation operations in flood-hit areas
By Staff Reporter
ISLAMABAD: Pakistan Air Force (PAF) is making all-out efforts in the ongoing relief and rehabilitation operations in flood-affected areas. According to a PAF spokeswoman, the PAF is aiding state institutions in providing medical treatment and rehabilitation in flood-affected districts of KP, Sindh, Balochistan, and South Punjab. PAF Medical Lab Collection Points are also actively participating in the identification of water-borne illnesses among flood victims, while PAF medical staff are making every effort to provide flood victims with health care as soon as possible. During last 24 hours, 17740 cooked food packs, 207 water bottles and 1350 ration packs were distributed amongst needy families of Uthal, Lakhra, Matyari, Shahdadkot, Sohbatpur, Qila Abdullah, Fazilpur, Jhaal Magsi, Hajipur, Basti Sher Muhammad, Basti Jageer Gabool and other flood affected areas. At addition, medical professionals from the Pakistan Air Force responded to 400 patients in field medical camps.
Ahsan accused Imran of misusing charitable funds for political purposes
By Staff Reporter
ISLAMABAD: Federal Minister for Planning and Development Ahsan Iqbal lashed out Sunday at Pakistan Tehreek-e-Insaf (PTI) chief Imran Khan for seducing people by his words. However, he added that the former cricketer had mastered the art of disposing of people after using them akin to tissue paper. The federal planning minister named the people Imran Khan has enticed during a press conference in Narowal on Sunday. Iqbal went on to say that Imran may have used the same techniques with women and then with the wealthy. He said that if someone had $100 in their pocket, Imran's hand was constantly in it. "It has now been shown that Imran [Ahmed Khan] Niazi, who used to collect donations in the guise of Shaukat Khanum Hospital, used the money on his party's political operations and fooled with their members," the federal minister stated. "Imran Khan did not dare to file a defamation suit against the Financial Times, which was widely regarded as the bible of economics and finance," he claimed. "However, when a British daily published a report critical of Shehbaz Sharif, the prime minister took the publication to court (and won), so why does Imran Niazi lack the bravery to take the Financial Times to court?" he questioned. Third, Imran enchanted the establishment. He used to go with Asad and tell the authorities that no one was more honest or pure than them, he claimed. Continuing the list, he said the fourth victim was the judiciary, lured by stories like the Panama Papers case, after which the Supreme Court judge told Imran Niazi to leave the streets and come to the courtroom.
Marriyum terms Imran a misogynist who has no respect for women
ISLAMABAD: Minister for Information and Broadcasting Marriyum Aurangzeb said on Sunday that the followers of Pakistan Tehreek-e-Insaf Chairman Imran have become deaf, dumb and blind and they will not return to the right path. This she said in a tweet, quoting the 18th Ayat of Sura Baqarah in the Holy Quran with regards to the attitude of PTI leaders, workers and followers. She said Maryam Nawaz was right about Imran Khan. The minister said that it was unfortunate that on one had to even mention this sorry excuse for a human being who continued to stoop to new lows of misogyny. She said Imran had proven, time and again, that he was a misogynist who has no respect for women and that he considered them to be nothing more than objects to be abused and harassed. she said Imran has encouraged and inculcated this behavior and mindset both in his party members and his followers. She maintained that it was especially disappointing and sad to see female party members and followers of PTI not only condoning such behavior but partaking in it and celebrating it too. - PR
Sachi Baat
SK Niazi Sahab, You are well-liked personality and head of respectable institutions, says Rasheed Solangi
The information department is to bring everyone together; we have not blacklisted anyone, we should not go outside the law. Work on the insurance card for journalists is being carried out under the supervision of Sharjeel Memon, said Solangi in Sachi Baat program
By Staff Reporter
ISLAMABAD: Sindh Information and Broadcasting Secretary Abdul Rasheed Solangi has said that the information department is to bring everyone together. No media house should be blacklisted, we have not blacklisted anyone, it is necessary to follow the code of conduct of the department, and we should not go outside the law, there is a need to create joint information and broadcasting mechanism from Punjab and KP. He added, the recent rains broke the records of many years, in the form of floods, there was a disaster all over the country, standing crops on 40 lakh acres, lakhs of houses were destroyed, and people got sick after the flood. Furthermore, he said, during the flood, the Pakistan Army did its best, and the Sindh government, including Chief Minister Murad Ali Shah, came out to rescue the people. He expressed these thoughts during a conversation with the Chief Editor of Rooze News and Newspaper Sardar Khan Niazi in Program Sachi Baat. Secretary Information and Broadcasting Sindh Abdul Rasheed Solangi while talking added that bureaucracy plays a major role in the development of any country, through the bureaucracy. Trying to solve people's problems, we are taught to handle pressure. There is a need to make such laws for the people of Pakistan which will benefit the people, efforts have been made to increase coordination with the representatives of information in the federation, and secretaries of Punjab and KP should also be in constant contact with information, joint information with Punjab and KP. And there is a need to create a broadcasting mechanism. During his conversation, Abdul Rasheed Solangi further said that there is a need to highlight the positive identity of the country around the world; he will hold international conferences on the positive identity of the country and issues. He said that everyone should play their role in the country's development. Big problems are solved by small positive roles, the bureaucracy implements the policies of the government, and the bureaucracy gives new ideas and proposals to run the government. In response to a question, Secretary Information and Broadcasting Sindh said that under the direction of Sindh Information Minister Sharjeel Memon, work is being done on an insurance card for journalists, measures are being taken to solve the problems of registered journalists, and health is the first priority of the Sindh government.
COAS, UN chief's military advisor talk on regional security and UN peacekeeping activities
By Staff Reporter
RAWALPINDI: During an official visit to the United States, Chief of the Army Staff (COAS) General Qamar Javed Bajwa met with General Birame Diop (Senegal), United Nations' Military Advisor to the Secretary General. The conference discussed items of mutual interest, the general regional security situation, particularly the natural calamity caused by floods across the nation, according to a statement published by the ISPR in Rawalpindi on Sunday. The COAS praised the job of the UN Military Advisor in supporting UN fundamental principles and responding to crises. The UN Military Advisor conveyed his sympathies to the victims' families for the destruction caused by the recent floods in Pakistan as a result of climate change. He promised flood victims his entire assistance. According to the ISPR release, the UN dignitary recognised Pakistan's commitment to UN peacekeeping missions and outstanding achievements in counter-terrorism.
Sherry expresses condolences of martyred Pakistani peacekeeper
By Staff Reporter
ISLAMABAD: Federal Minister for Climate Change Sherry Rehman sent her condolences to the aggrieved family of Havaladar Babar Siddique who embraced martyrdom in the line of duty during a UN peacekeeping mission in the Democratic Republic of Congo. "I convey my sincere sympathies to Havaldar Babar Siddique's wife and children, as well as my prayers, during this terrible moment." "I wish the family strength and stand with them at this time of sadness," she said in a statement released here on Sunday. "Our soldiers on the frontlines play a key role in preserving Pakistan's obligation to peacekeeping missions," she added of his devotion to his nation. Havaldar Babar Siddique's sacrifice would not be in vain since he stood tall for his nation." "We stand with the family of this heroic son of the land and wish that he obtains the greatest status in Heaven," she added, remembering his sacrifice for his nation. His commitment to his nation was completed, and he will be an inspiration to those who had the privilege of knowing him." Pakistan had always carried out its responsibilities as a responsible member of the international community, upholding objectives of global peace and security. Since 1960, Pakistan has served in UN peacekeeping missions in Congo, and over 200,000 Pakistani soldiers have engaged in 60 missions in 28 countries. It has suffered the loss of 171 troops in its attempts to restore peace and stability in some of the world's most volatile locations. According to the UN Department of Peacekeeping Operations, Pakistan is the largest military contributor to MONUSCO — the UN Stabilisation Mission in the Democratic Republic of the Congo — with 1974 personnel.