Justice Gulzar denies lawyers claim, says 'we are bound by oath'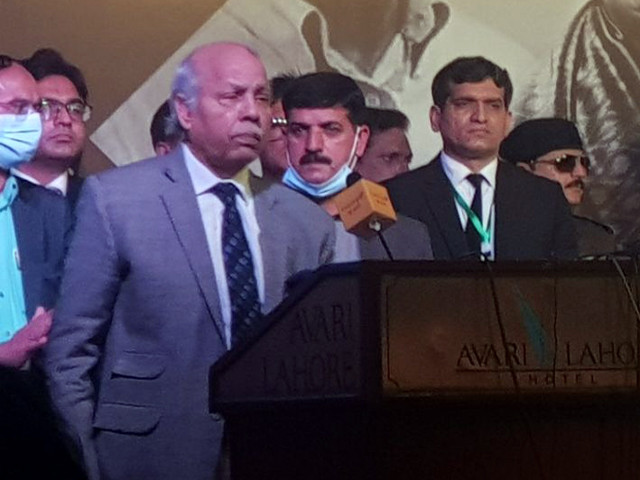 LAHORE:
Chief Justice of Pakistan Gulzar Ahmed on Saturday rubbished the notion of any "institutional pressure" on the judiciary, saying that courts were functioning independently.
The top judge was speaking at the Asma Jahangir Conference in Lahore in response to comments made by some lawyers.
Justice Gulzar maintained that the impression that the courts were not independent and operating under the pressure of the institutions was incorrect.
"We are bound by oath. I have never taken pressure from any institution and never listened to anyone," he added.
The chief justice expressed anger over the lawyers' remarks and urged them to read judgments of the courts.
"We work and will continue to do so without pressure. There is a rule of law in Pakistan, not human beings. We will continue to uphold the Constitution, law, and democracy in the country. We will not accept any undemocratic setup. We will resign from our posts [before succumbing to pressure] and we have done that before as well."
He added that nobody had guided him and he did not take dictation on how to write his decisions.
"I never made a decision on anyone's request and no one has ever dared to say anything to me," he reiterated.
The chief justice claimed that he had always made decisions according to justice and conscience.
"The court does what it wants to do. It does not do what anyone else wants it to. Nobody has ever dared to stop us."
The chief justice stressed that they should not be creating misunderstandings among the people and chaos in society. "Do not lose trust in the institutions. Tell me [on] whose dictation [a case] has been decided?"
The top judge further said all the judges of the Supreme Court, high courts, and lower courts were working hard to provide justice to the people.
"The courts are working without any pressure; I will not take anyone's dictation for my decisions. My court gives justice to the people. The courts are working according to justice and they are free to decide what they want."
Earlier, Islamabad High Court Chief Justice Athar Minallah acknowledged the lawyers' criticism.
"It is very important for us to know what the bar and what the people think about us," he added while expressing his gratitude to the lawyers.
"Let me assure the lawyers that no judge who is independent can ever make an excuse that he can be pressured or influenced. Any such excuse, I am afraid, is a violation of the oath."
Justice Minallah said the verdicts, including those in the Nusrat Bhutto and Zafar Ali Shah cases, were part of history that could not be erased.
"The judgments are responsible for the making and enabling of those that have been referred to by the lawyers," he added.
"The judicial organ cannot afford to bury its head in the sand and ignore its mistakes." (With input from agencies)